Advertisement:

Smartech Winner Sport 1:10 Nitro RC Buggy
Join the community - in the OCAU Forums!


Introduction, setting up and how not to tune a car.

I think it's safe to say that most red-blooded boys (and some girls) have owned a radio-controlled car at one point in their childhood - I was ten years old when I was given an electric 'Jet Hopper' buggy as a present. It was my pride and joy for ages until a kid from next door drove it off a 3 meter drop and things went *plunk*. It didn't work after that.

I lost interest in all things radio-controlled until a few years ago when a co-worker introduced me to radio-controlled aircraft, particularly gliders. RC gliders are great, and can be either relaxing or pulse-quickening, but for the dirt-in-the-face, hardcore radio-controlled action, you need an 'adult' nitro-powered RC buggy. These buggies are pretty much the toy equivalent of that guy in the bar who knocks back a shot of Jack Daniels and then smacks you in the mouth for accidentally bumping into him as you walked by.

The Smartech Winner Sports 1:10 scale nitro powered radio controlled buggy retails for approximately $360 AUD and is, to trim down this review, worth every penny. It can be bought for less on Ebay, but it must be said, not for a lot less. You also run the risk of getting the crappier, single-geared version. Yes, single geared. Yes, like most good RC cars, this version has more than one gear. More on that later.

When Toy Range asked if we'd be interested in reviewing this toy (and it is a toy, no matter how much I'd like to say otherwise), we accepted in a calm and cool manner. Well... the email accepted in a calm and cool manner, I was bouncing around, mumbling "Boyohboyohboyohboy!"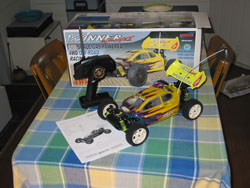 Box contents: the car, the radio, the manual.


I had read Agg's review of the Smartech on-road car, which is designed for the same market and price point, but for tarmac instead of dirt. Interestingly, but not really surprisingly, Smartech have done some body sharing between the two variants. The chassis is based around two 2mm plates of anodised aluminium, which have a bevy of plastic-and-metal supports between them. The engine is offset mounted, as most RC cars, and links to the drivetrain via a set of plastic gears. The only major differences between the two models is the amount of travel in the independent wishbone suspension - the ride height is adjustable and the shocks can be replaced with upgraded parts.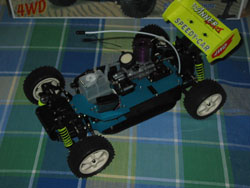 Compare this to the photos in Agg's review and you'll see just how many parts they share.


Personally I've never played with a nitro-powered RC car before, and I have to say that I didn't do a lot of research on the topic. Our earlier review of the on-road car covers a lot of introductory nitro RC stuff, so I read that, as I recommend you do. I figured that if I can operate and maintain a lawn mower and a whippersnipper every other weekend, then an RC buggy shouldn't be too difficult to sort out.

Ah... er... *ahem*... not really. It's rather difficult. I swore a bit before it actually started.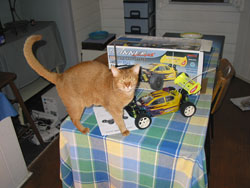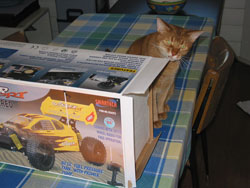 I'm wondering if they make the car with catnip, because Billy wouldn't leave it alone.


Y'see, not only do you have to get an exciting and new array of tools (a glowplug starter, for example), you have to actually understand and know how to use them. Then there's getting the fuel/air mixture right. As we found with the on-road car, the tune from factory will be on the rich side of things ("rich" means it's getting slightly more fuel than optimal, "lean" means less fuel than optimal). This is to help things wear in nicely - as the fuel has lubricants in it - and shouldn't really be messed with for the first 3-4 tanks of fuel. I followed this method... mostly. The first tank, I mostly just cranked out the exhaust as I tried to get the bloody thing to start. I just couldn't get it to turn over.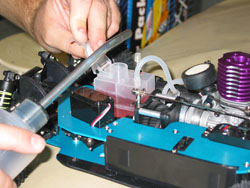 Me happily fueling up, and then flooding, the car.


Then I made the mistake of reaching for the tuning knob. Of course, this made the whole matter worse, because I accidentally twisted it too far into the rich side, out of operational range of the engine, basically and was now just operating the engine by hand... and spraying a lot of raw fuel out the exhaust. Which is not fun.

I resolved this mess by gradually winding the tuning knob back around to the lean side until the engine sounded like it wanted to turn over.

Finally, it fired to life and I slowly trimmed it into a rich-sounding state of tune. I began slowly driving the car around the garage doing circles and figure-eights, for at least two tanks of fuel, then increased the speed on the next tank and so on until on about the fifth or sixth tank, I was doing short bursts of full throttle. This seemed to be the most common approach to running in a nitro engine and mine certainly hasn't suffered from it. When it's in a good state of tune, it sounds most excellent and rockets along.


---
Advertisement:


All original content copyright James Rolfe.
All rights reserved. No reproduction allowed without written permission.
Interested in advertising on OCAU? Contact us for info.

---
Recent Content


Team Group C440 Cardea Ceramic M.2 NVMe SSD


Synology DS720+ NAS


Raspberry Pi 4 Model B 8GB


Retro Extreme!


Intel Core i9-10980XE


AMD Ryzen Threadripper 3960X


Team Group T-Force Vulcan 500GB SATA SSD