XTRAC Hammer, XTRAC Ripper XL, Steelpad QcK+ Mousepads and Mad Wax
Join the community - in the OCAU Forums!
XTRAC Ripper XL
XTRAC Ripper XL:

The second mousepad from XTRAC and the first of two cloth mousepads we're looking at today, the XTRAC Ripper XL arrived rolled up, as if to emphasis its flexibility. The Ripper XL is also rather large, indeed it's even bigger than the Hammer, and by a fair margin. If the Hammer is massive, then the Ripper XL is, well, humungous.



Here we can see the Hammer sitting on its bigger brother, and with a mouse for scale. They're a similar width, but the Ripper XL is significantly deeper. It measures up at a desk-smothering 450mm x 354mm across the mousing surface. Just to clarify - this mousepad is big.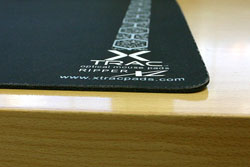 The Ripper XL is thicker than the Hammer, but still fairly thin for a cloth pad - around 2.5mm.



The top mousing surface is a finely woven cloth. It's completely black apart from a strip of XTRAC's optical mousing pattern on the right side and the usual logo/etc.



Underneath the Ripper XL, we can see that it sports a textured rubber backing. It's soft to the touch, so should grip most surfaces well. To test the grip, I pushed the Ripper XL around on a few different surfaces - my old wooden desk at home, my desk at work, a shiny plastic table at work, the side of my fridge/etc. I couldn't unsettle it. It does move a little on shiny surfaces, but only by applying a fair bit of force, probably more than would be applied during "normal" usage. Speaking of which...

Usage:
Remembering back to old days of "wetsuit material covered with cloth" mousepads, I wasn't expecting too much, but I was very wrong - cloth mousepads have come a long way. My main complaint about the older-style cloth mousepads was that spongy effect that pushing down on a mouse would have, presumably due to the thick low-density rubber backing. Under normal use, I can't say that I felt that sponginess with the Ripper XL at all.

The finely woven top surface allowed the mouse to move smoothly across - it wasn't as slick and smooth as the Hammer, but it was pretty good. Hmmm, paradigms shifting...

Accuracy was also excellent. Again, I couldn't make the mouse mistrack at all. I fired up Halflife 2 for a few hours, and didn't notice any issues. In fact, I actually forgot the mousepad was there, which to me is a sign of one that works well. Very nice!


---
Advertisement:


All original content copyright James Rolfe.
All rights reserved. No reproduction allowed without written permission.
Interested in advertising on OCAU? Contact us for info.

---
Recent Content


Team Group C440 Cardea Ceramic M.2 NVMe SSD


Synology DS720+ NAS


Raspberry Pi 4 Model B 8GB


Retro Extreme!


Intel Core i9-10980XE


AMD Ryzen Threadripper 3960X


Team Group T-Force Vulcan 500GB SATA SSD