Advertisement:

CeBIT Sydney 2005
Join the community - in the OCAU Forums!


PCRange, Titan, Sony, Etc

Well, it's that time of the year again. CeBIT Sydney 2005, AKA "The PC Show", was on a couple of weeks ago in the Darling Harbour Exhibition Centre. Once again I wandered along to report on whatever caught my eye and would likely interest fellow PC hardware enthusiasts. Here's the previous articles: 2001, 2002, 2003 and 2004.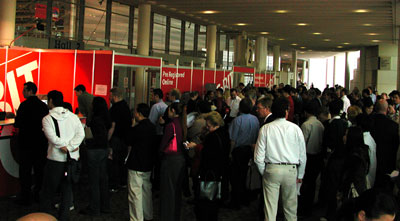 If you did happen to glance through those previous reports, you might notice a worrying trend. There's been a definite decline in the size and, from my perspective, the number of interesting things, at the PC shows over the years. So this year, with E3 having just finished in the USA and Computex just about to kick off in Taiwan, you would be forgiven for expecting another downbeat article. However, you would be wrong. This year CeBIT Sydney took up four halls of the Exhibition Centre, double the size of last year. It's also the first time I have ever had to return to the show for another day because I ran out of time to see everything on the first day.

Stepping through the main entrance into Hall 1, the first thing I saw was PC Range's stand, much larger than last year's. They've recently completed a transition from retailer to pure distribution, so were showing off the various brands they bring into the country. These of course include Billion, Bitspower, Minitar and Zensonic.



The main new gadget they were showing off was the Zensonic Z500 media player, plugged into a large flatscreen. This is a DVD player which can also do DivX and WMV9 etc, but distinguishes itself by having high-definition playback, inbuilt 802.11g wireless, gigabit ethernet and internet support (for weather info, TV guides, stock info, streaming radio stations etc). It even has a USB2.0 port on the front so you can play files off anything from a small thumbdrive to an enormous external HDD. It also has native support for SMB shares to play files across your network and comes with server software for Mac, Linux and Windows. There's even a small VFD screen on the front so you can play MP3's through your stereo without having to turn your TV on. The back is bristling with connectors, with everything from SCART to HDMI. The remote even has a joystick for navigation. If you're after more info, see the Z500 Series website.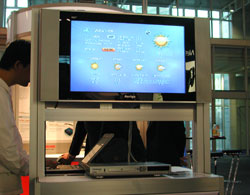 This interesting device on Sony's stand caught my eye. It's a 1RU rackmounted tape library for AIT media. There's an 8-tape carousel (presumably 4 daily and 4 weekly backups would be common) in this 1RU unit giving a total of 1.6TB uncompressed backup capacity. They also do a 16-tape 2RU version for 3.2TB of storage. More info here.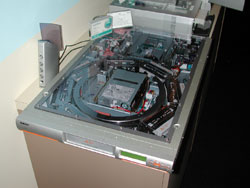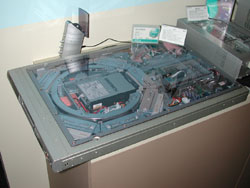 Another interesting gadget was this one, which I was surprised more people weren't paying attention to. I thought at first it was some kind of handy equipment trolley, but a double-take revealed it to be based on the Segway personal transporter. These caused a huge media storm a couple of years ago and were predicted to totally revolutionise the way we get around, but have since faded away and are only used in fairly specialised roles. This one was actually powered up, and if you looked closely you could see it rocking very slightly as it kept its balance on the two wheels. This was the first Segway I've seen in real life and I couldn't resist the impulse, despite the polite sign asking me not to touch, to give it a gentle push in one direction. It resisted the movement quite strongly - it's almost unnerving to see something balanced like that, and feel it push back at you to keep its balance.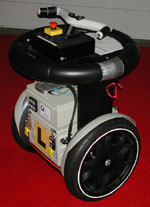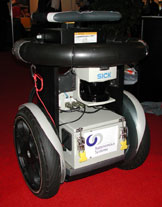 Turns out this modified Segway is actually an experiment in "autonomous robot navigation in unstructured environments", developed by the Australian Research Council's Centre of Excellence in Autonomous Systems. The larger bottom box contains batteries, while the next box up has a fairly standard PC inside. At the front of the unit is an IR laser scanner that the robot uses to examine the terrain ahead of itself and map out its surroundings. Obvious uses would include exploration, bomb disposal, cleaning robots, etc.

National ICT Australia attracted quite a crowd to their practical demonstration of some fairly complex topics. Dr William Uther was demonstrating "symbolic machine learning and knowledge acquisition", or how robots can explore their surroundings and learn, by showing off one of their Sony Aibo robotic dogs. These compete in the annual RoboCup, which has a lofty goal: By 2050, develop a team of fully autonomous humanoid robots that can win against the human world champion team in soccer. The hardware is identical, so it's up to the teams to create the most intelligent and adaptable players by modifying the robot programming. Apparently the UNSW team has a record of doing well in this contest.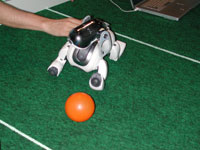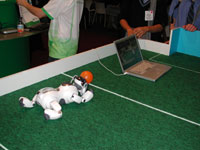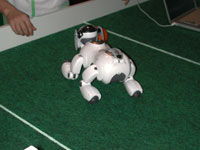 Titan had a decent-sized stand, having come over from Taiwan for the show. They had a range of air-coolers and some entry-level watercooling kits.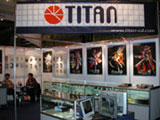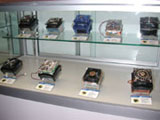 Of particular interest was this watercooled case. Note that the entire side panel is a radiator, complete with flow indicator and connector hoses in the bottom right corner.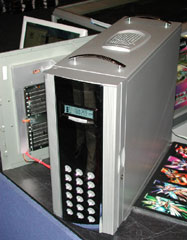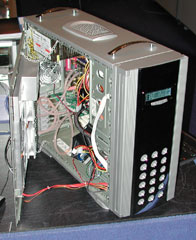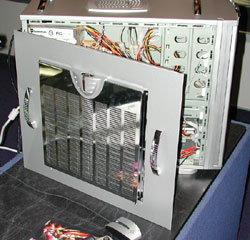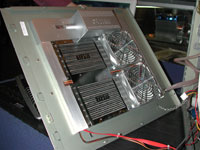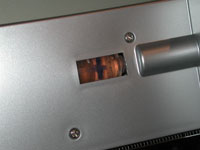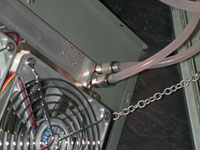 ---
Advertisement:


All original content copyright James Rolfe.
All rights reserved. No reproduction allowed without written permission.
Interested in advertising on OCAU? Contact us for info.

---
Recent Content


Team Group C440 Cardea Ceramic M.2 NVMe SSD


Synology DS720+ NAS


Raspberry Pi 4 Model B 8GB


Retro Extreme!


Intel Core i9-10980XE


AMD Ryzen Threadripper 3960X


Team Group T-Force Vulcan 500GB SATA SSD