Advertisement:

Intel "Pentium D" and "840 Extreme Edition" Dual-Core CPUs
Join the community - in the OCAU Forums!


Introduction, Architecture and Features

Until now improving the performance of a given processor architecture was mainly done by increasing frequency or adding cache. Over the years we have seen Intel's Pentium 4 approaching 4 GHz and the cache growing to 2 MB. However, it became apparent that the current technology had reached its frequency ceiling when in September 2004 Intel announced they were cancelling the 4.0 GHz Pentium 4. Instead, a new approach was revealed: dual-core computing.



Intel's "Pentium D" architecture is placing two Pentium execution cores within a single processor. This dual-core processor plugs directly into a single processor socket, but the operating system perceives each of its execution cores as a discrete logical processor, with all the associated execution resources.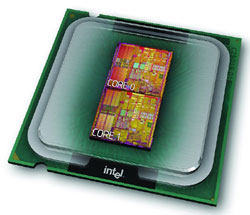 By divvying up the computational work performed by the single Pentium core and spreading it over 2 Pentium execution cores, a dual core Pentium D can perform more work within a given clock cycle. To enable this improvement, the operating system and software running on the platform must be written such that it can spread its workload across multiple execution cores. A processor equipped with thread-level parallelism can execute completely separate threads of code. This can mean one thread running from an application and a second thread running from an operating system, or parallel threads running from within a single application. Multimedia applications are especially conducive to thread-level parallelism because many of their operations can run in parallel. Hyper-Threading (HT) technology, introduced by Intel in 2002, enables processors to execute tasks in parallel by weaving together multiple threads in a single-core processor. But whereas HT technology is limited to a single core using existing execution resources more efficiently to better enable threading, dual-core capability provides two complete sets of execution resources to increase computational throughput.

Dual core capability can also enhance the user experience in multitasking environments, namely, where a number of foreground applications run concurrently with a number of background applications such as virus protection and security, wireless, management, compression, encryption and synchronization. The performance boost of multi-core processing can improve PC responsiveness in any environment where users are working in two or more applications, or when background processes "compete" with each other and with multiple user applications. A multitasking scenario can be as simple as a home user photo editing while recording a TV show through a digital video recorder. In a business setting, a user could download a large software program while running a virus software application in the background. In short: the user will benefit from a dual core processor when he or she is running multithreaded software or working in a true multitasking environment. If they are just running a single application or a game that is single threaded, or not working in parallel on several independently running tasks, there will be no advantage of a dual core Pentium D in comparison to a single core P4 at a given processor frequency.

PENTIUM D ARCHITECTURE, FEATURES AND PROCESSOR RANGE:
Intel's first dual-core processor for desktop platforms, code-named Smithfield, is based on 90nm process technology. 2 Prescott cores with 1 MB L2 cache make 1 Pentium D. It has a combined die size of 206 mm and comes with 230 million transistors.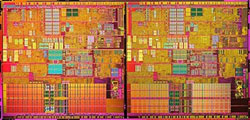 Both Pentium D cores share one front-side bus to the memory controller. This design is less efficient than AMD's dual core architecture, where both X2 cores have their own data "pipelines" to the on-die memory controller and communicate directly with each other instead of having all communication go over an external FSB.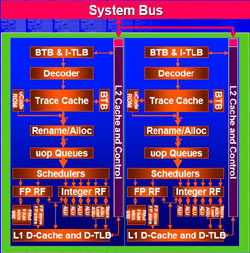 Intel's Pentium D comes with a combination of features we know already from the 500 and 600 series: "Enhanced Speedstep Technology", "Enhanced Halt State", and "Thermal Monitoring 2". More about these features later, when we analyze power consumption. A Pentium D has 2 x 16 KB L1 data caches and 2 x 1 MB L2 data caches. All of them have "Extended Memory 64 Technology" (EM64T) implemented. It allows the processor to access larger amounts of memory and to run 64-bit extended operating systems and software. "Execute Disable Bit", combined with a supported operating system, allows memory to be marked as executable or non-executable. If malicious code attempts to run in non-executable memory the processor raises an error to the operating system. It can help to prevent viruses and worms that exploit buffer overrun vulnerabilities thus helping to improve system security. Streaming SIMD Extensions 3 (SSE3) are additional integer and cache ability instructions that can significantly accelerate performance of digital media applications.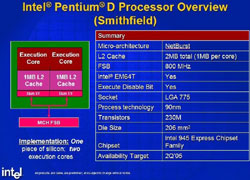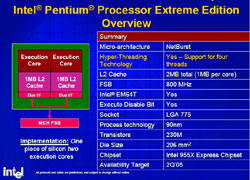 For the time being Intel is offering 3 Pentium D processors and 1 dual core Extreme Edition. They are all based on the same "Smithfield" design and are clocked at 2.8 GHz, 3.0 GHz and 3.2 GHz. The dual core 840 Extreme Edition has Intel's "Hyperthreading" enabled, whereas the regular Pentium D processors lack this feature. With HT enabled the 840XE can handle 4 threads in parallel. It's interesting how Intel is trying to position the 840XE as an enthusiast product. As mentioned, it's the only dual core CPU with HT enabled, but it also comes with the multiplier unlocked. This can be helpful for overclocking, or increasing system bandwidth by lowering the multiplier and raising the FSB frequency. For this purpose Intel's own 955X main board, the 955XBK, offers to run the 840XE right away with 266 MHz FSB frequency, which brings system bandwidth up to 8.6 GB/sec.




Intel will continue to offer the 500 and 600 series and is even extending these product lines. Recently a low priced 500 entry level processor clocked at 2.66 GHz with EM64T support was introduced. At the other end the 600 series was extended upward with the introduction of the 670, clocked at 3.8 GHz.


---
Advertisement:


All original content copyright James Rolfe.
All rights reserved. No reproduction allowed without written permission.
Interested in advertising on OCAU? Contact us for info.

---
Recent Content


Team Group C440 Cardea Ceramic M.2 NVMe SSD


Synology DS720+ NAS


Raspberry Pi 4 Model B 8GB


Retro Extreme!


Intel Core i9-10980XE


AMD Ryzen Threadripper 3960X


Team Group T-Force Vulcan 500GB SATA SSD