Advertisement:

Intel "Pentium D" and "840 Extreme Edition" Dual-Core CPUs
Join the community - in the OCAU Forums!


Overclocking, Final Thoughts

OVERCLOCKING:
As already mentioned the 955XBK BIOS makes the full set of overclocking features only available when the board is used with an 840XE. For overclocking the 820 and 840 we therefore changed to the ASUS P5WD2. We first used the standard Pentium D air-cooler that comes with the CPU and then switched to Thermaltake's "Bigwater", an entry level water cooling kit. All results are obtained by raising the FSB frequency. The 840XE comes "unlocked" and offers additionally the possibility to overclock the CPU by raising the multiplier.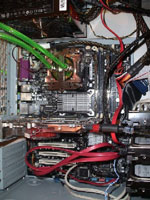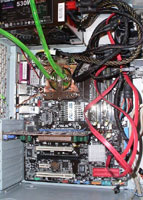 Left: Intel 955XBK - Right: ASUS P5WD2


Smithfield (current stepping A0) is based on the Prescott 1M core with E0 stepping. This core is known for high overclocking potential. On the other hand, knowing that Smithfield consumes at least 15% more power and runs hotter than the already hot Prescott, we did not expect much when we started overclocking. The reality was a pleasant surprise. Although we didn't see any sensational frequencies, the results are quite solid. With the Intel provided air-cooler and the CPU voltage at 1.5 volt the 2.8 GHz 820 went up to 3.50 GHz. The 3.2 GHz 840 and 840XE both made it to around 3.80 GHz. After that we changed to water cooling. The usable frequency gain was relatively small because at around FSB 240 MHz we hit a stability "wall" with the 840 and 840XE. Even increasing the voltage did not help. The results with "PCMark 2004" and "SuperPI" were not increasing anymore or even decreasing above 240 MHz. Although not stable, both 840 would run at much higher frequencies than 16 x 240 MHz = 3.84 GHz. With the 840 we could boot into Windows XP and could run SuperPI at 4.4 GHz.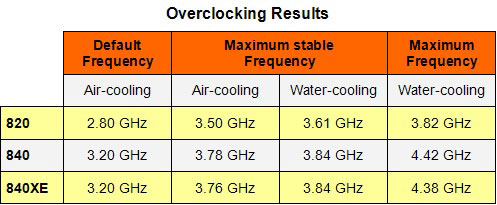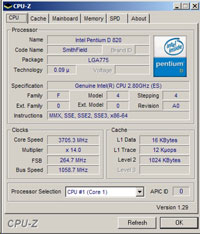 Left: 820 - Centre: 840 - Right: 840XE


The scaling impact when overclocking a Pentium D is quite impressive. Adding around 640 MHz increased "PCMark 2004" performance by almost 20%. We again have to point out, that in our "PCMark 2004" tests the 840 was faster than the 840XE due to the negative impact of HT in this benchmark. When running PCMark 2004 with the (HT enabled) 840 XE the scores are around 300 to 400 points lower than with the (HT disabled) 840.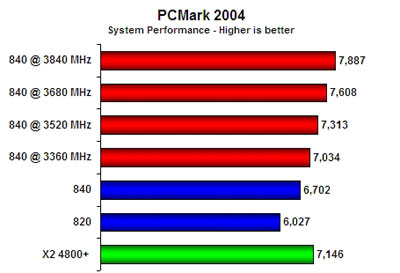 Based on our results with "PCMark 2004" we estimate that a Pentium D would have to run at around 3,450 MHz, that is 250 MHz more than the current 840 default frequency, to be on par with the X2 4800+. In a real life comparison the X2 4800+ would of course also be overclocked and the distance would probably remain the same.

FINAL THOUGHTS:
This article was definitely the most interesting project we have worked on for a long time, because the subject was more exciting than the processor "speed bumps" we are usually reviewing. Dual core computing offers a tangible performance benefit for most desktop users. Multithreaded applications run up to 20% faster with a dual core Pentium D. The performance difference becomes even more pronounced in a multitasking environment. Depending on the intensity of multitasking and the type of applications a dual core Pentium D 820 is between 30% and 50% faster than a single core Pentium 630. Considering that these processors cost roughly the same, a dual core Pentium D is clearly better value for money.

Nonetheless, a dual core processor is not a "magic bullet". Games or other applications that run single threaded don't run faster or better with a dual core processor. For this type of application a high-frequency 600 or 500 processor is still a better choice than one of the relative low clocked Pentium D CPUs. Another caveat is the around 15% higher power consumption and accordingly higher heat dissipation.

Intel has priced Pentium D very competitively, not only towards AMD but also against their own single core products. Below we show Pentium D and X2 street prices in 2 countries. In both markets the cheapest X2, the 4200+, is still more expensive than the 840, the highest clocked Pentium D. Unless the main system purpose is gaming, our favorite is the Pentium D 820. It offers performance that was unthinkable at this price level a short while ago, and the price is certainly affordable even for entry level systems.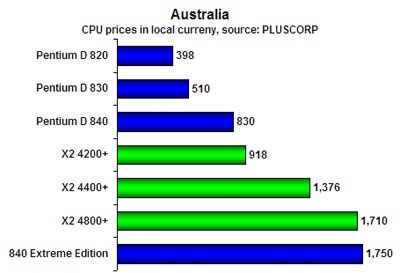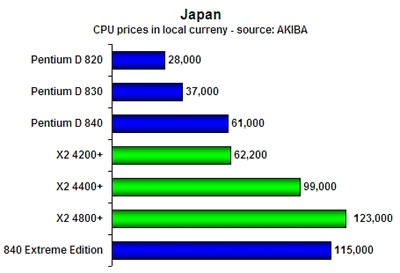 Without doubt AMD has currently the fastest dual core desktop processor. The X2 4800+ was leading in all single threaded applications, particularly games, and most multithreaded applications. The situation looks more evenly-matched in a multitasking environment. The 840XE was on par or even slightly faster than the X2 4800+ in 3 of our multitasking scenarios. When multitasking during gaming, the X2 excelled once more. There seems to be no way that a "netburst" Pentium 4 can beat an A64. Obviously the HT-provided capability to run with 4 cores, compared with "only" 2 cores for the X2 4800+, does compensate in a multitasking environment for the otherwise less efficient Smithfield design. Additionally the 840XE has the benefit of being multiplier unlocked which makes it interesting for overclocking. However, we don't think it will become a popular choice because of its staggering price. Most users will look at the lower clocked and much cheaper Pentium D 820 and 830 and try to overclock them to the level (and beyond) of the higher clocked versions. As we have shown in particular our 2.8 GHz Pentium D 820 offerred ample overclocking headroom and runs even with the Intel provided air-cooling at 3.4 GHz.

Intel's Hyper-Threading technology is still a sharp knife. Introduced in 2003 for the Northwood core it transforms a single core processor into a "virtual" dual core processor. HT gave the P4 a tangible advantage over the competition from AMD. This has changed now with the introduction of "real" dual core processors from both companies. A dual core processor runs a multithreaded application of course more efficiently than a single core processor with HT. Nonetheless we can see that HT can still make a substantial difference when it is implemented on a dual core CPU. Applications that can split a task not only into 2 but 4 or more threads benefit from a HT capable dual core CPU as we have seen with "3Ds max 7" and "Cinebench 2003". On the other hand, it seems that some applications get "confused" by the presence of 4 cores. In the worst case there might be even a performance penalty. But in such a rare case the user can disable HT as he wishes. HT truly shines in multitasking. In all our multitasking scenarios we could see the 3.2 GHz 840XE with HT performing much better than the 3.2 GHz 840 without HT. Even though currently all Pentium D CPUs come without HT, we assume all of them are HT capable and that Intel can enable the feature any time in the same way as they did with the "Northwood" core, which was also sold initially with HT disabled. Obviously Intel feels comfortable enough to keep it disabled for the time being and to make it a unique selling proposition for the 840XE. Well, maybe they will reconsider this for keeping Smithfield competitive against a price reduced A64 X2?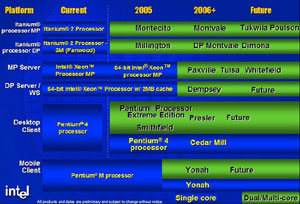 Intel will have dual core products available for mobile and workstation/server within Q1 2006 as well. And in Q1 2006 Smithfield will already be replaced by a new core, codenamed "Presler". Presler will come with a slightly changed arrangement of the 2 cores on the substrate and will be manufactured with 65nm technology. Intel officials are indicating that Presler will dissipate less heat than the Prescott based Smithfield core due to reduced current leakage. "Yonah" will be the dual core Pentium M offering based on the current "Dothan" core and manufactured with 65nm technology. Given the highly efficient design and low power consumption that signifies Dothan, Yonah is a much anticipated product. Rumor has it that a 955 chipset based desktop version is under consideration. But for the time being we recommend any user considering a system change to have a close look at the 2.8 GHz dual core Pentium D.


---
Advertisement:


All original content copyright James Rolfe.
All rights reserved. No reproduction allowed without written permission.
Interested in advertising on OCAU? Contact us for info.

---
Recent Content


Raspberry Pi 4 Model B 8GB


Retro Extreme!


Intel Core i9-10980XE


AMD Ryzen Threadripper 3960X


Team Group T-Force Vulcan 500GB SATA SSD


Team Group T-Force Vulcan SO-DIMM DDR4


G.SKILL Trident Z RGB DC Series