Advertisement:

Apple iPod nano Review
Join the community - in the OCAU Forums!


Out with the mini... in with the nano. Apple today announced that they are dropping the iPod mini from their product lineup and replacing it with a new product, the iPod nano. If we weren't supposed to eat the iPod shuffle, then we better make sure we don't accidently inhale the iPod nano, because it's a lot smaller. At first it looks like it's larger, but when carryring it around it's a lot nicer than a shuffle, as it's slim, not bulky, and slots nicely into your wallet. :)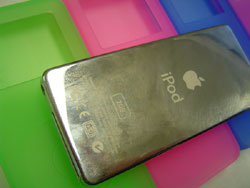 From the front it looks like someone has taken your average full sized iPod, and gone all out with "Honey I Shunk the iPod". At first, you'd be mistaken for thinking "Hey, that really is a mini iPod", however, you'd be mistaken.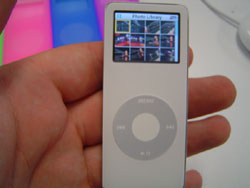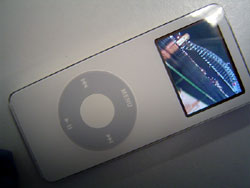 The iPod nano looks like a smaller version of previous iPods, uses the same dock connector, plays mp3's, display's photos and album art, however, that's where the similarities stop.

Physical Differences:
Obviously, the iPod nano is smaller, a lot smaller - it's about 1/5th the size. Unfortunately, this also means you get about 1/5th the capacity. The iPod nano comes in either 2GB or 4GB flavours.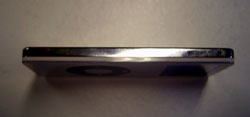 There's been a few minor tweaks, such as the headphone port being relocated to the bottom and the remote port being removed altogether. It's available in a sleek new black colour, as well as the token white. Not enough selection for you? Introducing, iPod nano Tubes. These slide over the iPod in the similar way to the current iPod "skins" and change the colour of your device.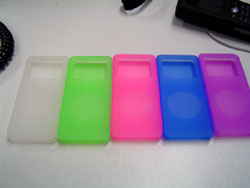 Connectivity Differences:
As mentioned above, the iPod nano uses the same dock connector as all recent iPods. However, there are some major differences:
USB 2 - the way of the future. USB 1.1 connections are not supported by Apple any more. Apple quotes your machine as having to have "A high powered, high speed USB" port. In other words, a USB 2.0 port is required to obtain support for the nano. That's not to say it won't work, however, I didn't have a chance to try it on an older machine.
The nano does NOT support connecting via FireWire. There is no FireWire host chip in the iPod nano. Connecting the nano with a FireWire cable will turn your PC into an expensive iPod nano charger, and that's all.
Due to the size, the nano will not fit into "dockable" products. To resolve this issue Apple has released a "dock adapter" which sits on the bottom of the nano and brings it up to the required size for compatiability. This way, third party vendors will only have to release ONE product, as opposed to one for iPod, one for iPod nano, and so forth.
Accessory support. To date, there are no third party accessories that allow you to use your nano to the extent of the full sized iPod colour. That is to say, you cannot use your iPod nano as a storage device with your camera, while out away from your PC. You can store photos on the iPod nano, but not directly from a camera.
Software Differences:
The iPod nano includes a few interesting features not previously seen on an iPod
Synchronisation of contacts between Outlook/Outlook Express. This allows you to use your iPod nano as a "personal address book"
Lyrics display. If you have stored the lyrics in the ID3 tags of your MP3 file, the iPod nano allows you to read them
Stopwatch. Use your iPod nano as a rather expensive stopwatch!
World Clock, allows multiple timezones to be selected for ease of comparison
Screen Lock. Locks your iPod nano, so if you lose it, or it gets stolen, your MP3s and other data are safe. The only way to "reset" a screen lock is using the machine it was first connected to.
Interface: The iPod nano follows the same principles as it's older brother, the interface is identical
Verdict?
The iPod nano is cool, it's very cool, there's no doubt about that.
The 2GB version retails for AUD $299, whilst the 4GB version will set you back AUD $359. "That much for an MP3 player!?" you ask. Well you have to consider the iPod nano is much more. It's:
An MP3 Player
An address book
A portable picture book
A portable lyrics book
Portable storage
Very, very small
Very well made - I have large hands and was able to use the nano without any issues. It feels very sturdy, and you'd be hard pressed to break it unless you tried.
For those of you who are after something small, trendy, and just want to use it as anything mentioned above, it's an awesome little device. I slotted it in one of the card slots in my wallet and could barely notice it was even there. Compared to the iPod mini, it's a very very small device.



Front to Back: iPod nano, iPod Mini (2gen), Sony Ericsson k750i


However, with size comes sacrifice. At the moment, yes, it only comes with a maximum of 4GB space, which leaves a nice void between 4GB and the 20GB iPod colour. You can't connect third party accessories such as a camera connector, card reader, or microphone to it, and it doesn't support firewire. This, coupled with the fact that the 4GB nano will set you back AUD $359, and a 20GB colour will set you back AUD $449, you have to pause and think for a moment, that the extra AUD $90 might indeed be worth spending. It all depends on your usage, I guess. When the iPod shuffle was released, I thought "no one will buy that, it's useless" and "it has no screen, you'd be an idiot to buy it over a mini", but people proved me wrong. I have a feeling the nano will sell rather well for Apple, and so it should, in my opinion, it's everything the shuffle should have been.

Conclusion:
If you're after an MP3 player with a nice screen, or want to be able to carry photo albums around in your pocket, then the nano is for you. However, if you're a more serious user and have a giant MP3 collection, or a camera that you want to be able to dump to the iPod, then I'd recommend splashing the extra AUD $90 on the iPod colour, and picking up the 16GB more space. Sure, it's not as small, but in my opinion, it's a lot more functional.

Editor's note: Ben recently started working in the Technical Support area of Apple Computer Australia. That may raise a suggestion of bias, but he's been a member of OCAU for a long time and isn't involved in the sales side of Apple. I'm happy for us to have this "sneak peek" info which is otherwise difficult for people to get due to limited availability of the iPod nano at this time. It's clear to me that this is not a sales-pitch review, but, of course, you may want to bear his position in mind and, as always, refer to several reviews before committing to a purchase.
---
Advertisement:


All original content copyright James Rolfe.
All rights reserved. No reproduction allowed without written permission.
Interested in advertising on OCAU? Contact us for info.

---
Recent Content


Team Group C440 Cardea Ceramic M.2 NVMe SSD


Synology DS720+ NAS


Raspberry Pi 4 Model B 8GB


Retro Extreme!


Intel Core i9-10980XE


AMD Ryzen Threadripper 3960X


Team Group T-Force Vulcan 500GB SATA SSD