Advertisement:

X-Micro Mini DiscGo 20GB
Join the community - in the OCAU Forums!


Performance, Conclusions

Performance:
Performance isn't that big of an issue for this kind of device, of course. As long as it's usably fast, that's ok - you're not going to have your swap file or applications running from this device. Although I have heard of people booting Linux distros from flash drives, which sounds like an interesting thing to explore in a future article. Anyway, we'll compare it to some other handy portable storage devices: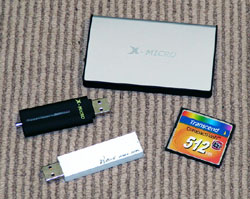 Clockwise from top above we have the Mini DisGo, a 512MB Transcend "45x" CompactFlash card (used in a USB 2.0 card reader), an older ASUS 128MB USB 2.0 thumbdrive and a newer X-Micro 512MB USB 2.0 thumbdrive. We'll also test with a Western Digital WD2000JB desktop hard drive. The Toshiba drive inside the Mini DisGo is a 4200rpm, 512KB-cache unit, while the WD drive is 7200rpm and 8MB cache. This is an unfair comparison because the WD desktop drive is not easily portable and generally used internally, but it'll give us some perspective for the other scores.

Firstly a quick look with HdTach, a popular storage benchmark. I'll summarise the charts in a graph below, so you don't have to expand them unless you're interested in the specific result.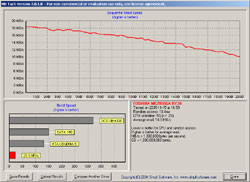 &nbsp

Left: Mini DisGo - Right: Western Digital 200GB


We don't expect the USB-connect MiniDisGo to perform at the same level as the desktop drive, but note that it behaves similarly, as in the speed decays as you go across the drive. Compare this to the solid-state flash: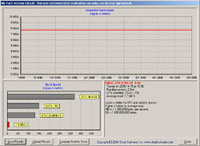 &nbsp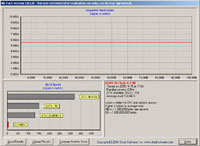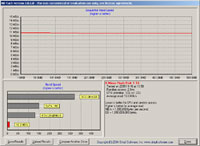 Left: CompactFlash - Centre: Older Thumbdrive - Right: Newer Thumbdrive


The solid-state products are very linear compared with the HDD-based products. They're also slower, with the Mini DisGo handily beating all three.




So, we'll see how long it takes to copy some typical files onto each device, from the boot drive of our test PC. Firstly, two 54MB MPG movies - we're limited in test data size by the size of the smaller thumb drive, but it should be enough to give us an idea:




Next, a 12MB directory of misc documents, spreadsheets, images etc - 988 small files in total.




There's no read-performance results (apart from HdTach) because the speed between the various drives was very similar. There's some difference, but copying the test data to our boot drive only took about 5 seconds even on the slowest thumbdrive. It's the writing that seems to be a killer, affecting copying on the device and even deleting.

I didn't actually realise how painful the older thumbdrives are to work with until I started doing the testing for this review. If you've got an old one which annoys you, it's worth considering an upgrade to a newer, faster and larger one. Regardless, it's clear from our testing that the Mini DisGo is more than holding its own in the "usably fast" stakes, easily beating all the flash storage it's designed to compete with.

Conclusions:
This is a very cool little gadget. I can tell it's cool, not only because of the testing we've seen today, but also because my wife has already started thinking up excuses for why I should give it to her. This of course has me thinking up important reasons why I should keep it, even though neither of us actually use portable storage all that much.

But not only does it ooze geek appeal, it's actually extremely usable. It boasts performance well above flash drives, with a lot more space, and without sacrificing their convenience. What's not to like?



The RRP for the 20GB is USD $199 - I'm not sure what that will translate to in terms of AUD street prices, but given that 2GB thumbdrives are still well over AUD $150, you'll be getting ten times the storage for not too hefty a price penalty. The 5GB and 10GB will of course be cheaper, and my info sheet here names 30GB as the largest, but apparently there's a 40GB version of the Mini DisGo on the way too. Thanks again to X-Micro for the review sample.


---
Advertisement:


All original content copyright James Rolfe.
All rights reserved. No reproduction allowed without written permission.
Interested in advertising on OCAU? Contact us for info.

---
Recent Content


Team Group C440 Cardea Ceramic M.2 NVMe SSD


Synology DS720+ NAS


Raspberry Pi 4 Model B 8GB


Retro Extreme!


Intel Core i9-10980XE


AMD Ryzen Threadripper 3960X


Team Group T-Force Vulcan 500GB SATA SSD