Intro, Features, Inside the Box, Inside the Player

Here's a quick review of the Z500 High Definition Network DVD player from Zensonic.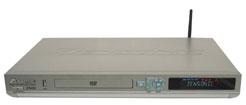 The official Zensonic support page lists the following featrues:
High Definition video playback
WMV9 High Definition playback
Nero Digital™ support
USB 2.0 hard drive support
EL-backlit remote with joystick for quick navigation
Software for Windows, Mac OS X and Linux
802.11g wireless and Ethernet networking
Incorporates HDMI™ technology with HDCP support
Audio Formats Supported: MPEG 1 Layers I,II and III, WAV, CD Audio (With FreeDB Support), OGG Vorbis, FLAC, WMA and AAC.
Video Formats Supported: MPEG-1, MPEG-2 MP@HL, MPEG-4, ASP@L5 (720p), WMV9 MP@ML (720p), XviD, Nero Digital™, QuickTime with MPEG4 encoding.
Picture Formats Supported: JPG, JPEG2000, BMP, GIF, PNG, TIFF
Playlist Supported: M3U, PLS, ASX
Network Support: Ethernet 10/100 Mbps and Wireless 802.11b/g (SMB support - access Windows shares directly).
USB 2 device Support: USB Thumb Drives and USB HDD Drives
Internet Radio Support: Streaming MP3 or ASX (preinstalled library)
Media Streaming Software: uPNP Support via TwonkyVision, Windows Media Connect etc

Misc Features:
Subtitle support
Online Weather Panel
HDCP support
Digital Rights Management: Windows Media DRM 10 *
EL backlit remote
Multi-purpose joystick for quick and easy navigation
ID3 Tag and display on VFD panel on player
Incremental Pan and Zoom (fine grained control of zoom in .1 increments)
Firmware updates from OSD. Check for new updates.
WEP encryption support on Wireless 802.11g
I/O: SCART output, HDMI output, S-Video output, Composite Video output, Component outputs, Audio, Stereo output, Coaxial output, Optical output, Analog 5.1 outputs
Connectors: 10/100 Ethernet, USB 2.0, Wireless 802.11g
TV Types: NTSC (480i / 480p), PAL (576i / 576p), HDTV (720p50 / 720p60 / 1080i50 / 1080i60)

Inside the Box: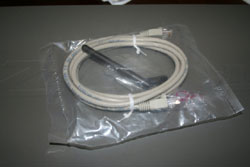 Inside the Player:
The Zensonic contains many components you might find in a normal PC. The network adapter is made by Realtek, the DVD drive is IDE, the wireless card is expandable and the memory is made by Samsung. There are even two empty USB headers on the main PCB for the hackers as the USB chipset supports 4 USB devices.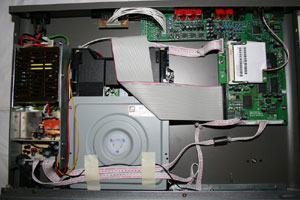 Samsung Memory (K4H561638F-TCB3):
These memory modules are quite common in PC video cards. There is 32MB of memory running at 166MHz/333Mbps (CL 2.5-3-3 )



HDMI (HDCP) Output: Silicon Image Sil9030CTU Processor.
Supports DTV (480i/576i/480p/576p/720p/1080i/1080p) and PC (VGA/XGA/SXGA/WSXGA) resolutions and HDMI v1.0, HDCP v1.1. The HDMI SiI9030CTU processor operates at a frequency of 25MHz for standard video and 112MHz for 720p/1080i applications.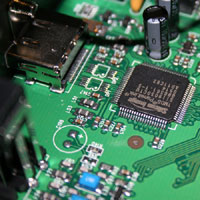 RealTek RTL8100C 10/100 Network chipset:
The Realtek 10/100 network card is more than enough to watch 1080p resolution movies over your network.



DVD Player: EPO DP-306D
Speeds: CD: 16x (2400KB/Sec), DVD: 4x (5600KB/Sec)

DVD Media Supported (hardware only):
DVD: DVD-ROM (DVD-5,DVD-9,DVD-10, DVD-18)DVD-Video,DVD-R/RW,DVD+R/RW
CD: Audio CD,CD-ROM (mode1 & mode2),CD-ROM XA (mode2 form1 & from2),Video CD,CD-I,Photo CD(Single & multi-session),Karaoke CD,CD Extra, CD-R,CD-RW

Zensonic Z500 Operating System (Linux):
The Zensonic Z500 runs a custom version of Linux installed on a Spansion S29GL128M MirrorBit ™ Flash Memory Module. You can even telnet to the Z500 via a command prompt (the username is "root" with no password).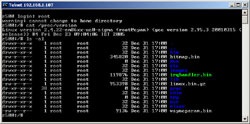 Linux buffs will love the Z500 - feel free to modify this baby and download the source code from Zensonic.