Advertisement:

Inno3D GeForce 7600GS AGP Video Card


Performance, Overclocking

Performance:
As mentioned earlier, this card is destined to replace my PowerColor Radeon 9800 Pro. Two generations ago the R9800Pro was an absolutely top-end card and to be honest I still find it very acceptable for gaming. However, the proliferation of large widescreen monitors, such as the Dell 2405FPW I treated myself to a few months ago, is starting to tax older systems. Playing on an LCD at less than its native resolution - in this case 1920x1200, leads to a blurry picture and an annoyed gamer. But 1920x1200 screens weren't readily available when the R9800 Pro came out, and it doesn't cope all that well with high detail at that resolution. So, I wondered if this new mid-range card, available for only $200 AUD or so, would put the old card out to pasture. Let's find out.

Our testbed is based on ABIT's IC7, with a Prescott-cored Pentium 4 3.2GHz, 2x512MB DDR400 and Samsung's HD400LD 400GB hard drive. Windows XP Media Centre Edition is used with the latest updates, and the latest video drivers for both cards are used as at the time of writing.

3DMark2005 and 2006:
3DMark really needs no introduction, being a popular 3D gaming benchmark for many years. The older 3DMark2005 version is still used regularly for comparison and the free version runs at 1024x768x32. The latest 3DMark2006 has a few new scenes, as well as some old ones re-visited, and the free version runs at 1280x1024x32 by default:




Far Cry:
This first-person shooter is 2 years old now, but is still one of the most visually-stunning games to play. It spurred a wave of video card upgrades when it arrived on the scene, but how will a 2006-era mid-range card handle it? I used the various preset quality settings and benchmarked according to this guide on ExtremeTech, using the inbuilt "regulator" demo in the full retail game with the latest patches. Note that Far Cry is a little dodgy for benchmarking because the game universe persists between benchmarking runs, so enemies and things can be in slightly different places depending on when you run the benchmark after loading the map - ie, you're not displaying exactly the same frames on each benchmark run. So I took an average of 5 runs for each resolution which should iron out any differences.




Prey Demo:
The Prey demo uses an enhanced Doom 3 engine. The demo isn't really meant to be benchmarkable, but Rage3D explain how to do it here. If you want to compare your system to the test systems, use the demo I recorded here - save into your prey/demos folder, bring down the console with the ` key and type "timedemo demo000".




Quake 4 Demo:
id Software's Quake 4 Demo (link on right-hand edge of that page) is of course the latest in this long-running FPS franchise. It's benchmarked via the same timedemo method we've seen in previous Quake and Doom games. The demo I recorded was quite long and turned out to be 175MB! So I haven't uploaded it, but I can do if people really want me to. :)




X3:Reunion Demo:
The X3: Reunion demo has a built-in benchmark mode, involving some impressive space battle scenes and flybys.




Ok, so overall we see the 7600 GS AGP is not far away from doubling the gaming performance of the PC, compared to the Radeon 9800 Pro. "Well, duh, Agg" you may be saying, but to be honest I'm surprised that the difference is that dramatic. Considering this is a fairly cheap mid-range card, it's extremely playable at high resolution, provided you resist the urge to go to absolutely maximum detail with AA/AF etc.

Overclocking:
But of course, we need to see if there's any untapped performance lurking in this card. Sadly, issues with this particular example prevented any real conclusions in that area. First up, I was getting this error occasionally: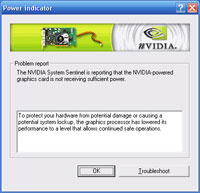 After a while, as you can see in the rightmost pic above, I was getting the error a LOT. The molex power connector on the card was being used, and the System Requirements list only a 300W PSU being needed. Still, I tried a 460W Zalman, 460W Sytrin and a 500W ACBel - all gave the same error. The real concern was whether this error was, as the dialog box suggests, affecting performance. I got Inno3D to check if our benchmark numbers were in the correct ballpark for this card and they confirmed they were. But once this error had appeared in a given bootup, I was unable to overclock the card's core or memory using either the NVIDIA Control Panel or ATITool (which also does NVIDIA cards now). I did have some success early on with overclocking the card before the warnings popped up - on some boots it took a couple of minutes. But I didn't do enough testing to really be able to give any clear numbers on what was stable and what wasn't, and after a while the card was popping up a zillion errors as soon as I booted.

A quick word to Inno3D revealed that NVIDIA did have some problems with cards misreporting power issues in the first batch of 7600 GS AGP - and it looks like we've got one of them. There is a simple registry fix available which does indeed stop all the error messages popping up - but doesn't seem to stop the card from reporting the error in some way, because it still can't be overclocked.

But the good news is that this issue is extremely unlikely to affect you, as we've had this card for a couple of months and the first batch should have completely passed through the supply chain by now. So although I don't have any overclocking numbers from this particular card, reviews elsewhere indicate that core/memory speeds of 470MHz / 470MHz, 448MHz / 440MHz and 482MHz / 437MHz have been achieved. The concensus seems to be that heat becomes an issue at high clocks - so presumably with better cooling you could achieve more, but be aware that your aftermarket cooling options may be limited by the AGP-PCI bridge heatsink.


---
Advertisement:


All original content copyright James Rolfe.
All rights reserved. No reproduction allowed without written permission.
Interested in advertising on OCAU? Contact us for info.

---
Recent Content


Raspberry Pi 4 Model B 8GB


Retro Extreme!


Intel Core i9-10980XE


AMD Ryzen Threadripper 3960X


Team Group T-Force Vulcan 500GB SATA SSD


Team Group T-Force Vulcan SO-DIMM DDR4


G.SKILL Trident Z RGB DC Series