Intel QX6700 Quad-Core CPU


Compatibility, Power and Temperature

MOTHERBOARD COMPATIBILITY, POWER CONSUMPTION, AND TEMPERATURE:
Intel recommends running the QX6700 with motherboards based on their 975X chipset. Manufacturers of such boards for some time now that their "Conroe" capable 975X and 965P boards will also work with quad-core CPUs. Obviously nothing more than a BIOS update is required. However, we recommend careful investigation of whether a "Core 2 Quad" processor actually works with one of the currently existing 965 or 975 boards. Intel's own 975X based motherboard, the 975XBX, is an example that this is not always the case: As quite a few 975X products from other manufactures, the first 975XBX version did not even work with a dual-core CPU, because of different power requirements for such a CPU. Only from revision "304" onward does the 975XBX allow a "Core 2 Duo" processor to be used. Now Intel has revised this board again. The latest version is called 975XBX2, and Intel specifically recommends running a QX6700 only with this version and not with a previous generation 975XBX. We have compared both 975XBX versions and found that various capacitors have been added or changed. This is indicating that the circuitry has been changed, most probably to accommodate the increased power requirements of "Core 2 Quad" CPUs.

In their QX6700 test instructions Intel is also strongly recommending using only an ATX 2.2 PSU that comes with a 8-pin "EPS" 12-volt connector, and not using an PSU with a 4-pin to 8-pin adaptor. We tried initially an older (520 Watt) ATX 2.1 Watt PSU with a 4-pin 12 volt connector and indeed found that the QX6700 system would not even power up. Changing to a 700 Watt ATX 2.2 PSU with a 12 volt EPS connector solved this problem. The system booted up, Windows XP properly recognized and utilized the 4 cores, and was running all benchmarks without any problem. It is our recommendation not to assume that every "Core 2 Duo" capable board automatically runs also a "Core 2 Quad" and to make sure to have an ATX 2.2 PSU at hand that comes with an 8-pin 12 volt connector.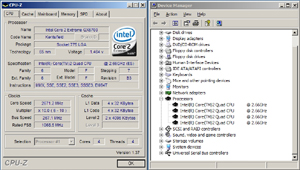 Intel's "Core 2 Duo" is best-in-class when it comes to power consumption and heat dissipation. The TDP for the E6700 is 65 Watt, and for the X6800 70 Watt. TDP or "Thermal Design Power" gives the amount of power the thermal solution in a PC should be capable of dissipating to ensure that the CPU is operating within its specified thermal envelope. Intel's TDP rating is not referring to the maximum amount of power a CPU can consume under full load, but under average working conditions. This means that a CPU under full load can consume far more power than its rated TDP. An E6700 running at the default frequency of 2.66 GHz is easily consuming under 100% load up to 145 Watt. With the Intel retail heatsink and an ambient temperature of around 24~26 C it the E6700 is running at around 52C to 55C.

Intel gives a TDP of (2 x 65 Watt) 130 Watt for the QX6700. The question is, how much heat the much higher power consumption of a "Core 2 Quad" processor actually translates into. The heatsink we received with our QX6700 engineering sample came with a stronger fan than is used for "Core 2 Duo" CPUs. The fan used for "Core 2 Duo" CPUs is running at a maximum speed of around 3,900 rpm. The fan we received with our QX6700 sample was spinning at 5,000 rpm. It also seems that the heatsink itself has been slightly enlarged.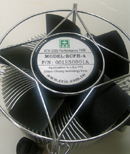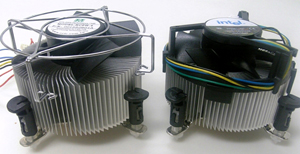 Left: Quad-Core heatsink - Right: Dual-Core heatsink


Nonetheless, and not at all surprising considering that 4 instead of 2 cores are running, we found that the QX6700 at 2.66 GHz is running clearly hotter than a E6700 at 2.66 GHz. When idling, the QX6700 system was consuming around 145 Watt and the CPU running at 44C. Under full load with all 4 cores 100% utilized the QX6700 was consuming 270 Watt and running at 69C with the provided heatsink.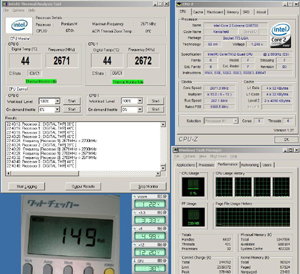 2660 MHz idle with stock fan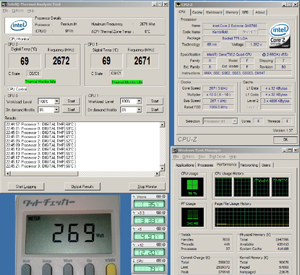 2660 MHz at 100% load with stock fan


The wattage monitoring unit we used reads power consumption at the wall plug. The values shown in the "Power Consumption" chart represent therefore total system consumption and not just CPU power consumption. In order to take other sources as much as possible out of the equation we switched from the power hungry 7900GTX to a fanless low power ATI Radeon X1300. This way the WD760GD "Raptor" hard disk drive remained the only other energy-hungry device in addition to chipset and CPU.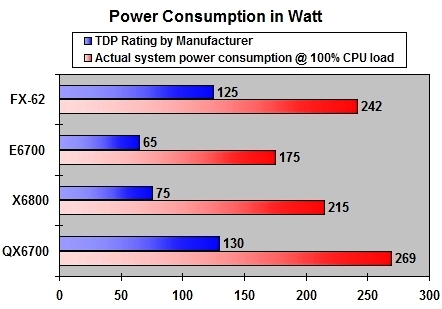 A "Core 2 Quad" processor is without question dissipating a serious amount of heat. Do-it-yourself users have to keep this in mind, when organising airflow within the PC case. The retail heatsink provided with the QX6700, although running relatively "hot", had no problem whatsoever to keep the CPU within a reasonable temperature envelope at the default frequency of 2.66 GHz. The test system was 100% stable. As we have shown, Intel's "Core 2 Duo" has plenty of overclocking headroom with the retail heatsink and fan combo. But a user who wants to overclock a QX6700 will certainly have to look for a more potent cooling solution than Intel's retail heatsink.


---
Advertisement:


All original content copyright James Rolfe.
All rights reserved. No reproduction allowed without written permission.
Interested in advertising on OCAU? Contact us for info.

---
Recent Content


Raspberry Pi 4 Model B 8GB


Retro Extreme!


Intel Core i9-10980XE


AMD Ryzen Threadripper 3960X


Team Group T-Force Vulcan 500GB SATA SSD


Team Group T-Force Vulcan SO-DIMM DDR4


G.SKILL Trident Z RGB DC Series