The Mini-review!

I'm generally not the type of guy to obsess about his body and spend every waking hour in the gym, but from time to time, I do occasionally pull on some joggers and go for a run. When I'm on my run (or fast walk, depending on how fit I am at the time), I need to have some music, just to keep a rhythm going and to keep me entertained.

For me, mp3 players were the answer, because of their large capacity and their lack of moving parts, which means it won't skip when I stagger and fall over a gutter.

I started out with a Skymedia 256Mb MP3 player, which sucked up AAA batteries, but did the job okay. I then moved onto a first generation Apple iPod Shuffle, which caught my eye because they're simple, cheap ($99, which put it cheaper than the same capacity usb stick at the time) and did the job nicely.

Unfortunately, it's not so good for jogging, because it's relatively large and even though it comes with a lanyard to put around my neck, it bounces around and smacks me in the face, which is a bad thing. However, now Apple has released the second generation Ipod Shuffle, which is even slicker-looking, even better quality and utterly TINY.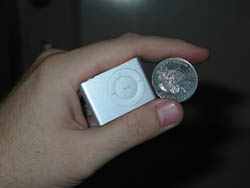 Recommended retail price on one of these is $119, and for that, you get a shiny new, metallic-bodied iPod Shuffle with 1gb of memory, with headphones, a 'dock' - which is also tiny - a set of small earbud headphones, a small manual, and a quick-reference card. Unfortunately, there's no CD included with a copy of iTunes, so you'll have to download that.



The iPod shuffle is stupidly easy to use. In a "circle" control, there's a play/pause button, next track, previous track, volume up and down, an on/off switch and a straight play/shuffle play switch. It has a 3.5mm earphone jack, which also functions as the connector on the dock, which is a nifty idea, and finally it's got a nice, big clip on the back, which pivots around the earphone jack "tube". Unfortunately, the spring is a bit weak, and I can see it getting weaker with continued use.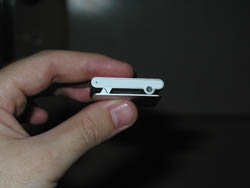 The rest of it is beautifully made. The two switches have a nice, solid action and feel like they'll last forever, as well as the "circle" control buttons. The case appears to be machined out of one piece of aluminium and has a solid, chunky feel to it. To be honest, I'm amazed they can fit the hardware to hold 1gb of data, a battery that has 12 hours of play time, and the brains to control it all.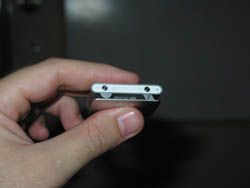 The iTunes software is pretty straight forward to use, so I won't go into detail on it, but to give you an idea of how to put mp3's onto the iPod, you put it on its dock, create a new playlist, drag mp3 files onto that playlist, and drag the playlist to the iPod icon in iTunes. iTunes will update the data on the iPod and you're away.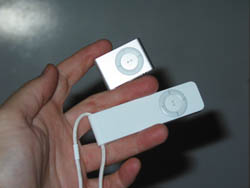 The old and the new.


If you want to transfer data files around, you can also modify how much of the iPod's memory is reserved for music and how much is reserved for data, but as you need the dock to connect it to the computer, it's a little inconvenient, but you can do it if you need to.

Well, normally, there's a conclusion in a review, and here it is: I love this thing. The spring in the clip is a bit weak, but hell, I'll cope with that. If you need a small, uncomplicated mp3 player that's high quality, look no further.