Advertisement:

Intel Penryn: Fast, cool, and "greenish"
Join the community - in the OCAU Forums!


Introduction, What's New with Yorkfield?

Intel has based its product development strategy on what they call the "Tick-Tock" model. Its objective is to put one major product improvement into the market every year, by introducing either a new micro-architecture or a new generation of silicon process technology. Each "tick" represents the silicon compaction beat rate, which has a corresponding "tock" representing the design of a new micro-architecture delivered in a cycle approximately every two years. When Intel announced their Tick-Tock model it was met with skepticism and regarded as rather "ambitious". Indeed, at that time Intel had kept their Pentium 4 "NetBurst" micro-architecture not two, but longer than five years in the market. And the last "NetBurst" based CPU, the 90nm single core "Prescott" and dual core "Smithfield", were power hungry, hot running, and less efficient than competing products from AMD. However, in 2005 Intel delivered the first "Tick" by shrinking the transistor size from 90nm to 65nm. This was followed in 2006 by the first "tock", the highly efficient "Core" micro-architecture. The combination of 65nm manufacturing with "Core" put Intel back into the driver's seat of processor technology. They had lost this position in 2003, when AMD introduced its K8 micro-architecture.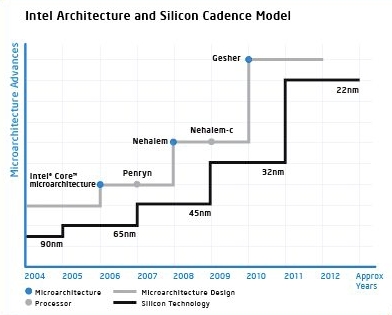 Now, in November 2007, just 2 years after the switch to 65nm, Intel is launching the 45nm "Penryn" processor family. Not only is Intel introducing 45nm technology far ahead of AMD, they have even now already firmly committed themselves to deliver the next "tock", a completely new micro-architecture by the end of 2008.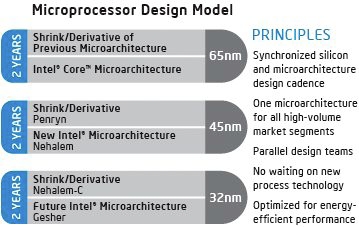 Today we have a look at the first member of the Penryn family. The QX9650 is a quad-core processor running at 3000 MHz and based on the "Yorkfield" core. It replaces the 65nm QX6850 based on the "Kentsfield" core. In January 2008 Intel will replace the remaining 65nm quadcore products with 45nm parts. In addition they will offer a new flagship processor clocked at 3200 MHz and running with a 1600 MHz system bus.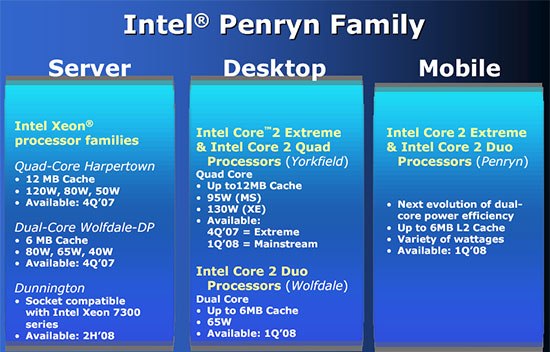 Dual core Penryn CPUs will from January 2008 onward be based on the 45nm "Wolfsdale" core. Eventually Intel will offer 45nm Penryn processors for desktop, mobile, and server usage. In addition Intel will continue for some time to produce 65nm Conroe CPUs with a system bus frequency of 800 MHz as entry level products.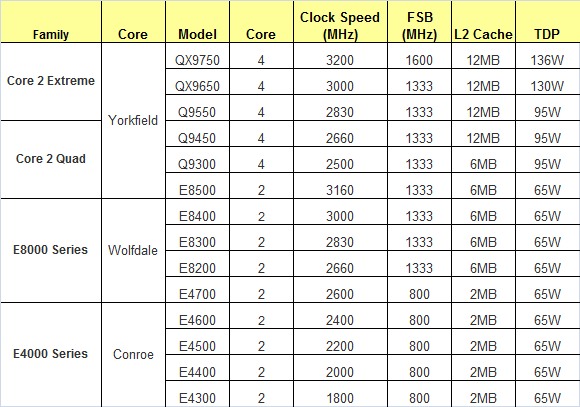 Yorkfield - What's New?
In the same way that Kentsfield is a "paired" dual-core Conroe, so is Yorkfield a "paired" dual-core Wolfsdale. So, rather than four separate cores inside each CPU, they are arranged as two "dual-core" pairs. The pairs are packaged together in one CPU, but located on separate dies. They communicate with each other via the system bus. This won't change until the introduction of the new "Nehalem" architecture with on-die memory controller at the end of 2008.

So, what are the differences between the newer QX9650 and the older QX6850? Both run with a default clock speed of 3000 MHz, have 4 cores, and are in principle based on the same micro-architecture. The QX9650 front-side with the IHS (integrated heat spreader) doesn't look any different from Conroe/Kentsfield processors - with the exception of a small dot in the lower left corner of the IHS.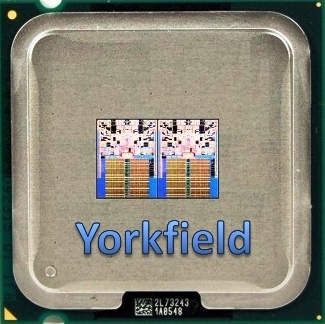 This dot is there to distinguish 45nm CPUs from older models. Turning the QX9650 over, we can see that the capacitors sitting below the dies are arranged in a different way. But that is all that distinguishes the QX9650 externally from its 65nm predecessors.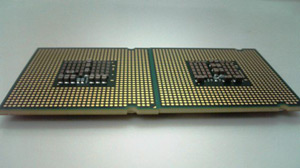 Left: Q6600 - Right: QX9650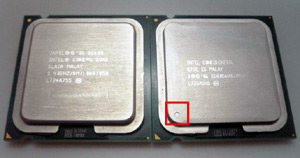 Left: Q6600 - Right: QX9650
---
Advertisement:


All original content copyright James Rolfe.
All rights reserved. No reproduction allowed without written permission.
Interested in advertising on OCAU? Contact us for info.

---
Recent Content


Team Group C440 Cardea Ceramic M.2 NVMe SSD


Synology DS720+ NAS


Raspberry Pi 4 Model B 8GB


Retro Extreme!


Intel Core i9-10980XE


AMD Ryzen Threadripper 3960X


Team Group T-Force Vulcan 500GB SATA SSD