Advertisement:

Intel E8000 "Wolfdale" Dual-Core Processors
Join the community - in the OCAU Forums!


Media Encoding, Image Processing, Desktop Tasks

MEDIA ENCODING
Media encoding is a common CPU-intensive task. Multi-core CPUs are a popular choice for these often multithreaded applications.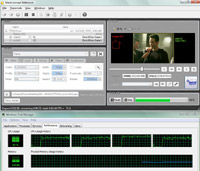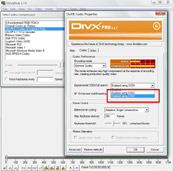 Windows Media Encoder, Main Concept, DivX


Microsoft "Windows Media Encoder 9" is running multithreaded and therefore making good use of a quad-core processor. We transcoded a 9 MB AVI video clip into a 39 MB WMV file. As with most current encoding applications, WME 9 is not yet utilizing the brand new SSE4.1 instructions Intel has implemented with Penryn. Nonetheless, even without SSE4.1, which means on equal footing, the E8400 was 14% faster than the E6850. Because WME is running multithreaded, the quad-core QX9650 is far ahead of the dual-core CPU.

The "Main Concept" encoder is also not yet taking advantage of SSE4.1 instructions. We transcoded a 40 MB AVI file into the H.264 codec using one of the build-in encoding profiles. The results are very similar to what we obtained with WME 9: The E8400 is around 13% faster than the E6850. Again we can see a massive advantage with a quad-core CPU: The QX9650 is more than 60% faster than the higher clocked, but only with 2 cores running E8500.

Version 6.7 of the popular DivX codex is already supporting SSE4.1 instructions. We used "Virtual Dub" as front-end for DivX to encode a 70 MB MPEG2 source file. We first encoded with SSE2 and then once more the same video clip with SSE4.1. The difference between the E8400 and the E6850 at equal footing, when both are working only with SSE2, is 10%. When we encoded the same source file with SSE4.1, the E8400 was a whopping 32% faster than the E6850. We went on to transcode a 112 MB WAV file to MP3 with the multithreaded version of LAME. The E8400 is faster than the E6850, but only marginally. It encoded WAV into MP3 just 4% faster than its predecessor.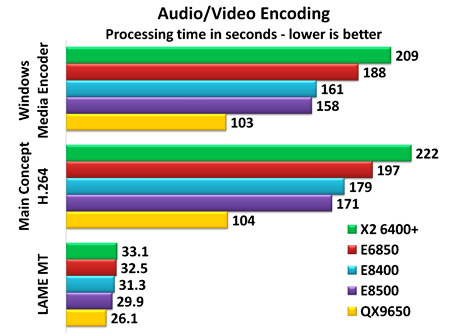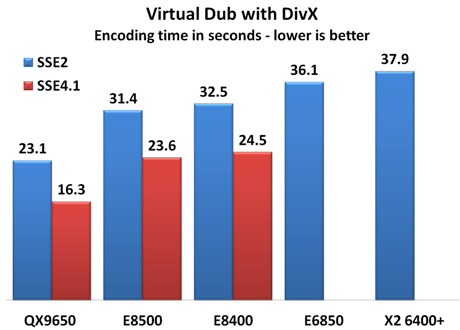 To sum it up: The E8400 is encoding video files at least 10% faster on a clock-to-clock basis due to its enlarged L2 cache and enhanced micro-architecture. If SSE4.1 instructions are used, it seems a gain of 30% or even more is a realistic expectation.

IMAGE PROCESSING
Rendering and image processing tasks are easily broken down into parallel jobs and are therefore an ideal working ground for a multi-core processor.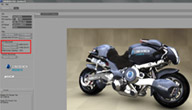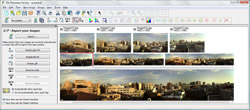 Cinebench, Panorama Factory, POV-Ray


"Cinebench R10" comes with a built-in benchmark, where a predefined picture is rendered either single-threaded or with as many threads as cores are available. The E8400 was besting the E6850 by 8% in the single processor score and 10% in the multiprocessor test. The quadcore QX9650 is unbeatable in this test, as the CinebenchR10 CPU multiprocessor benchmark takes advantage of every additional core.

"Panorama Factory" stitches individual images together to create a wide-aspect panorama. We asked the application to stitch 4 large 1920x1080 photos of 3 MB each into a single panorama. The E8400 is processing the 4 pictures in 41 seconds, the E6850 took 45 seconds. But again we can see that the quad-core QX9650 is much faster.

There isn't much to explain about Adobe's Photoshop. It's probably the most popular image editing software around. We are applying 4 filters to a 75 MB picture. The E8400 ends up around 7% faster than the E6850.

The "Persistence of Vision Raytracer", more commonly known as "POV-Ray", is a ray tracing program for creating 3D-graphics. POV-Ray 3.7 comes with native multithreading. We rendered the 1024x768 demo picture "chess2.pov" with 1 thread, 2 threads and 4 threads. The results are another testimony for quad-core processing power: the QX9650 renders the demo picture almost twice as fast as the dual-core CPU. As to be expected, when running the job with only 2 threads, there isn't much of a difference between the 3 Penryn 45nm CPU. The E8400 beats the E6850 by 12% though. Rendering and 3D-image processing is another area where Penryn shines. In all these tests the X2 6400+, AMD's fastest dual-core CPU, came in last by a wide margin.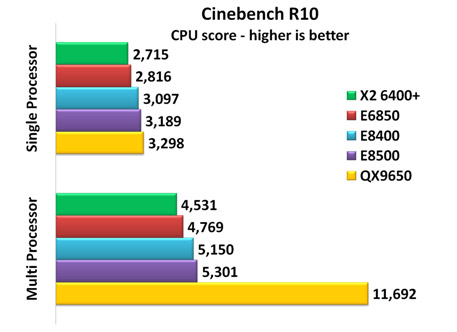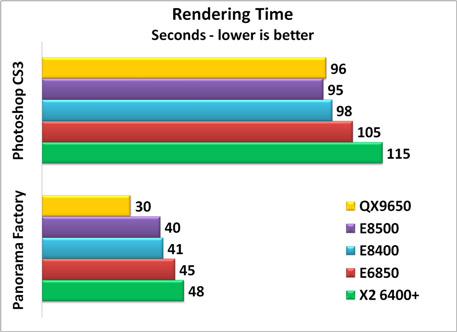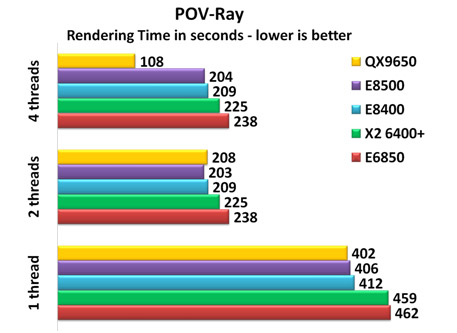 Finally, we threw a few typical desktop tasks at the E8400.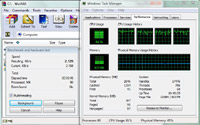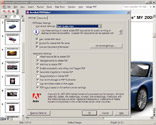 WinRAR, SpyBot, Powerpoint to PDF


The popular WinRAR file compression runs multithreaded and uses a lot of processing power. The E8400 is compressing files with WinRAR around 8% faster than the E6850. It compressed a 90 MB file in 50 seconds instead of 54 seconds. We then asked "AGV" to viruscheck a 100 GB disk drive with around 90,000 objects. The E8400 did this 5% faster. Adobe's "PDFMaker" was used to convert a 36-page PowerPoint file into a PDF document. The E8400 did this in 62.2 seconds, around 8% faster than the E6580. "SpyBot - Search and Destroy" is scanning, removing and blocking spyware, adware, and Trojans. The E8400 scanned an almost fully occupied 100 GB disk drive in 54.6 seconds, around 6% faster than the QX6850.


---
Advertisement:


All original content copyright James Rolfe.
All rights reserved. No reproduction allowed without written permission.
Interested in advertising on OCAU? Contact us for info.

---
Recent Content


Team Group C440 Cardea Ceramic M.2 NVMe SSD


Synology DS720+ NAS


Raspberry Pi 4 Model B 8GB


Retro Extreme!


Intel Core i9-10980XE


AMD Ryzen Threadripper 3960X


Team Group T-Force Vulcan 500GB SATA SSD