AMD Phenom II X4 940 Black Edition and Radeon 4670
Join the community - in the OCAU Forums!


Introduction, Test Setup

AMD's Phenom series has had a bit of a troubled childhood. A late release, terrible PR over a mostly overstated TLB bug (which, incidentally, has also affected Intel), and lacklustre clock speeds all contributed to an underwhelming reception for an otherwise interesting and in some ways ground-breaking CPU. Fast forward to the start of 2009 and we find AMD looking to complement its warmly received Radeon 4000 series GPUs and 780G/790GX integrated chipsets with a livelier CPU. Enter Phenom II.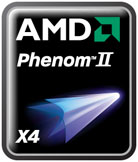 Built on AMD's new 45nm process (which you can read more about here), the Phenom II brings some obvious advantages. First and I suspect foremost for a majority of OCAU readers, the 45nm process brings power and heat savings, which generally translates into a higher clock speed ceiling - my testing results confirm this. Level 3 cache has trebled, now up to 6MB. The clock speed on their new top-dog Black Edition is 3GHz, up from a previous best of 2.6GHz.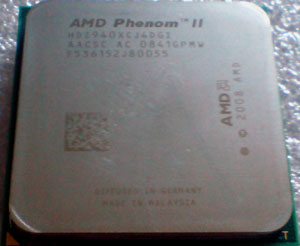 AMD provided OCAU with a Phenom II X4 940 Black Edition, which is a bit of a mouthful, and eerily similar to the naming scheme of Intel's Core i7 series. Nevertheless, we're eternally grateful for the opportunity to play around with new toys, and set out to give it a hammering and see how it responded. For comparison we have a 2.4GHz Phenom 8750 triple-core processor.

Providing a home for the new CPU is the DFI 790FXB-M2RSH, which features AMD's 790FX chipset. AMD also supplied an MSI DKA790GX Platinum AM2+ motherboard, which features AMD's 790GX chipset. You can check out windwithme's review of this board here. The MSI board was primarily used in my foray into the world of extreme cooling, which you can read about later in this article.



Last in the bag of goodies from AMD was an ATI Radeon 4670 video card, which is based on the same architecture as the famous 4800 series. It features a core clock speed of 750MHz coupled with 512MB of GDDR3 which runs at 1000MHz.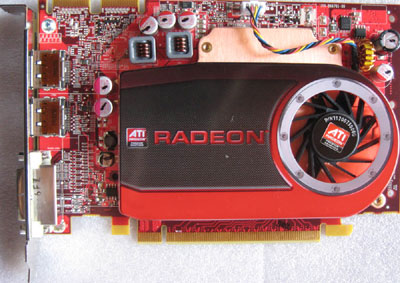 Test Setup & Notes:


For synthetic benchmarks I'll be utilising the new SP2 version of Sandra Lite. For something a little more "real-world" I'll be working through a few recent games, namely Dead Space and Far Cry 2, as well as some XviD to DVD conversion with ConvertXtoDVD.

Similar to my last article, I feel it's necessary to provide a disclaimer about what I'm doing with this article. Given that I lack the money and time to accommodate comparing multiple platforms, and the fact there are plenty of people out there who either have AM2/AM2+ systems, or for one reason or another prefer AMD products, it would be nice if everyone could keep this in mind before getting upset about what I have or haven't done. Also, please keep in mind that there are plenty of sites that perform direct Intel-AMD comparisons. Thanks!


---
Advertisement:


All original content copyright James Rolfe.
All rights reserved. No reproduction allowed without written permission.
Interested in advertising on OCAU? Contact us for info.

---
Recent Content


Team Group C440 Cardea Ceramic M.2 NVMe SSD


Synology DS720+ NAS


Raspberry Pi 4 Model B 8GB


Retro Extreme!


Intel Core i9-10980XE


AMD Ryzen Threadripper 3960X


Team Group T-Force Vulcan 500GB SATA SSD