AMD Phenom II X4 810
Join the community - in the OCAU Forums!


Introduction, Test Setup, Overclocking

The Phenom II, built on AMDís new 45nm manufacturing process, has rekindled the CPU battle with Intel. Coupled with a spate of scheduled releases for the next few months, AMD looks to be right back in the hunt, after a number of years languishing behind. Higher clock speeds, more Level 3 cache, and better overclocking capabilities have combined to give Intel cause for concern, and theyíve reacted predictably by cutting prices. Great for the consumer, but so far only for those who are in the market for a more costly CPU.

So, what is there for the rest of us who want a quad core, but canít justify forking out for the latest and greatest? Well, for us AMD has launched the Phenom II X4 810. It features four processing cores operating at 2.6GHz clock speed, 2MB of Level 2 Cache, 4MB of Level 3 cache, a NorthBridge frequency of 2GHz and a HyperTransport link running at 2GHz, fitting into a 95W TDP.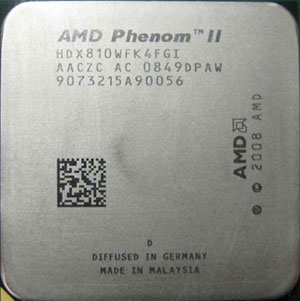 Today Iíll be pitting it against an Intel Q8200, also a quad core, which runs at 2.33GHz, with a 1333MHz Front Side Bus, 4MB of L2 Cache and also specified with a 95W TDP. Can the Q8200 make up for its 270MHz clock speed deficit? Can the X4 810, with its clock speed advantage and native quad design, stamp its authority over the Intel chip? Read on to find out.

Test Setup & Notes:




Power usage tests were originally going to be included, but the accuracy of my $40 Jaycar power meter is dubious to say the least, and outright misleading if weíre honest. Itís worth noting that the heatsink I used on the Phenom II was quite old and from a 65nm dual core, since I wasnít provided with one for the review. Iím fairly certain the results (particularly the northbridge) on a retail heatsink would be noticeably improved.
All results excepting Sandra (since I was using their nice graphs) were run three times and then averaged, with a reboot for every time I changed testing program. Finally, due to unconquerable conflicts whilst attempting to install multiple different ATI Catalyst drivers on the Intel system, my planned gaming tests were abandoned as I couldnít match graphics cards. Sorry, folks!

Overclocking:
My target was to surpass 3GHz and keep the clockspeeds even between the two, to see how they each scaled with frequency. I aimed for over 3GHz because I felt most enthusiasts could achieve this with minimal effort and/or expenditure on third party cooling. Both chips allowed for this relatively easily. The Q8200 is limited by its 7x multiplier, whilst the Phenom II is limited by AMDís K10 architecture which has been notoriously picky about high HTT or reference-clocks, although this situation has been improving much of late.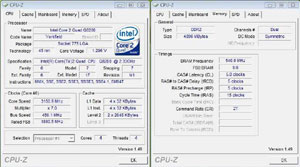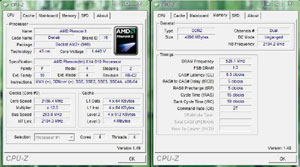 With a minor voltage increase to 1.3325V I was able to bump the Q8200 up to 3.15GHz (7x450MHz), a healthy 35% overclock. Not to be outdone, the Phenom II responded well with a similar 0.1V increase, bringing the core voltage up to 1.4V, resulting in a 21% overclock to 3.16GHz (12x263MHz). Lower voltages may be possible with both chips for all the tweakers out there, but due to time constraints I was satisfied, having attaining my target speed with full stability and safe temperatures.

Overclocking the CPUís internal North Bridge (NB) is an advantage that AMDís K10 architecture currently has over Intel's Yorkfield. Without too much effort I bumped up the memory controller to 2.1 GHz, which at 100MHz is quite a small overclock, but things were heating up with anything above the 8x NB multiplier and I couldnít get full stability. Nevertheless, the results of this little tweak are also included in my test results. So, without further ado, letís see what these sub-AU$300 quad cores are capable of.


---
Advertisement:


All original content copyright James Rolfe.
All rights reserved. No reproduction allowed without written permission.
Interested in advertising on OCAU? Contact us for info.

---
Recent Content


Team Group C440 Cardea Ceramic M.2 NVMe SSD


Synology DS720+ NAS


Raspberry Pi 4 Model B 8GB


Retro Extreme!


Intel Core i9-10980XE


AMD Ryzen Threadripper 3960X


Team Group T-Force Vulcan 500GB SATA SSD