Introduction, Test Setup

The ATI Radeon HD 4870 was launched in June 2008, to considerable fanfare and much to the chagrin of rival NVIDIA. ATI were finally back amongst the top of the charts after a long spell lagging behind the legendary NVIDIA 8800 GTX. In partnership with its conjoined-twin bigger brother (the 4870X2) and GDDR3 little brother (the 4850), ATI delivered bang-for-buck across the spectrum of enthusiast GPUís.



10 months later, ATI launches the Radeon HD 4890. The 4890 shares a very similar architecture to the 4870: they both have 800 Stream Processors, GDDR5 memory, 40 texture units, and both are produced using TSMCís 55nm production process. The differences arenít revolutionary, but are worth noting. Firstly, thereís an extra three million transistors, which went into re-timing the entire chip and altering the power distribution. There is also an entire decoupling capacitance ring around the core, in a deliberate push to support higher clock speeds.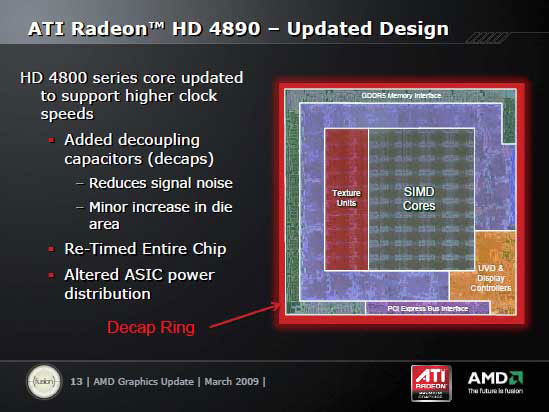 This was worth the effort, as the stock core frequency on the 4890 is 850MHz, 100MHz higher than the 4870, and there are numerous overclocked products from partners that are up to 900MHz already, with 1GHz models on the way. As well as the core frequency increase, the memory clock has been bumped to 975MHz (3900MHz effective), up from 900MHz (3600MHz), resulting in memory bandwidth nudging upwards to 124.8GB/s from 115GB/s. 1GB is also now the default amount of memory, up from 512MB.

These specification changes have also reaffirmed the unquestionable lack of complementary midday meals in this universe, as the load power rating has gone up 16% to 190W. Thankfully, the cards idle power needs have been trimmed by 33%, down to an incandescent-light-bulb-like 60 Watts.

The CPU side of AMD also launched a popular bang-for-buck product, back in February, the Phenom II X3 720 Black Edition. It features three cores, 1.5MB of L2 cache (512kB per core), 6MB of L3 cache, a clock speed of 2.8GHz, a memory controller speed of 2GHz, and importantly for overclockers, an unlocked multiplier.



The unlocked multiplier, combined with the Phenom IIís complete lack of cold bug, has resulted in some typically ludicrous clocks submitted to hwbot.org.




So, with not one, but two 4890ís on hand, an unlocked triple-core CPU and a 790FX chipset, the plan is to whip up a frenzy of CrossFireX-powered, polygon-pushing fun! Read on to see how it turns out.