Advertisement:

Phenom Shootout
Join the community - in the OCAU Forums!


Introduction, Setup, Overclocking

AMD's Phenom II series has jolted the company back into the headlines for all the right reasons. Namely: bang-for-buck, a cheap upgrade path, and a 45nm production process which has enabled extreme coolers to reach the highest quad-core frequencies ever. Whilst Intel's Core i7 has a firm grip on the high end of the enthusiast and workstation markets, users with lower budgets have proven unwilling to fork out for new motherboards and DDR3 memory, which is only now beginning to come down to an acceptable price range. The price discrepancy between the two rivals, coupled with the Global Financial CrisisTM, has surely contributed to AMD's recent market-share gains.

The latest development in AMD's charge to win back the bang-for-buck segment, where it won many fans in the earlier part of this decade, is a couple of new dual-core models. The Phenom II X2 550 Black Edition is clocked at 3.1GHz, sharing the rest of its specs with its siblings in the Phenom II family. It features 512kB of Level 2 cache per core, 6MB of shared Level 3 cache, a 2GHz memory controller or internal north bridge, and an 80W TDP. Being a Black Edition, it also features the overclocker's delight - an unlocked multiplier.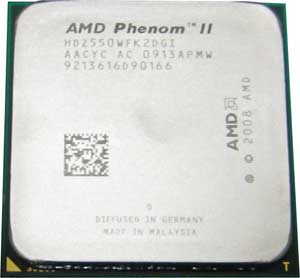 The X2 550 is basically a quad-core chip with two cores disabled, meaning it is possible to enable the other two cores with the same BIOS trickery employed with varying success on the Phenom II X3 720. Quite a few of our members have shared their stories of success and failure in the forums.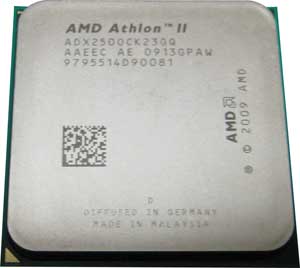 The other chip being launched recently, the Athlon II X2 250, is etched from a different slice of silicon. It boasts twice the Level 2 cache of its bigger brother, with 1MB per core, but misses out on Level 3 cache, which the Phenom II's independent cores use to share data across. Running at 3GHz, and with the same 2GHz memory controller clock speed, it fits into a snug 65W TDP. Being a new design rather than a hobbled little brother means there are no extra cores to re-enable.

Having watched the AMD Hardware section of OCAU's forums buzzing with more activity in the past few months, it seem like a good time for a comparison of six Phenom I/II chips, including the X2 550 and the new Athlon II X2 250.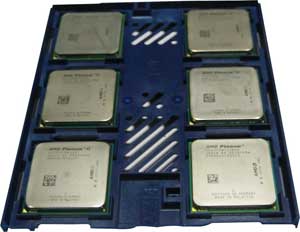 Test Setup:

All tests were run 3 times and then averaged. Due to a BIOS-related issue with regards to Cool'n'Qu'iet and the Athlon II processor, AMD recommended testing with this feature disabled while they worked with motherboard manufacturers to accelerate the updated BIOS releases. This is only a performance-related issue, stability is not affected, and it is due to the way Windows handles the extra performance states that the new Athlon II features. Prices used in the comparisons were an arbitrary typical price from online vendors.

Application Settings
lame: lame.exe -b 192 -h -m s -V0 -B 320 -F
handbrake: HandBrakeCLI -v -C 4 -i C:\BADBOYBUBBY01\VIDEO_TS –o C:\Users\dirtyd\Desktop\output\bbb.avi -e xvid -S 1400 -2
(-C flag denotes core and hence thread count and was changed accordingly.)
Far Cry 2: 640x480, DirectX 9, everything set to lowest possible detail.
Overclocking:
The Athlon II was this article's target for overclocking, as Black Edition CPUs have had a good show in recent articles, and the process will be exactly the same with the X2 550.



Anyway, this particular Athlon II retail chip was able to hit 3.86GHz, a handy 26% overclock, with 175mV added to core voltage. Keep in mind this is intended to give a rough indication of what users can expect, and was not a particularly well tweaked or extreme overclock.


---
Advertisement:


All original content copyright James Rolfe.
All rights reserved. No reproduction allowed without written permission.
Interested in advertising on OCAU? Contact us for info.

---
Recent Content


Team Group C440 Cardea Ceramic M.2 NVMe SSD


Synology DS720+ NAS


Raspberry Pi 4 Model B 8GB


Retro Extreme!


Intel Core i9-10980XE


AMD Ryzen Threadripper 3960X


Team Group T-Force Vulcan 500GB SATA SSD