Intel Clarkdale
Join the community - in the OCAU Forums!


Introduction, Technical Info

CLARKDALE ANTE PORTAS!

On January 7 Intel will flood the market with a wave of 17 new processors and 7 new chipsets. The new processor family is called "Clarkdale". All of them have 2 cores and are based on the highly efficient Nehalem micro-architecture. Clarkdale comes in various flavours, for desktop and mobile, and for entry (i3 500) and medium level (i5 600) computing.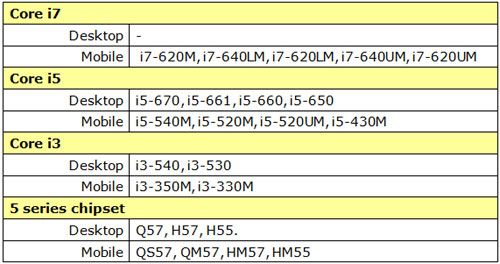 Clarkdale is more than just the replacement of existing dual core processors based on the "Core 2" micro-architecture. In addition to the newer micro-architecture it is sporting 2 major innovations: It is produced with 32nm technology and has its own graphic core. Clarkdale is the world's first micro-processor with 32nm transistor technology and integrated graphics.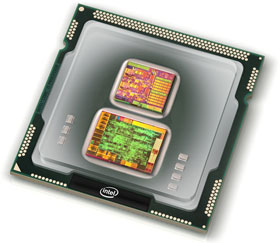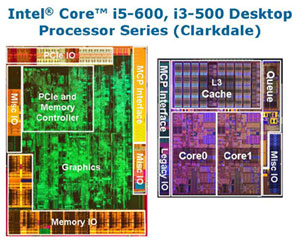 Until now integrated graphics were part of the chipset, but not of the CPU itself. With the move from 45nm to 32nm manufacturing technology Intel stays in tune with their self-imposed "tic-toc" target of introducing every year either a new micro-architecture or shrinking the transistor size.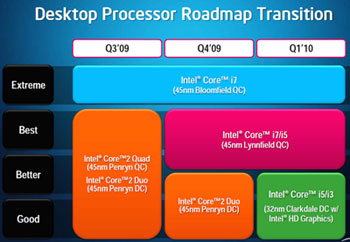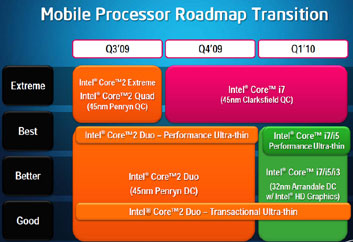 The transistor "miniaturising" we have seen over the last 40 years is truly amazing. More than 4 million 32nm transistors could fit in the full-stop at the end of this sentence. A 32nm transistor contains gates that are so small, you could fit 3,000 of them across the width of a human hair. The 32nm process technology has a gate height of 0.9nm. The average piece of paper is 0.1mm thick. So, it would take 111,111 gates stacked on top of each other to equal the thickness of a single piece of paper. Compared to Intel's first microprocessor, the 4004 introduced in 1971, a 32nm CPU runs over 4000 times as fast and each transistor uses about 4000 times less energy. A 32nm transistor can switch on and off over 300 billion times in one second. Intel is the first manufacturer to introduce 32nm technology – far ahead of the competition. The advantage of shrinking transistor size is better processing efficiency due to higher transistor density, lower power consumption. Furthermore, production costs are lower because more dies can be "baked" on one wafer. The new production process, called Westmere, is by the way not only reducing the transistor size, but also refining the production technology itself. Intel calls it the "2nd generation High-K" process.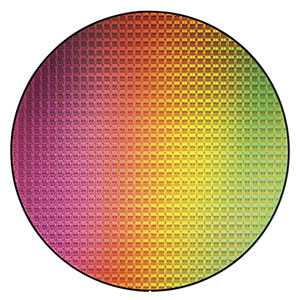 For PC enthusiasts integrated graphics are not exactly exciting stuff. They are usually seen on budget motherboards that lack features and tweaking possibilities and performance is poor in comparison to "discrete" graphics - that is, a separate graphics card. Integrated graphics are usually found in office workstations or mobile platforms, where only price and 2D performance counts. The situation changed somewhat when AMD introduced the 780/790 G/GX and nVidia the GForce 9300 graphics integrated chipsets. These were the first integrated solutions that offered entry level 3D gaming and Blu-Ray high definition playback. Meanwhile Intel's latest integrated solution, the G45, performed clearly below the competition from the two graphics giants. While HD video encoding was reasonable, 3D gaming was either not possible, or only at very low resolution. Intel is claiming much improved video processing and 3D gaming capability for the new graphic core called "Graphic Media Accelerator HD" (GMA HD). They are promising "smooth HD video playback" including hardware accelerated decoding for Blu-Ray dual streaming and "mainstream" 3D gaming. GMA HD runs with up to 900 MHz and 1.7 GB memory, while the predecessor was limited to 800 MHz and 768 MB memory. Unlike the G45 chipset which has the GPU separated from the CPU, GMA HD is part of the processor package. If the processor heatspreader is removed, you will find 2 dies on the substrate.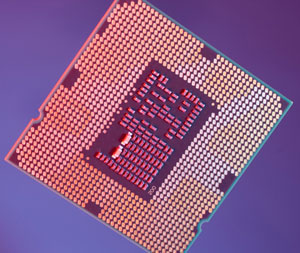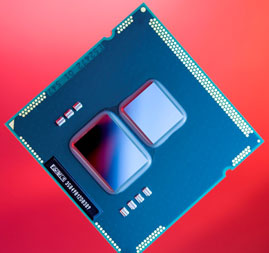 The CPU is now produced with 32nm technology. The GPU is still 45nm technology and visibly the bigger part of the Clarkdale processor package. Making the graphic core part of the processor is saving around 20% PCB space. This makes the H55/57 and Q57 chipsets ideal for small form factor platforms such as micro-ATX and mini-ITX.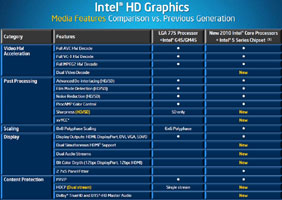 The new 32nm i3 and i5 processors use the LGA 1156 socket. They are drop-in compatible with the recently introduced i5 700 and i7 800 Lynnfield processor series. In order to utilize GMA HD you need a motherboard based on one of the newly launched 5 series chipsets. They have a display interface that carries the video output from the GMA HD and routes it to the HDMI, VGA, or DVI video ports. HDMI delivers uncompressed HD video and uncompressed multi-channel audio in a single cable, supporting all HD formats including 720p, 1080i and 1080p. The new chipsets also support the new "DisplayPort" interface with up to 2560 x 1600 resolution.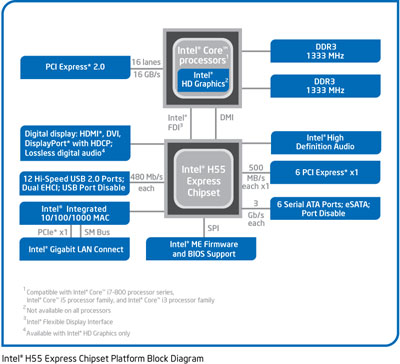 A Clarkdale processor can be used with a P55 chipset based motherboard as well. But of course because the P55 chipset does not have a video interface, it can't connect the integrated graphics to a video port, and GMA HD can therefore not be used.



Besides being produced with 32nm technology and sporting 2 cores, all Clarkdale products have in common the Nehalem micro-architecture with an on-die memory controller, smart cache, Hyperthreading, an integrated graphics core and support for 2-channel DDR3 1333MHz.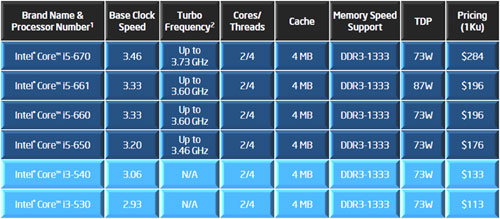 As with Lynnfield, Clarkdale does not feature the very fast "Quick Path Interconnect" (QPI) that Intel introduced with the i7 900 series (Bloomfield). Instead they come with a lower-bandwidth DMI bus. The difference between the i3 and i5 desktop versions is that the latter comes with Turbo mode. Another small difference is that some i5 versions run the GMA HD with up to 900 MHz while the i3 is limited to 733 MHz. The i3 derivatives are also lower clocked.



Intel is positioning the i3 500 series as entry level, by performance and price. The i5 600 series is the mainstream product.


---
Advertisement:


All original content copyright James Rolfe.
All rights reserved. No reproduction allowed without written permission.
Interested in advertising on OCAU? Contact us for info.

---
Recent Content


Team Group C440 Cardea Ceramic M.2 NVMe SSD


Synology DS720+ NAS


Raspberry Pi 4 Model B 8GB


Retro Extreme!


Intel Core i9-10980XE


AMD Ryzen Threadripper 3960X


Team Group T-Force Vulcan 500GB SATA SSD