Advertisement:

A Street View of Google Street View
Join the community - in the OCAU Forums!


More Close-Up Photos

8) Close-up of the six cameras on top and what may be four wide-angle lens cameras or some other kind of sensor, mounted beneath:



9) Following the Data #1 (cables run down from the cameras down the back of the pole):



10) Following the Data #2 (across the roof and into the car Ė note the custom window modification):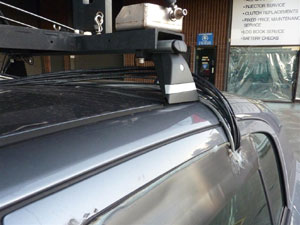 11) Following the Data #3 (another view of that modificationĖ it looks like gaffa tape or fibreglass and epoxy resin sealant):



12) Inside the Car Ė Driverís side (note the big yellow hoist is a reflection in the glass from outside the car). The driver has a large flat screen mounted beside them in the front passengerís seat:



13) Letís have a look at that screen from the passengerís side. We see another high quality modification by Googleís engineers: The pillar supporting the screen is a piece of sawn-off timber post, approximately 10cm square. Imagine how different the design aesthetic would be if Apple Computers operated GoogleMaps:



14) The back seat is filled with stuff. Although you canít see it clearly, many of the data cables ran into the boot (American English: the trunk) where I could see what looked like a computer. I couldnít tell for certain whether the rear passengerís seat back had been removed permanently or was laid down under the junk. Perhaps there is another computer behind the driverís seat under the tarpaulin? The left-rear tyre has not been put in the boot and is jammed behind the front passengerís seatback: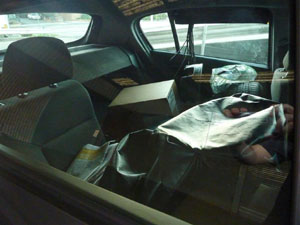 15) Given the Google StreetView car was parked not at a motel/hotel, but instead in the car park of a tyre shop, I hypothesise it may have got a flat tyre during the day (possibly whilst driving on country roads Ė there was red dust along the lower edges of the car), the driver put the spare tyre on as a temporary fix and limped to the tyre shop to have it repaired the next morning.


---
Advertisement:


All original content copyright James Rolfe.
All rights reserved. No reproduction allowed without written permission.
Interested in advertising on OCAU? Contact us for info.

---
Recent Content


Team Group C440 Cardea Ceramic M.2 NVMe SSD


Synology DS720+ NAS


Raspberry Pi 4 Model B 8GB


Retro Extreme!


Intel Core i9-10980XE


AMD Ryzen Threadripper 3960X


Team Group T-Force Vulcan 500GB SATA SSD