Advertisement:

AMD's Cypress and Juniper
Join the community - in the OCAU Forums!


Introduction, GPU Info

AMD launched their Evergreen series of GPUs in late September last year, with the two new Radeon models of 5870 and 5850. Proudly wearing the moniker of the first DirectX 11 card, some said it was a title of no great consequence. Even today, four months after launch, there are only 3 DirectX 11 games on the market, and one of those – the new S.T.A.L.K.E.R. title – has only very recently been released.



The general gaming public evidently didn't care much about DirectX 11's immaturity, as the cards flew off the shelves. Codenamed Cypress, the GPU's general power, coupled with the new Eyefinity (see below) multi-display capabilities captured attention, and this translated to healthy sales. Other features across the Evergreen range include HDMI 1.3a (which brings bitstream audio support for Dolby TrueHD and DTS-HD Master Audio) and drastically reduced idle power requirements.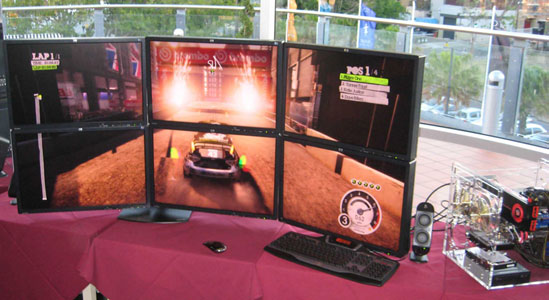 A detailed description of the new architecture in Cypress can be found at The Tech Report. Needless to say, there's more (double, for the most part) of everything that made the 4800 series a success. Two PCI-Express 6-pin power plugs help to feed the 5870's fairly toasty 188W TDP.



The next Evergreen card to be released was the 5770, codenamed Juniper. This card is basically a 4890 with a narrower memory bus - only 128 bits wide compared to the 4890's 256-bit. The other differentiating factor is, like the 5800 series, the 5770 is manufactured on TSMC's 40nm process. This enables it to shed one of the two PCI-Express 6-pin power plugs on the 4890 and use about 80W less power. It seems AMD's little foray into 40nm cards last year with the 4770 proved a good test run for the Evergreen family.




The 5870 and 5770 feature identical connection options, namely: one DisplayPort connection, one HDMI connection and two DVI connections.



Read on to discover how the newer cards compare to the 4890 in four games.


---
Advertisement:


All original content copyright James Rolfe.
All rights reserved. No reproduction allowed without written permission.
Interested in advertising on OCAU? Contact us for info.

---
Recent Content


Team Group C440 Cardea Ceramic M.2 NVMe SSD


Synology DS720+ NAS


Raspberry Pi 4 Model B 8GB


Retro Extreme!


Intel Core i9-10980XE


AMD Ryzen Threadripper 3960X


Team Group T-Force Vulcan 500GB SATA SSD