Advertisement:

Super-Flower SF-800 Case & Crystal Plus 600W PSU
Join the community - in the OCAU Forums!


Crystal Plus 600W PSU.

For years cases and power supplies weren't really given that much attention. However in recent years manufacturers have embraced these parts of the enthusiast market - which is why there's so many shiny and bright cases and PSUs vying for your big bucks now. The funny thing is that the case and PSU have probably the longest life of any of the bits in your PC; everything else will be replaced at least once before you decide to move onto to something bigger and better.

Power supplies normally have a shorter lifespan than a case but they're no less important, considering they allow everything to work and without clean, stable power, your computer will be a pile of expensive junk. Unfortunately, they're also probably the most awkward and annoying item in a computer case to deal with - too many cables getting in the road, or not enough connectors of a particular type; it can be a bit of a trial at times, even with a decent brand-name power supply.

SuperFlower isn't a new name to power supplies or cases - we first encountered them back in 2005 - so you'd expect that they'd know what they're doing. You'd also expect that they wouldn't be charging too much, seeing as they're generally pitching their products at the lower end of the market, or making parts for other companies. Even so, when the SF-800 case and Crystal Plus 600W PSU arrived, I wondered if this "budget" label was actually deserved, considering the quality of the packaging and my initial impressions of the products.

Crystal Plus 600W PSU:



Power supplies are a tricky item to review, and even to purchase. Sure, there's numbers on the side of the box and generally bigger numbers are better, but it can't be compared to a new CPU or video card - it's hard to quantify the quality of the power that a PSU will be releasing into your computer without at least some specialised equipment... which I currently don't own. However, we'll do our best and hopefully give some meaningful information to you. SuperFlower submitted these specs to me:

Real Power Output: 600W
Peak Output: 700W
Transform Efficiency: 86% 80PLUS Bronze Certification
Outlook: Honeycomb ventilation panel, high efficiency air flow design
Fan Size: 14cm Silent Blue LED Fan with temperature control
Cable: Easy plug-in design
Dimension: 163mm(L) x 150mm(W) x 86mm(H)
Protection: OPP, OCP, SCP.

Let me just admit up front that I am not an electrical engineer, so the idea of reviewing a power supply is a little daunting. I don't own any specialised testing equipment to really give the Crystal Plus a thorough testing as many larger review sites do. Staring at the voltage readings in the BIOS won't really give you a decent description of how stable these power-supplies are, however SuperFlower appears to have a pretty good reputation, so we'll have to go with that. What I do care about is how usable the power supply is: is it easy to install? Are the connectors cheaply made or look fairly durable? Is it noisy or barely audible? Many people won't care about what numbers a PSU has as long as it provides stable power, and it's good to live with.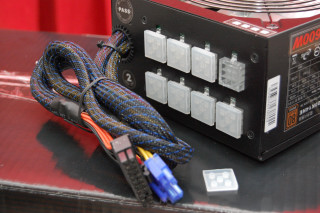 The Crystal Plus 600W PSU is pitched as a premium item, and that's to be expected as its modular setup, decent looks and capacity to connect and support a lot of devices are its advertising points. To be honest, I've never really given much thought to power supplies; my brain is still stuck back in the AT days of every single power supply being boring grey and the only important thing was the wattage value. However these days, most PSU's are black and come with a shiny sticker stating exactly how much better your life will be, depending on how big the numbers are, and the Crystal Plus is no exception. That doesn't mean it's ugly or gaudy, but it does seem like PSU's have entered the "bling" phase of computer evolution in recent years. It also has a big LED 14cm fan mounted on the bottom, which is fine if the PSU is mounted up the top of the case, but when paired with the SF-800 case it's mounted on the floor of the case. I can't help but feel that exposes it to more dust inhalation, thanks to two large fan grills cut into the bottom of the case. Considering I'm living in the inner city areas of Osaka, Japan, this is a problem for me because of the amount of dust floating about the place. But that's really a minor gripe about the case rather than the PSU, and probably says more about my cleaning habits.



The biggest selling point of this PSU is the modular cable system: this isn't an uncommon a feature nowadays, but it's still very handy. Superflower's connectors feel solid and well constructed, and while it's very unlikely that you'll be disconnecting and reattaching them often, they feel like they'll last a fair amount of time. Each of the 9-pin plugs connects in with a solid click and feels very secure, and when plugged in, an LED lights up reflecting through the clear cable connector - the LED colour can be changed with a switch on the back, between blue, white or off, and this also changes the colour of the fan on the bottom of the PSU to match.

Each of the cable sets are properly secured together with an outer mesh sleeve that doesn't look like it will peel off or split anytime soon. The kit comes with 8 cables and with 8 sockets on the PSU, so you can plug in every single one if you wish. This gives a usable total of four PCI-e 6pin connectors, eight SATA connectors, six 4-pin Molex connectors and two 4-pin fdd power connectors, which should accommodate pretty much all situations in a home PC.



I have to say, I do like the concept of modular cables. Although the inside of a computer case will forever have cabling, the ability to reduce the clutter down as much as possible is just awesome. It's aesthetically better, it means less tangled cables and better airflow. For this setup, I've used one SATA cable, one Molex cable (for fans) and one PCI-e cable for my video card. It's nice to not have to tuck away a huge clump of unused cables just to make the computer innards look neat and tidy, although there are some left from data cables and the like. It's not completely avoidable, but it's not terrible.

The Crystal Plus is very quiet and in fact, other fans in the case are more noisy - this is due to the large fan: larger fan, lower speed, less noise. The light from the LED fan also filters down onto the surface below the case - unfortunately it's not that bright so the nice little bling effect of reflected light is barely noticable. Shame.

Overall, it's a decent power supply. It looks and feels well-made, there's plenty of flexibility in the modular cabling and there's a little bit of case shininess for those of us who are into lots of bright lights in our cases.


---
Advertisement:


All original content copyright James Rolfe.
All rights reserved. No reproduction allowed without written permission.
Interested in advertising on OCAU? Contact us for info.

---
Recent Content


Team Group C440 Cardea Ceramic M.2 NVMe SSD


Synology DS720+ NAS


Raspberry Pi 4 Model B 8GB


Retro Extreme!


Intel Core i9-10980XE


AMD Ryzen Threadripper 3960X


Team Group T-Force Vulcan 500GB SATA SSD