40MB HDD Autopsy
Join the community - in the OCAU Forums!
Page 2
All images in this article will enlarge when clicked..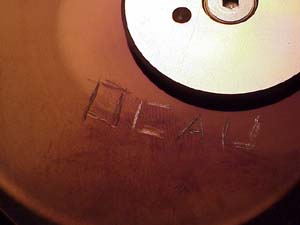 Here you can see the platter, still made from the dark brown metal, with OCAU scratched into it and my fingerprints all over it. The insides of a disk were incredibly sensitive, even back then. As soon as I took the lid of the disk, dust started to settle on it, putting it back together and trying to use it is definatly not a good idea. If you want an idea of how shiny it really is, get a (preferably useless) floppy disk, pull the plastic casing off and look at the 'platter'. The surface of the HDD platter is slightly more reflective than that.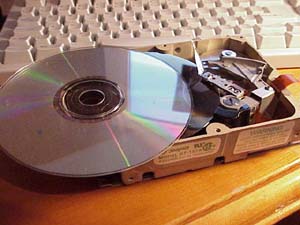 The disk with a CD on top of it, for comparison purposes. This picture also shows one of the drive-heads arms bent. It was incredibly easy to do, demostrating the fragility of the more sensitive parts in the drive. The picture reflected off the cd is also partially visible on the surface of the platter, showing the reflective properties of the surface.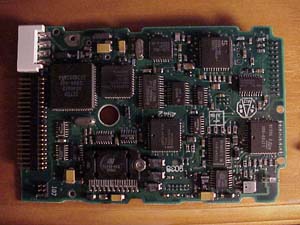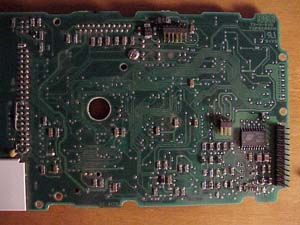 The PCB, with various chips on it, most from Cirrus Logic and Seagate. Judging from the date on some of the chips, the disk could be as old as thirteen years. You can see the round hole in the PCB where the bottom of the spindle, which has the platters on it, comes through. Theres various things printed on the PCB and an (activity, power?) LED. On the second picture, it shows pin connectors, where the PCB connects to the actual drive.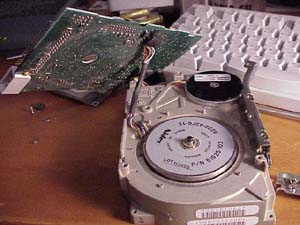 Beneath the PCB and on the bottom of the disk. It shows the Nidec motor, that spins the spindle. All over the spindle is shavings from the pcb, I didn't do that, so it could be wear and tear. These pictures also show the rails used to mount it in a case, I had to bend one to get the PCB off, but the screws go into these. Interestingly both disks I recieved, had metal adaptors, from 3 ½ inches to 5 ¼ inches. These were magnetised, presumably from years of use near such powerful magnets.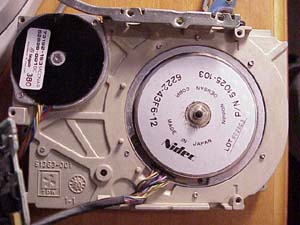 That's the end of my adventures pulling apart an old HDD! I'd like to thank Killsweng for providing the drives and Quadbox for helping me rescue some of my writing when I upped the FSB too much, and corrupted my HDD, losing the install files for Open Office.


---
Advertisement:


All original content copyright James Rolfe.
All rights reserved. No reproduction allowed without written permission.
Interested in advertising on OCAU? Contact us for info.

---
Recent Content


Team Group C440 Cardea Ceramic M.2 NVMe SSD


Synology DS720+ NAS


Raspberry Pi 4 Model B 8GB


Retro Extreme!


Intel Core i9-10980XE


AMD Ryzen Threadripper 3960X


Team Group T-Force Vulcan 500GB SATA SSD