Advertisement:

DIY Fan LED Mod
Join the community - in the OCAU Forums!


Putting it together, finishing it off!

Putting the LEDs in the fan body:
I did this before connecting them all up. Since these were 5mm LEDs i drilled 4.5mm holes so they could not stick out too far and contact with the fan blades. I then hot glued the LED in place and soldered on wires later.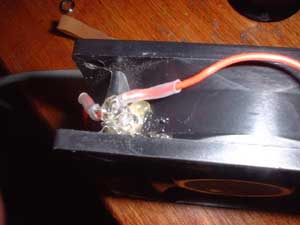 View from fan blade side:



The fun bit: soldering
Now, to get the power out i cut the red fan wire and connected the resistor directly to it and covered it in heat-shrink. just make sure you put the hear-shrink on BEFORE you solder, i have been known to forget a few times. connect the other end of the resistor to the positive leg of the LED. this is the LONGER leg or the side of the LED with the larger internal bit, just in case you cut the legs off a bit early.

I decided to put heat-shrink around each of the LED legs just to make sure it doesn't short on anything, you could also use electrical tape or only put tape around the outside when it's finished. Just make sure it can't short with anything, like you GeForce 4 or your case or whatever.

The negative (shorter) leg of this LED is then connected to the positive of the next LED, 1/4 of the way around the fan body. Connect the LEDs up in a series chain negative to positive until you get to the last one. The negative leg of the last LED gets connected to the black fan power wire. (cut, solder, heat-shrink as with the resistor).

Finishing off:
I put electrical tape around the whole thing to keep the wires in place. It works but if you have a better way feel free to use it.

Optional: To get more light being reflected out of the fan you may wish to paint the fan blades. Painting them white gives a soft wash of colour over most of the area of the blades, painting with UV sensitive paint and using UV LEDs may also give a brilliant display.

The result:
This is taken during the day, in a not very well-lit room:



This article Copyright 2002 Brenton Schulz

Consider reading OCAU's other DIY LED Fan Mod article, for a different perspective. If case modding is your thing, check out the PC Database!


---
Advertisement:


All original content copyright James Rolfe.
All rights reserved. No reproduction allowed without written permission.
Interested in advertising on OCAU? Contact us for info.

---
Recent Content


Team Group C440 Cardea Ceramic M.2 NVMe SSD


Synology DS720+ NAS


Raspberry Pi 4 Model B 8GB


Retro Extreme!


Intel Core i9-10980XE


AMD Ryzen Threadripper 3960X


Team Group T-Force Vulcan 500GB SATA SSD