Virtual Racing Chassis by Bob Earl
Join the community - in the OCAU Forums!


Introduction, Assembly

I love any kind of motor racing. MotoGP, Formula One, World Rally, Superbikes - if it's got a motor in it, I'll watch it. I've even dabbled in some real-world racing on motorcycles and karts. No surprise then that if it's on the PC or PS3, I'll have a go as well. You can play racing games with keyboard and mouse, but you're much better off getting a steering wheel and pedals. And if you're really keen, a decent cockpit setup to mount them in.

So today I'll be taking a look at the Virtual Racing Chassis by Bob Earl, which is brought into Australia by Pagnian Imports. They seem to specialise in goodies for the dedicated sim racer including wheels, pedals and cockpits. This VRC is the cheaper of the two main cockpit options on their website.

According to Pagnian Imports: The VRC was designed by American Racing Legend Bob Earl and his engineering team Huffaker engineering to give the exact position of race cars which he drove for over 25 years. Bob designed the VRC as he failed to find any racing simulator that was in the realistic position.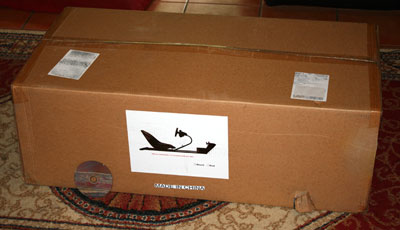 The VRC arrived in a hefty cardboard box - see the CD for scale in the photo. If you live in a rural area like me, shipping something this large and heavy can be an expensive exercise, so bear that in mind. The packaging itself is quite sparse, with the various items seemingly just wrapped in clear film or bubble wrap and put into a big cardboard box.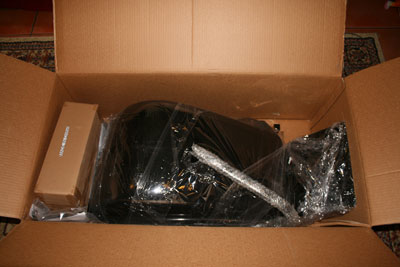 There's no expanded-polystyrene framework or foam chips for example, and in my case one of the legs of the VRC had pierced the cardboard and was protruding from the box. However there was no real damage to the VRC apart from a few minor paint chips and scuffs which may have happened during shipping or beforehand.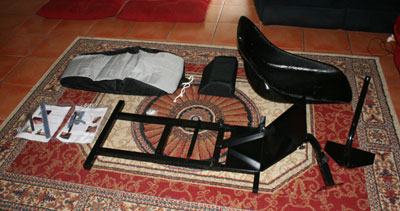 Once all the goodies have been removed from the box we get a clearer picture of how things will shape up. Starting at top right and going clockwise we have the black fibreglass seat, the wheel mount, the shifter mount, the metal base, two packets of instructions, the seat lining and a foam footrest block. The instruction packets include some screws, washers and nuts, as well as some sticky velcro strips.

The instructions unfortunately leave quite a lot to be desired. They've been updated to say that they refer to the old red version of the VRC, not this newer black version, but simply stating that doesn't make them any more useful when assembling the black VRC. For example, one of the first instructions is to expand the base from the compacted shipping position into a more comfortable seating position, by sitting in the seat and pushing the footrest away with your legs. But this black version does not have the seat mounted yet, and there's no mention at all of how to mount the seat in the instructions - not even which bolts or nuts to use. If you're reasonably handy with tools you can figure this kind of thing out, but it's needlessly confusing.

Update: Updated instructions will be shipped with future kits, and are available here on Bob Earl's website.

Having owned a Rotax kart with a fibreglass seat I was able to figure out what I assume is the correct mounting, using the provided large metal washers to stop the bolt heads tearing through the fibreglass: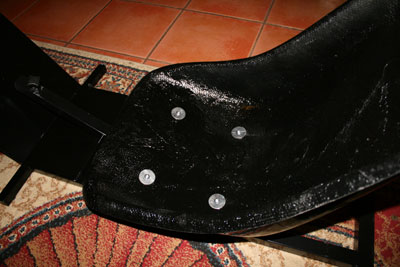 It's worth taking a moment to check the finish of the fibreglass seat - it seems a little scruffy, but nothing that will affect it in use.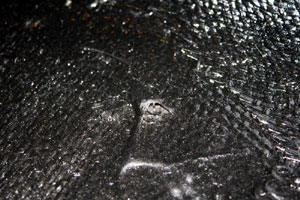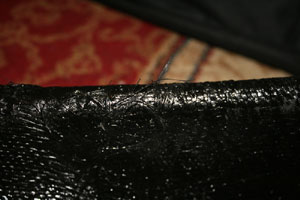 ---
Advertisement:


All original content copyright James Rolfe.
All rights reserved. No reproduction allowed without written permission.
Interested in advertising on OCAU? Contact us for info.

---
Recent Content


Team Group C440 Cardea Ceramic M.2 NVMe SSD


Synology DS720+ NAS


Raspberry Pi 4 Model B 8GB


Retro Extreme!


Intel Core i9-10980XE


AMD Ryzen Threadripper 3960X


Team Group T-Force Vulcan 500GB SATA SSD