Gigabyte GA-880GMA-UD2H
Join the community - in the OCAU Forums!


BIOS Features, Blu-Ray Playback

BIOS Features:
The Gigabyte GA-880GMA-UD2H uses an Award Software BIOS, updated to version F5a, which is one of the latest BIOS update available at the time of writing this review.

Here's a video of going through the BIOS screens:




Some core menu screenshots are included below.

Main BIOS screen: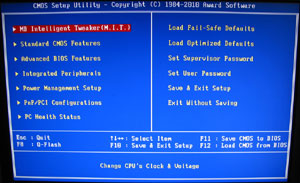 MB Intelligent Tweaker menu houses the core overclocking and memory configuration tools.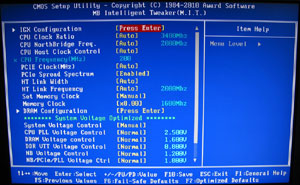 DRAM configuration sub-menu via the MB Intelligent Tweaker menu.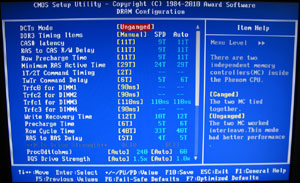 Integrated peripherals sub-menu allowing for the enabling and disabling of core motherboard features.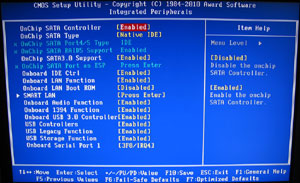 IGX Configuration sub-menu allows the adjustment of video memory allocation for the integrated graphics processor as well core frequency adjustment.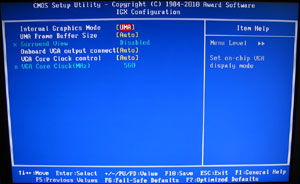 PC Health Status sub-menu allows the monitoring of system voltages and the setting of temperature and fan fail warnings.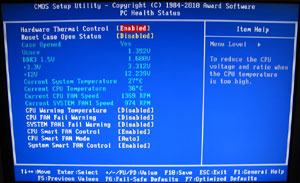 Blu-ray Playback and Gaming:
Next we move on to how this motherboard and integrated graphics solution performs with Blu-ray playback as well as a bit of gaming. Today's test system consists of the hardware listed below, and as with all good testing a clean install is used and the latest Windows Updates and manufacturer drivers are applied. The applications and games used in today's tests are the latest of what was available at the time of this analysis - links to demos and free trials are provided when applicable.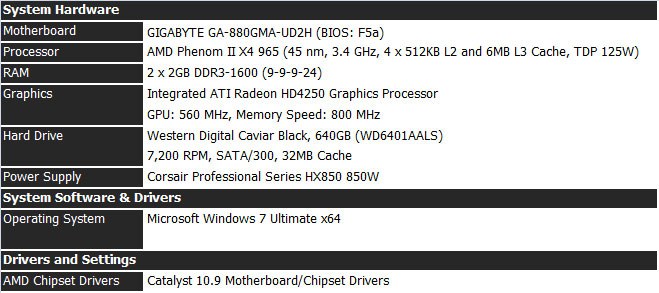 CyberLink PowerDVD 10 Blu-ray playback software was used for testing, which allows for ATI Stream Technology acceleration; offloading video processing to the GPU while allowing the CPU to focus on other tasks that its more suited for. Default install settings were used, and GPU accelerations was confirmed to be enabled before testing proceeded.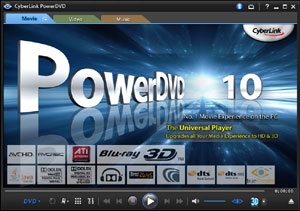 The first set of testing used the full four cores of AMD's quad core processor, and compares two different types of codec's, MPEG-4 AVC and VC-1. Movies with different codec's were used to compare the higher bitrates of MPEG-4 AVC to VC-1 and how it effects the CPU and GPU while watching content.

Blu-ray Playback: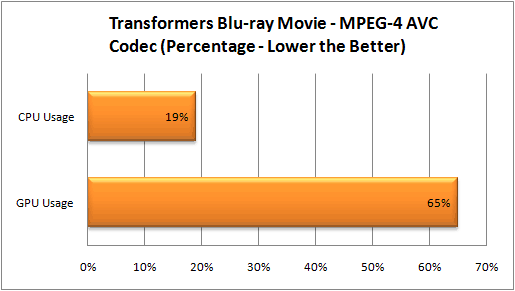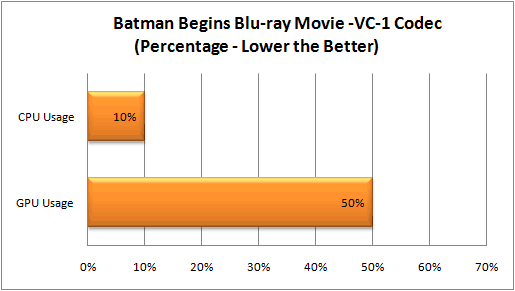 As we can tell by the results above, the GPU is taking the vast majority of the processing, while the CPU is left to take care of background tasks of Blu-ray decoding as well as any program overheads.

The next set of results we chose to see how disabling three cores and clocking the CPU down to 2.0GHz, compared to the standard 3.4GHz, will change our results. This simulates how a low-end processor will handle the same content.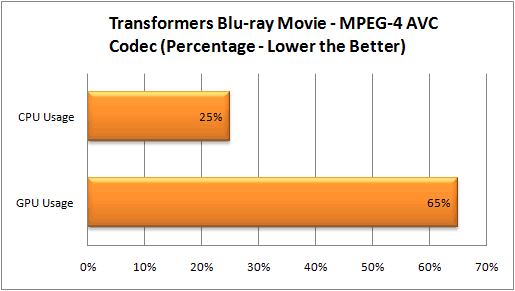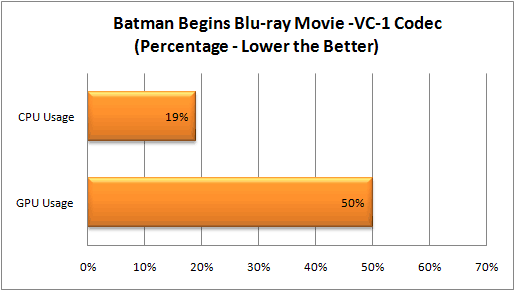 With disabling three cores and clocking the frequency down to 2.0GHz we find the GPU keeping its average usage consistent to when we had all four cores going. The CPU did see a minor jump in average usage, but nothing major as can be seen by the results above.


---
Advertisement:


All original content copyright James Rolfe.
All rights reserved. No reproduction allowed without written permission.
Interested in advertising on OCAU? Contact us for info.

---
Recent Content


Team Group C440 Cardea Ceramic M.2 NVMe SSD


Synology DS720+ NAS


Raspberry Pi 4 Model B 8GB


Retro Extreme!


Intel Core i9-10980XE


AMD Ryzen Threadripper 3960X


Team Group T-Force Vulcan 500GB SATA SSD