Advertisement:

Corsair Hydro Series H70 CPU Cooler
Join the community - in the OCAU Forums!


Testing and Conclusions

Unlike the original H50 that included only one fan, the H70 has moved to a push-pull configuration as the default configuration aiding its ability to get heat into the air. But as we played with different fan configurations we found that due to the inclusion of the 'pulling' fan there was a significant increase in noise, especially at full speed without utilising the provided adapters. While this level of noise was louder than our usual PC environment, we concluded that utilising the provided adapters allowed a more acceptable noise level that should be suited for the majority of usage situations.

On the other hand, noise levels are a personal preference that vary based on the environment levels already emitted by other components in your PC, or even other things in the same room as your PC. Some users may prefer the added cooling benefits of more airflow, sacrificing some silence, and others may want to maintain a quiet working and gaming environment. Thankfully Corsair have realised this and made sure to include adapters to tame the 2000RPM fans rated at 31.5dBA (61CFM) to a more reasonable 1600RPM at 26dBA (50CFM).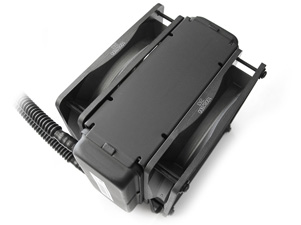 The H70's radiator has seen a significant upgrade compared to the previous H50. Corsair have doubled the thickness of the radiator to approximately 48mm, allowing the water cooling kit to hold more coolant with a greater surface area for heat dissipation. On top of the increase in thickness, the radiator has changed the fin and row configurations sporting a modest 25 fins (approximately) per square inch and 8 rows for the coolant to travel through, allowing for higher CFM fans to further improve its cooling abilities if required. The liquid used inside the H50 and H70 is a mix of distilled water with Propylene Glycol added to prevent corrosion and organic build-up.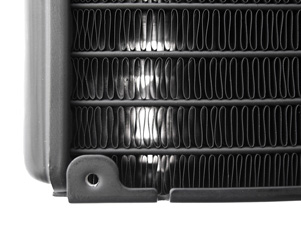 To show just how good this unit can look, OCAU Forums member jgustrove was kind enough to share a photo of his awesome PC build utilising the Corsair H70, Graphite 600T case and HX1000 power supply. Please note the cooler isn't limited to just one mounting position or angle, it's versatile enough to installed in whichever way is best suited for your case and airflow configuration.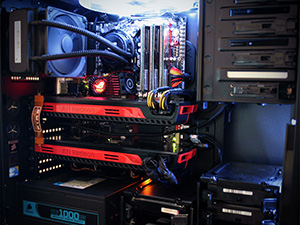 Testing:
For today's tests we'll be using AMD's Phenom II X6 Black Edition which will be overclocked to 4.0GHz at 1.45v. Each cooler will be load tested with LinX for a period of 20 minutes, idle temperatures will be taken over a period of 20 minutes as well, with the lowest and highest temperatures being recorded.

The ambient temperatures are monitored throughout the testing, and while we maintain a 25 degree temperature in the room, eagle-eyed readers may notice CPU temperatures below that being reported. This is because we are using the on-die thermal sensor in the CPU to report temperatures, which seems to be a little optimistic in its reports. However, the same motherboard and CPU are used for every test so the temperature difference between each test is accurate for the purposes of comparison.

The coolers in today's comparison will include AMD's retail quad heat-pipe cooler, Thermalright's Ultra 120 Extreme with Thermalright TR-FDB-1600 63.7 CFM fan and Noctua's monster NH-D14 from our previous review here. Each cooler's fan(s) are connected directly to a 12V 3pin to Molex converter unless stated otherwise. The thermal compound used for each test is Noctua's NT-H1 that does not require 'burn-in' time for optimal performance. This includes the Hydro results, where we didn't use pre-applied compound. Instead, the Noctua thermal compound was used for all the benchmarks so temperatures are more consistent. For the general user, the stock compound is perfectly sufficient.

For Corsair's Hydro H70 cooling system, we have included three sets of results highlighted in orange. They are as follows:
High = Fans full speed, no restrictions, running at ~1945 RPM
Low = Limited, utilising the included adapters to step down the RPM to ~1642 RPM
5V = Using our own 3pin adapter to further decrease RPM (not included in package)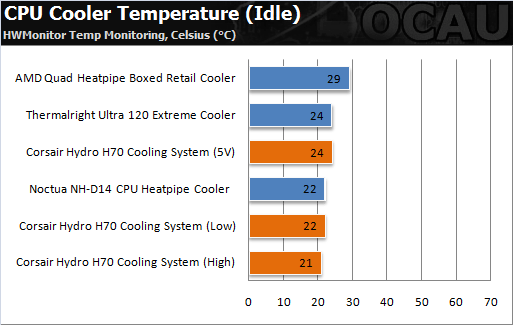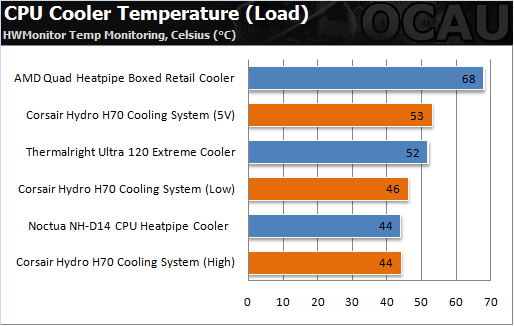 Noise measurements were taken with a digital sound meter approximately 5cm away from the heat-sink fan(s), reducing the ability of other components such as power supply fans or other environmental noises to interfere with the final results on the open test-bench. Due to the Corsair Hydro H70 having a pump and fans in separate locations, we focused our attention to the fans for these results, as the pump was silent compared to the fans.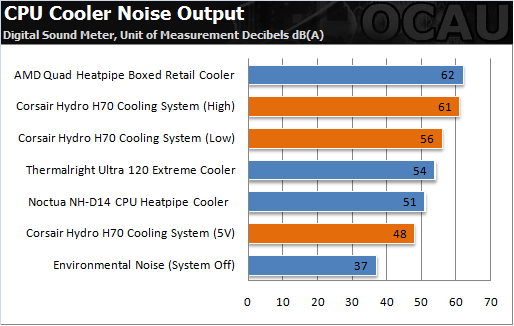 Conclusions:
A quick look around shows the H70 costing about $150, which places it above high-end air-coolers like Noctua's NH-D14, but well below the cost of a custom watercooled setup. In terms of cooling performance and noise level it's in the same ball-park as a high-end air cooler, but there are some clear advantages to a small pre-assembled watercooler like this - not the least of which is that, instead of having a large heatsink blowing hot air around your system, the radiator fans blow that heat immediately out of the case.

Thanks to the Hydro H70, users that never considered a water cooled solution in their case, now have an completely maintenance free option that competes with some of the best air coolers on the market. It also allows for easy access to key areas around the CPU area unlike some high-end air cooling solutions that can interfere with high-performance RAM heatsinks, or require especially wide cases to be utilised, not to mention the sheer stress that they can put on a motherboard's CPU area due to their weight. And of course, if you're building an HTPC or other tiny PC, a big heatsink often simply won't fit.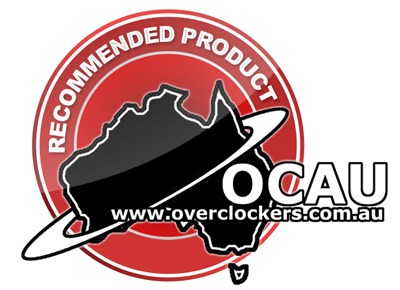 All in all, Corsair's Hydro H70 CPU cooler offers a cool, compact and affordable water-cooling solution that lets you forget about the worries and complexities associated with full-blown water-cooling kit, not to mention the ongoing maintenance. That, combined with its plug-and-play design, increased cooling capacity and refined design make it able to handle any processor on the market and offers mainstream and enthusiast users ample overclocking headroom. We just wish Corsair utilised quieter fans by default and maybe added a bit more cable length, and then it would be perfect.

Feel free to comment on this review in this thread.


---
Advertisement:


All original content copyright James Rolfe.
All rights reserved. No reproduction allowed without written permission.
Interested in advertising on OCAU? Contact us for info.

---
Recent Content


Team Group C440 Cardea Ceramic M.2 NVMe SSD


Synology DS720+ NAS


Raspberry Pi 4 Model B 8GB


Retro Extreme!


Intel Core i9-10980XE


AMD Ryzen Threadripper 3960X


Team Group T-Force Vulcan 500GB SATA SSD