Advertisement:

ASUS Radeon HD 6990 4GB
Join the community - in the OCAU Forums!


Introduction, Package, Features

AMD is bringing the heat in 2011 with a new dual-GPU monster, joining the current HD 6000-series of Radeon graphics cards. The Radeon HD 6990 sports a total of 4GB GDDR5 memory, with 320 GB/s of memory bandwidth and 3072 steam processors able to push over 5.10 TFLOPs (teraflops) of compute performance out of a single card thanks to the inclusion of two unlocked 'Cayman' GPUs as featured in the single-GPU Radeon HD 6970. So without any hesitation let's get straight to reviewing ASUS's black and red themed Radeon HD 6990 4GB.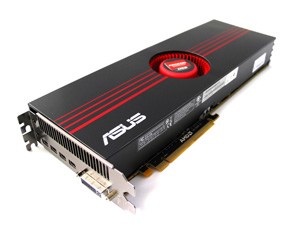 ASUS's Radeon HD 6990 measures in at approximately 310 millimetres in length (around 12.2 inches) like a reference HD 6990, and requires a minimum of 750W or greater system power supply, while a 1200W one is recommended for a CrossfireX setup with two cards. Cooling is provided by a blower style fan in combination with two large vapour chambers, all enclosed in a large housing to direct air over the two graphics processor heat sinks and out via the vents located at each end of the card.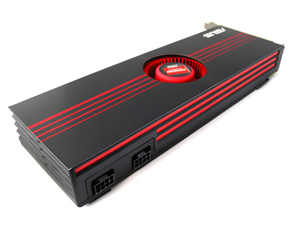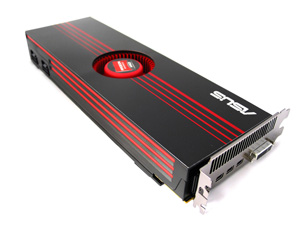 As with the majority of new 6900-series graphics cards it features support for AMD's Eyefinity multi-display technology, AMD Accelerated Parallel Processing (APP), HD3D technology, CrossFireX, PowerTune power management technology and Microsoft DirectX 11 game support. It also supports UVD 3, a set of dedicated video playback accelerators and video quality enhancements, as well as Dual-stream HD (1080p) playback support. More information about these technologies can be found here (PDF).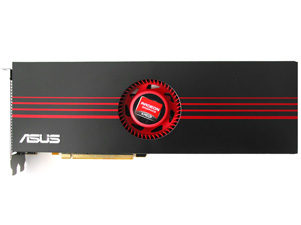 In the box we find the usual set of accessories we have come to expect from a company like ASUS. The package includes one CrossFireX bridge, a dual 6-pin (female) to 8-pin (male) power plug converter, three mini-Display port adapters, ASUS driver/software CD and installation manual.



The included mini-DisplayPort accessories consist of one miniDP to SL-DVI (passive), one miniDP to SL-DVI (active) and one miniDP to HDMI (passive) adapter. Based on information from AMD, each shipped Radeon HD 6990 should include these adapters.



Below you can find a set of Radeon HD 6990, 6970 and 6950 specifications for comparison. In the image to the left, you will find two sets of specifications for the HD 6990, but don't be confused as they're for the same card, and relate to the Dual-BIOS switch that we'll talk about shortly.



The ASUS Radeon HD 6990 conforms to the AMD reference design without any alterations to the display outputs on the back of the card. Four mini-DisplayPort connectors and one DL-DVI port are present as per the default configuration. This arrangement allows up to five monitors to be utilised with the one card, and six with the use of a Multi-Stream Transport (MST) hub, which are due to arrive sometime late this year.



On the top of the card you'll see a single CrossFireX connector. While this may surprise some who expected two connectors thus allowing three cards to be joined, this is a common sight for AMD's dual GPU cards as they already include two GPUs on each card. When pairing two HD 6990's the total GPU count will jump to four, which is pretty much the maximum GPU configuration available (or at least worthwhile).



A high-end GPU requires a fair amount of power, so it's no surprise to see two 8-pin PCI-Express connectors present. Considering a single HD 6970 features a 6-pin and 8-pin connection, it's quite a feat that AMD were able to accomodate the power needs of two physical HD 6970 GPUs on one card.

So how did AMD manage to fit two HD 6970's that are rated at a board power maximum of 250W into a product that comes in at 375W containing two HD 6970 GPU's? To fit into a somewhat acceptable power envelop AMD selected only the best performance GPUs (power wise) from production factories. In addition they decreased the default clock speeds and voltages, as well as using slower memory chips that run at a lower 1.5v compared to the faster clocked 1.6v chips found in the HD 6970. Even with such power saving measures AMD called on their PowerTune technology utilised in the HD 6900-series of cards that allow the card to manage its clocks speeds and power draw within a certain power bracket.



The cooling solution present on the Radon HD 6990 is something that is long overdue for dual-GPU cards from AMD. Since the 2008 release of AMD's Radeon 3870X2 the cooling fan was located at the far end of the card, causing temperature issues for the GPU furthest for the fan, as the hot air from one GPU was pushed over the other. No such issues are present with the HD 6990's cooling system. The fan has now been relocated to the middle of the card, allowing each GPU to receive an equal amount of fresh air, resulting in each GPU posting similar temperatures when both GPUs are utilised. Most importantly, the voltage delivery components are cooled in a much better fashion than the previous Radeon HD 5970.

So is there any downfall to such a cooling solution? In a matter of fact there is. With half the heat being dumped into your case and the other half outside your case, components near the card can get hot quickly, so make sure you don't mount any hard drives adjacent to the internal vent, and make sure you have a sufficient amount of airflow being pushed in and out of your case to stop all the exhaust heat lingering and affecting other system components.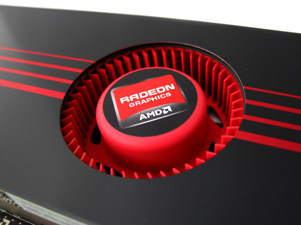 On the back side of the card there isn't much to see, as the back plate provides protection and heat dissipation for the rear-mounted memory modules. While the majority of the back of the card is covered, they have left the underside of each GPU mount exposed, so be careful not to knock or chip the circuitry when installing or moving things around in your case while the card is present.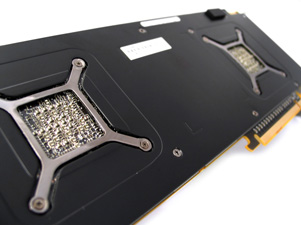 The Dual-BIOS switch is something we first saw with the introduction of the first Radeon HD 6900-series cards in late 2010. In its original implementation two identical BIOS versions were present, with one being write-protected and the other able to be modified by the user. With the Radeon HD 6990 the card comes with one BIOS set to the default 830 MHz core clock at 1.12v that is write protected and with a PowerTune limit of 375W (Position 2), while the other "OC BIOS" features a 880 MHz core clock at 1.175v, isn't write protected and allows a 450W PowerTune limit (Position 1), which can actually be pushed to 540W by increasing the PowerTune limit in the Catalyst software.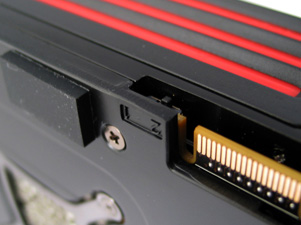 Great, a free performance boost with a flick of a switch! But wait, what's that yellow sticker covering these switches? The label reads "CAUTION: Read Owner's Manual Before Removing" and directs you to this website. So why such a label and directions to a specific website? Well it looks like it's due to the extra strain the faster BIOS can have on power supplies and the fact it overclock's the card, it can void your warranty if it's deemed that damage to the card was done due to utilising the second overclocked BIOS.

While we have yet to read any published information from AMD's partners regarding real-life warranty practices for such a card, it's best to make sure you have the best power supply you can afford and one that fits your system configuration. Bearing in mind the varying nature of PSU brands, and the fact the HD 6990 is most likely drawing more than 150W off each 8-pin PCI-Express connection when the overclocking BIOS is selected, this is not a graphics card you should be skimping on power supply quality.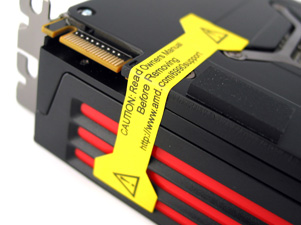 The image below is provided by AMD and shows the PCB layout of a reference Radeon HD 6990, in which I would be confident in saying that all initial launch products are. The PCB size is within the same form factor seen with their previous Radeon HD 5970, but with a more symmetrical layout allowing power regulators to be located at the centre of the board providing efficient power delivery to each GPU and its associated memory. As mention earlier this also permits the blower fan to be located in the middle of the card, making room for dual vapor chamber heat sinks to keep each GPU individually cool.



In addition, ASUS include their own Smart Doctor/Voltage Tweak, Gamer OSD and Splendid Video Technology software on the driver disc. Smart Doctor allows for full overclocking control of your video card, Gamer OSD in simple terms is similar to popular program FRAPS, while Splendid Video Technology allows you to optimise the colour and contrast control. While most will have their own software handy, it's nice to see ASUS make the effort themselves.


---
Advertisement:


All original content copyright James Rolfe.
All rights reserved. No reproduction allowed without written permission.
Interested in advertising on OCAU? Contact us for info.

---
Recent Content


Team Group C440 Cardea Ceramic M.2 NVMe SSD


Synology DS720+ NAS


Raspberry Pi 4 Model B 8GB


Retro Extreme!


Intel Core i9-10980XE


AMD Ryzen Threadripper 3960X


Team Group T-Force Vulcan 500GB SATA SSD