GoPro HD HERO Camera
Join the community - in the OCAU Forums!
Features, Usage, Still Photos

So here we are back at the camera itself. It ships, and should usually be used, in a tough little enclosure. This is to protect the camera from impacts and water damage. They rate the housing as waterproof to 60M, or 180 feet. This is absolutely astounding, meaning you can not only use it on a car in the rain, or when splashing around in the surf, but for genuine SCUBA diving. Bear in mind that the depth limit for normal recreational SCUBA is about 40M, with most people staying above about 20M because that's where most of the interesting and colourful stuff is - plus you can stay underwater longer. So 60M has most people covered out of the box, assuming it's a genuine 60M rating and not like the largely bogus ratings on most watches. A quick Google/YouTube shows plenty of people using the GoPro HD for SCUBA so I'm assuming it's the real deal, which is impressive.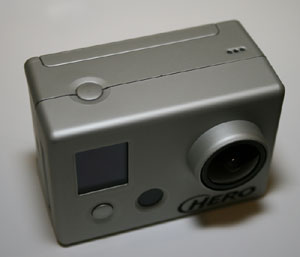 The camera itself is extremely simple. You have two buttons, an indicator LED and a tiny LCD screen for displaying information. I'm not going to go into the details, but using the camera and changing modes, settings etc, are all done via scrolling through screens with one button and scrolling through options with the other. It's a little cryptic at first but easy enough to get the hang of. The buttons on the camera itself are connected to sealed sprung buttons on the housing, which are chunky enough to use with gloves on, or with one hand. There are rubber diaphragms in the housing buttons to keep water out.



Also found on the camera itself are three ports on one side, being USB, HDTV and "Combo TV/Audio Out". On the opposite side is the slot for the SD/SDHC card the camera records to. Almost the entire back of the unit is the door for the battery housing, and the proprietary slot next to the battery door is the "HERO Bus Port'. This is for attaching future accessories to the unit - so far a rear LCD screen (stay tuned for a review soon) and an extended-life battery are available. The two sets of three little holes in the camera body are for the microphone, I assume. Written on the back of the unit are some handy reminders about the various recording modes, which is a nice touch and means you don't have to have the manual handy when out and about.

The HD HERO is the current GoPro flagship, replacing the earlier HERO (note the lack of "HD"). There is also an odd little cousin of the HD HERO called the HD HERO 960, also available as SD HERO 960. This is a cheaper version without the 1080p mode, the 720p 60fps mode or the HERO Bus expansion slot, so it can't use the accessories mentioned above. There's even an upcoming 3D HERO version, which may just be a housing kit to join two of them together, I'm not sure. Anyway, in this review I'm only covering the HD HERO unit, not the other versions.

Usage:
So, it comes in a mostly indestructable housing, it's very waterproof, and it has a zillion ways of being attached to people or vehicles doing extreme things. But is it any good as a camera?

It's primarily a video camera, of course. You can read all the specs on this page, but it shoots video in these resolutions:
Mode 5: 1080p = 1920×1080 pixels (16:9), 30 fps, 15 Mbit/s data rate
Mode 4: 960p = 1280×960 pixels (4:3), 30 fps, 12 Mbit/s data rate
Mode 3: 720p = 1280×720 pixels (16:9), 60 fps, 15 Mbit/s data rate
Mode 2: 720p = 1280×720 pixels (16:9), 30 fps, 8 Mbit/s data rate
Mode 1: WVGA = 848×480 pixels (16:9), 60 fps, 8 Mbit/s data rate
There's a little bit of sensor/lens trickery going on there. This a fixed focus camera of course, so presumably different-sized areas of the sensor are used for each mode, which gives you a slightly different field of view in each mode. Or, as GoPro explain it:
1080p: 1920×1080 True HD featuring a 127º angle of view, 30 fps, and 16:9 widescreen aspect ratio
960p: 1280×960 Ultra Wide and Tall HD featuring a 170º angle of view, 30 fps, and 4:3 aspect ratio. See more of the action above and below than widescreen 16:9 resolutions can show
720p: 1280×720 Ultra Wide HD featuring a 170º angle of view, both 30 and 60 fps, and 16:9 widescreen aspect ratio
Note two modes have 60fps options. This is good if you want to do slow-motion shots, or if you just want that buttery-smooth HD feel. I haven't experimented with the slow-motion side of things yet. The camera writes to the card in H.264 MPEG4 format, so it produces .mp4 files. They appear on the SDHC card inserted in the unit, so you can move the card to your PC/TV/etc, or leave the card in and connect the unit via USB and browse or copy them from there. You can also stream video directly from the camera using the included A/V cables, presumably avoiding any quality issues from the H.264 compression, but I haven't played around with that yet.

One final note on formats - my camera was ordered from the USA so unsurprisingly shipped in NTSC mode, but you can put it into PAL mode if you like. If you do, you will only get 25fps and 50fps instead of 30fps and 60fps. NTSC vs PAL makes very little difference nowadays, and none whatsoever unless you are plugging the unit directly into a TV or recording for PAL TV broadcasting etc, so personally, I left it on NTSC.

Still Photos:
The HD HERO is also a 5-megapixel camera for shooting still photos. Depending on the mode you're in, you can use it like a normal camera and press the shutter button when you want a photo (with some serious shutter lag unfortunately), or you can set it to automatically shoot a still photo every 2, 5, 10, 30 or 60 seconds. You can also set it to do a 3-photo burst when you push the shutter, or set the timer so you can set it up then walk away from it and take a photo of yourself.

Here's some random stills, showing some indoor and outdoor shots with subjects near and far away. Note that the camera has pretty much no configuration for still shooting, it's just point and click - and blind, because there's no viewfinder or rear LCD! Fortunately the very wide angle lens makes it hard to miss anything, although close up and at edge of frame there is barrel distortion: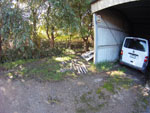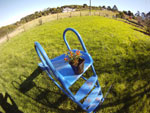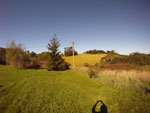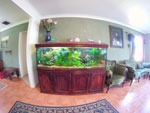 Those photos were all resized for the web in Photoshop. If you want to see a "raw" photo, here's one I took accidentally while playing with the modes, with the camera mounted to the front of my motorcycle. Note the click-through for this image is the full 2.1MB, 2592 x 1944 pixel image as copied direct from the camera.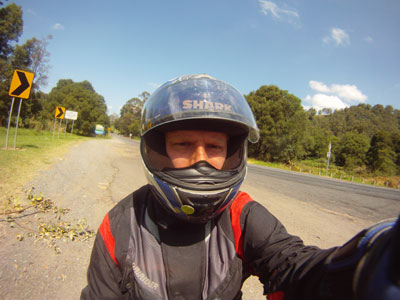 click for 2.1MB of disapproving glare


But of course stills isn't what this camera is all about, so on the next page there's a few sample videos.


---
Advertisement:


All original content copyright James Rolfe.
All rights reserved. No reproduction allowed without written permission.
Interested in advertising on OCAU? Contact us for info.

---
Recent Content


Team Group C440 Cardea Ceramic M.2 NVMe SSD


Synology DS720+ NAS


Raspberry Pi 4 Model B 8GB


Retro Extreme!


Intel Core i9-10980XE


AMD Ryzen Threadripper 3960X


Team Group T-Force Vulcan 500GB SATA SSD