Advertisement:

MSI GTX 560 Twin Frozr II OC
Join the community - in the OCAU Forums!


Introduction, Features, Package

Earlier this year we saw the release of NVIDIA's GeForce GTX 560 Ti. This brought with it a newly refined and tweaked core named the GF114, with 384 CUDA cores, a 256-bit interface, and packed with plenty of gaming performance at the respectable MSRP of $249USD. Today, we have the launch of its little brother, simply named the GTX 560. The GTX 560 comes sporting the same GF114 core, but its CUDA core count has been reduced to 336, and its core frequency has been reduced to 810 MHz (vs. 822) and memory to 4000 MHz (vs. 4008), while it's memory interface and display outputs remain the same. With these changes NVIDIA was able to reduce the starting MSRP for the GTX 560 to $199USD, cutting the original GTX 560 Ti price by a whole $50 dollars, making it even more affordable for gamers. But how much these cards will end up costing in Australia is yet to be seen, although we are sure to have a nice variety coming out from NVIDIA's partners as displayed below, providing plenty of competition with pricing.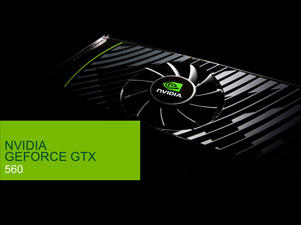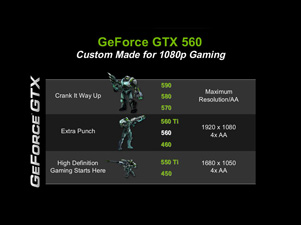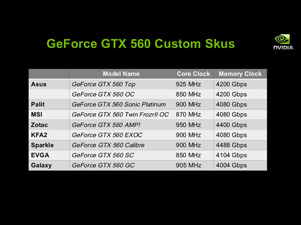 The first GeForce GTX 560 to come across our test bench is from MSI. Rather than a simple reference design with a glossy sticker, they have moved straight to the distinct Twin Frozr II cooling solution, custom PCB design and improved core and memory clock speeds. So, how does a GTX 560 perform, and what does MSI bring to the table with this Twin Frozr II OC edition? Let's get going and find out!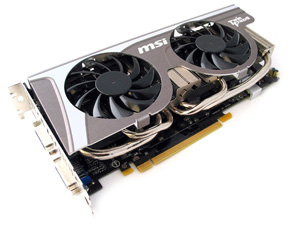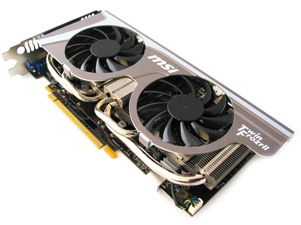 MSI's GTX 560 Twin Frozr II OC measures in at 241 millimetres in length (9.49 inches) including the fan shroud that extends past the PCB, and requires a minimum of 450W or greater system power supply. Cooling is provided by a dual 7.5cm PWM fans and heatsink combination, with quad heat pipes and an aluminium fin array that allows for efficient heat transfer and dissipation. It's worth noting that this design does not fully eject hot air from the back of the case like some more-enclosed coolers generally seen on higher-end cards.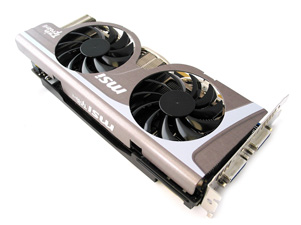 As with the majority of mainstream NVIDIA graphics cards it features support for NVIDIA's SLI multi-GPU technology, 3D Vision, 3D Vision Surround (two cards required), CUDA technology, PhysX acceleration and Microsoft DirectX 11 game support, as well as a variety of video enhancement technologies under the NVIDIA PureVideo HD umbrella to assist in media playback. More information about these technologies can be found here.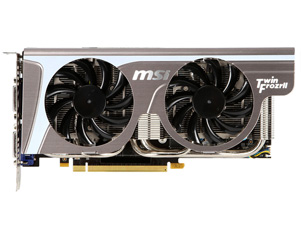 Inside the box we find a pair of manuals: one is a quick user guide and the other is a more detailed overview of the features and general requirements of the video card. A software and driver disc for installation is also included. Two PCI-Express 6-pin to Molex power connectors are present, as well as a DVI to VGA converter, mini-HDMI to HDMI converter. Overall, it's a well executed package and more than enough for anyone to get started.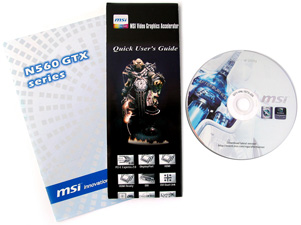 MSI's GTX 560 Twin Frozr II OC has maintained NVIDIA's default display connector configuration, as per the reference GeForce GTX 560. And as with the GTX 550 Ti and 560 Ti it features bit streaming support for both Dolby True HD and DTS-HD Master Audio, which is especially handy for home theatre PCs.




On the edge of the card we find a single SLI connector. Due to the mainstream nature of this card NVIDIA has limited its scaling abilities to two cards. Only the GTX 465, 470, 480, 570 and 580 allow for more than two cards in SLI. At the back end of the card there's a pair of PCI-Express 6-pin power connectors, which is a pretty standard configuration for a GTX 560 video card, not straying from the NVIDIA reference design location.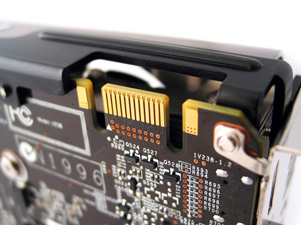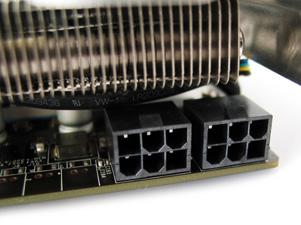 The cooling solution implemented with MSI's GTX 560 is identical to the solution seen with their GTX 560 Ti variant. It features a nickel plated base and quad heatpipe design to transfer the heat directly from the GPU with maximum efficiency, while the two 7.5cm PWM controlled fans push cool air over the dense aluminium heatsink array connected to the four heatpipes.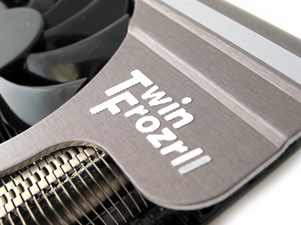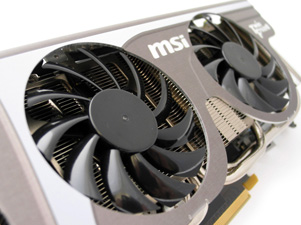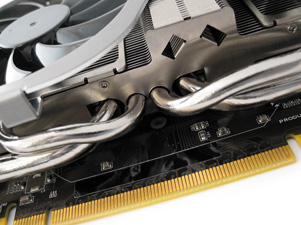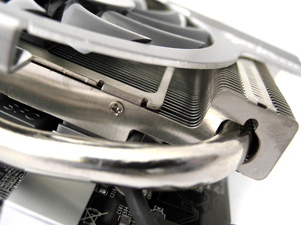 On the memory side, MSI's GTX 560 Twin Frozr II OC features Samsung 6th generation K4G10325FE-HC04 GDDR5 memory specified to run at 1250 MHz (5000 MHz GDDR5 effective) with 1.5V. No heatsinks are provided to keep the memory cool apart from the airflow from the main heatsink; however critical power circuitry is covered by an aluminium heatsink.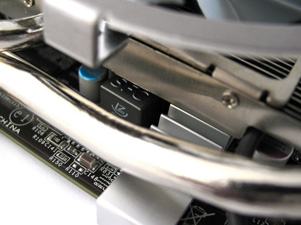 Many users are now familiar with MSI's Afterburner software that is developed in partnership with the people that created RivaTuner. This software works with the video card to allow for the adjustment of the core (GPU), memory and PCI-Express (PLL) voltages as well as the usual core and memory frequencies and monitoring capabilities in a single software package. The GTX 560 Twin Frozr II OC only allows for the adjustment of the GPU's core voltage, along with the usual frequency adjustments.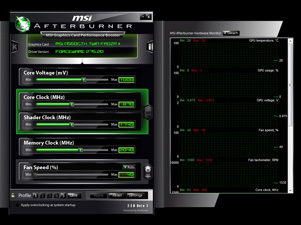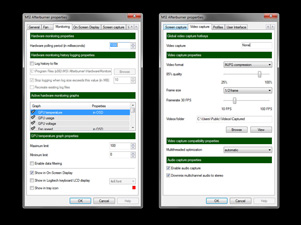 ---
Advertisement:


All original content copyright James Rolfe.
All rights reserved. No reproduction allowed without written permission.
Interested in advertising on OCAU? Contact us for info.