ATI Radeon 9700 Pro Video Card
Join the community - in the OCAU Forums!


Introduction and Features

We've grown so accustomed to nVIDIA's domination of the desktop graphics market that it's easy to forget sometimes that there are still a few other major players. Even with 3DFX's demise, in the last year or so there's been a few contenders for the performance crown. SiS's Xabre products haven't seen much uptake in the market and seem destined for the "value" segment regardless. Matrox's Parhelia looked good on paper but ultimately dissapointed in terms of speed. ATI's Radeon 8500 was impressive, but would have been more competitive if released a few months earlier when the GF3 was king. In a GF4-dominated world, the ATI zealots have been reduced to chanting "You just wait until R300 gets here!" while the rest of us decide whether or not to fork out the regular AUD$1000 "nVIDIA tax" to stay on the bleeding edge of 3D graphics hardware.

But now, the R300 GPU is here - in the form of ATI's Radeon 9700 Pro chipset. The card that Plus Corporation sent over for review is made by ATI themselves - like nVIDIA, ATI sell chipsets to other vendors to produce their own cards from, but they also make retail cards themselves and this is one of those.

I'm not going to attempt to delve too far into the technical side of this new chipset - Tech-Report cover the finer details well here and here. There's a few things to note, however:
Clock Speeds: The core runs at 325MHz compared to 300MHz for the GeForce4 Ti4600. Memory runs at 620MHz DDR compared to 650MHz DDR for the Ti4600. However, directly comparing MHz across architectures isn't a useful performance indicator, as we've seen elsewhere.
AGP8X support: this is in theory twice as fast as AGP4X - so will allow quicker transfers between the PC's main memory and the video card. Like ATA133 compared to ATA100, it's hard to say how much difference this will provide or if it's simply more bandwidth headroom.
On-card memory bandwidth: nearly 20GB/sec, almost double that of the GF4 Ti4600. The R300 (R9700 Pro) GPU has four separate 64-bit memory controllers, each of which can access any of the four memory banks on the card. This impressive bandwidth contributes to a theoretical fill rate of 2.6 billion pixels per second, compared to the Ti4600's 1.2 billion. This should improve the card's performance at high resolution and when dealing with large textures.
R300 GPU: It's manufactured on a 0.15 micron process and contains a whopping 110 million transistors - nearly 3 times that of the AthlonXP! This makes for a physically large and, even at a relatively low 325MHz, a hot-running core.
DirectX 9 Support: The R300 GPU has several features that won't be fully utilised until DirectX 9 is available from Microsoft. ATI have recorded some videos of these technologies in action. This means when DirectX 9 comes out and programs are written to use those features, the R9700 is already set for a performance advantage over other current chipsets.
Here's what the card itself looks like: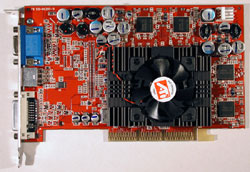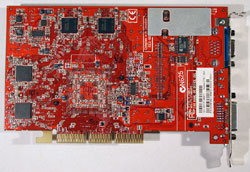 Yup, it looks like a video card. Some points:
Power Connector: Yes, that's a floppy-drive power connector at top right on the front of the card. The R300 draws too much power for the AGP slot alone and requires a direct connection to your PSU. You can use an existing floppy-power cable on your PSU, or use the provided molex passthrough converter cable that ATI provide.
Metal plate on the back of the card. This presumably serves as a heatspreader or RF shield.
Heatsink and Fan The entire card does get very hot under load. The stock unit runs very quietly and is probably adequate, but I'd be amazed if we don't see a rush of aftermarket coolers for these cards or the more adventurous vendors using this chipset coming up with bizarre methods to keep it cool.
Short length No problems with fouling components near the end of the AGP slot on this card, as found with the Ti4400/4600 cards.
Memory: 128MB of Samsung DDR in the familiar BGA packaging we've been seeing on GeForce4 cards.
---
Advertisement:


All original content copyright James Rolfe.
All rights reserved. No reproduction allowed without written permission.
Interested in advertising on OCAU? Contact us for info.