MSI Master Overclocking Arena 2011 APAC Final
Join the community - in the OCAU Forums!




Our live coverage thread is here, so stay tuned for updates!


Back in April, OCAU Major Sponsor MSI held the Australia/New Zealand leg of their global Master Overclocking Arena competition in our forums. It was no great surprise to many that the competition at the top quickly turned into an intra-team battle between members of local OC heavyweight crew Team.AU.




Whilst nothing can be taken away from DonutKingís scintillating, and patient, 8MHz underclocking victory (which earned him MSI's 6950 Twin Frozr II OC edition), nor SniperOZ's valiant efforts; TeamAUís Deanzo and Uncle.Fester took the major prizes in first and second places respectively.

The two winners headed to Jakarta this week to compete with the rest of Asia in the APAC Final, held later today at the Le Grandeur Hotel. Twelve elite teams from 13 countries, including Indonesia, will be competing onsite for the qualifications to the MOA 2011 Grand Final in Taipei. I'm also in Jakarta on behalf of OCAU to cover the event live on the forums, so be sure to stay tuned for more details.




The hardware for all competitors in Jakarta has been announced, and it is as follows:




Software is as follows:
OS: Microsoft Windows 7 Ultimate 64-bit
BIOS: E7672IMS.H26
VGA Driver: Nvidia GeForce/ION 266.58 WHQL

The Master Judge of MOA 2011 APAC Final will be Tim Marshall, an experienced overclocker from Australia. The 2 stages of the competition will combined to create a 100% total score. Stage 1 is SuperPI 32M for 40% and Stage 2 is 3DMark 11 for 60%.

The 12 teams of this contest are from several countries in the Asia Pacific region: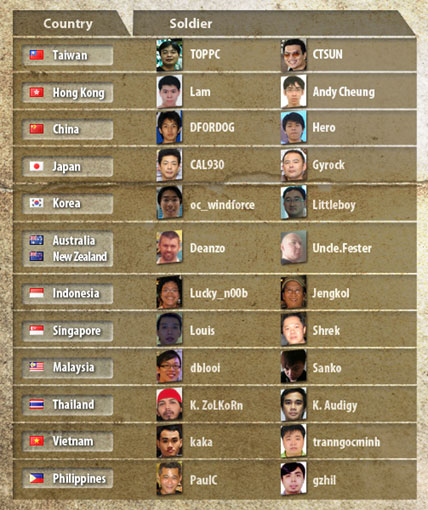 This year's MSI MOA 2011 APAC winners will receive cash and prizes prepared by the sponsors:
Champion: USD 1,500, OC weaponry and Ticket to MOA 2011 Grand Final.
1st Runner Up: USD 1,000, OC weaponry and Ticket to MOA 2011 Grand Final.
2nd Runner Up: USD 500, OC weaponry and Ticket to MOA 2011 Grand Final.
3rd Runner Up: OC weaponry and Ticket to MOA 2011 Grand Final.

So, with the Jakarta competition underway in a matter of hours, OCAU scored this worldwide exclusive interview with Uncle.Fester:

Uncle.Fester
Name: Jon
Age: 28
Location: Perth
Occupation: Radar Technician
Favourite Food: Thai
First CPU overclocked: AMD Duron
Most enjoyable competitive result: 2nd out of 40 competitors.

Q: What sort of prior experience do you have at overclocking competitions such as the MSI Masters Overclocking Arena?
Jon: Gigabyte GOOC Sydney & Jakarta.

Q: How are the preparations going for the APAC finals?
Jon: It's looking good so far, but a lot may be pointless as it all depends on the CPU we get on the day.

Q: Both of you got through the Australian/NZ leg of the MSI Masters Overclocking Arena competition using Socket 1366 / X58 chipset systems. With the APAC finals event set to run on Socket 1155 / Z68 systems that have comparatively limited BCLK options, what do you think will be the key to a top result in Jakarta?
Jon: Luck, itís all about getting that lucky sample.

Q: The SuperPi competition will have a multiplier maximum of 50; will this test be a battle of BCLK and memory manipulation? If so, will you go in the direction of higher frequency, or tighter timings?
Jon: Well there is always a delicate balance between MHz and timings so we will just aim for the best of both worlds.

Q: Without giving too much away, what do you think will be the minimum for a competitive 3DMARK 11 score?
Jon: Dunno, Iíve never tested 3DMARK 11! Anyway, Deanzo has the MSI N580 GTX Lightning , so he'll be concentrating on 3DMark 11, and I've got the MSI Z68A-GD80 so I'll be concentrating on SuperPi.

I'd like to thank Uncle.Fester sharing his thoughts with us. The ceremonies begin today, Thursday July 7th at 1pm AEST, with actual competition starting at 4PM. You can find more info and live streaming on the MSI MOA site. As mentioned previously, OCAU will also be covering the event live from the competition floor with pics and comments. Should be a lot of fun and we hope to see you in the forums later today!



Our live coverage thread is here, so stay tuned for updates!
---
Advertisement:


All original content copyright James Rolfe.
All rights reserved. No reproduction allowed without written permission.
Interested in advertising on OCAU? Contact us for info.

---
Recent Content


Team Group C440 Cardea Ceramic M.2 NVMe SSD


Synology DS720+ NAS


Raspberry Pi 4 Model B 8GB


Retro Extreme!


Intel Core i9-10980XE


AMD Ryzen Threadripper 3960X


Team Group T-Force Vulcan 500GB SATA SSD