Advertisement:

Bitfenix Shinobi Case
Join the community - in the OCAU Forums!


Page 1: Introduction, The Case, Installation, Conclusion.

Once upon a time, I would have said that a computer case is the one item that will probably outlast everything that you place inside it - I've still got two Antec full tower cases that I bought back in 2002 - but these days, cases are cheaper and better looking than ever. Beige cases used to be everywhere. Now, I'm not even sure you *can* buy a beige case - certainly HP, Dell and other big PC makers don't sell boring old beige cases for business these days, and I don't think it's too far fetched to thank the case modding community for this. Cases were boring, and guys with inspiration and Dremels and spray paint made them interesting. The big vendors took note when enthusiast case makers began to release interesting cases, no modding neccessary. Most people would know the names of Thermaltake and their ilk when it comes to pre-made enthusiast cases, but not so familiar with Bitfenix; they've only been around a few years, but they're already making a name for themselves with subtle yet good looking enthusiast cases and accessories. The Shinobi case they sent is a great example of this.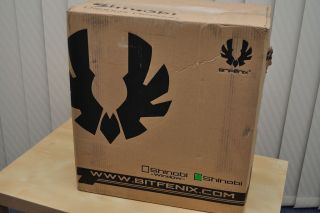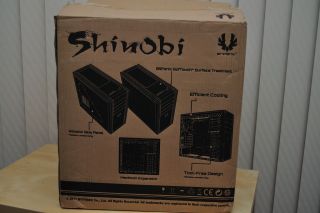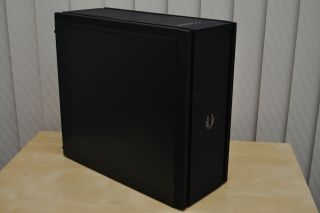 The Shinobi comes in two flavours - one with a sidepanel window (approximately $80AUD) and one without (approximately $70AUD), which is what we received. "Without" makes it sound like you'd get shortchanged, but aside from that window and one other small difference, everything else is identical. I certainly haven't feel like the case is missing anything, and to be completely honest, I really don't care for windowed cases.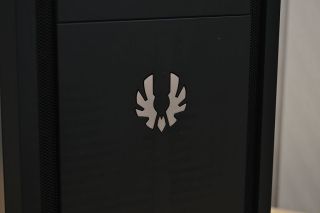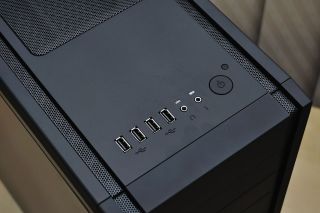 The Shinobi is a medium sized case, meant for gaming from the advertising blurb: "Named after some of the most feared assassins of the modern age, Shinobi empowers the digital warrior to silently and efficiently dispatch his opponents. Maximum expansion and compatibility with long graphics cards enables you to equip Shinobi with the tools you need to get the job done. Superior cooling options allow the system to stay cool and collected during the heat of battle, while a sophisticated yet understated styling shows the opposition you mean business." Right, well... it's hard to really look at the case as meant for anything BUT gaming rigs with that sort of spiel. Considering the case is completely matte black except for a small silvered Bitfenix logo badge, it should have been called the Ninja. Sadly, Bitfenix didn't call me during their development of the case, so Shinobi it is.

The matte black finish of the case is actually pretty handsome, and it reminds me of the wave of purposely-primered and matte painted cars that have been going around lately. The top and front panels are coated in a soft-touch rubber coating, which is very nice and much easier to take care of than I thought. I expected it to attract dust or start peeling off the moment it was out of the box, but dust comes off very easily and there's not a sign of it coming off. The side panels are also painted matte black, and the painted areas have a nice, textured feel and like the rubberized areas, are fingerprint resistant.

On the front of the case is... well... not much really. There are three covers for 5.25" bays and the very nice "polished" plastic Bitfenix insignia which is pretty tasteful, compared to a lot of the loud and obnoxious "gaming" cases. The interesting thing is that the power and reset buttons are on the top of the case, along with four USB ports and headphone and microphone sockets. I quite like the vertical USB ports - having a USB stick pointing upwards rather than outwards makes me feel a bit more safer as I walk past, knowing that there's no chance I can accidentally brush past and snap it off with my leg, and it leaves the front looking clean. Having four of them is very useful also, and just makes sense with the amount of USB devices we use today.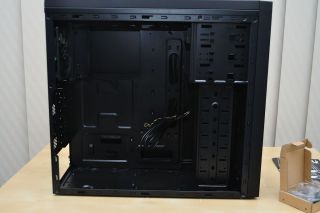 Still on the top panel, heading to the back, there's a large but subtle fan grill, and there's mount points for two 120mm fans on the underside, just as there are on the front of the case. Funnily enough, the vent is roughly the same size as your average water cooling radiator, but I'm not sure you'd want to mount it on the roof of the case. There is one 120mm fan included, mounted on the back panel, which also features two holes for water cooling hoses. The watercooling ports are situated next to the card slots, which aren't the cheap "snap-out" kind - another point of value for money with the Shinobi. Finally, there's space for two large fans to be mounted on the floor of the case, but realistically you could only mount one - the other mount point will be taken up by an installed PSU.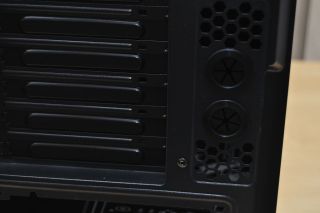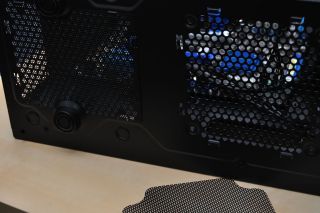 Space for hard drives is ample with eight 3.5" devices, although if you want to install a 2.5" drive such as a floppy drive or SSD, you'll have to use the included adapter and take up one of the 5.25" bays. The one complaint I have is that the Shinobi "Window" comes with "tool free locking mechanisms" used to secure drives by simply clicking them into place - they're not included with the windowless version, and I can't understand why. If their logic was "Well, you won't see the fancy locks without a window side-panel", I don't buy it - going from pictures, the window is triangular and doesn't even expose the drives, so it's not like you'd see them anyway. Still, there's plenty of included thumbscrews (all black, matching the rest of the case) so can't complain too loudly, considering the price.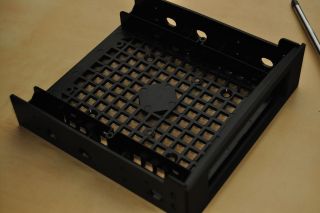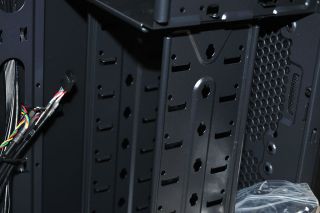 With standard PC parts, and only the included 120mm case fan, a stock AMD heatsink-&-fan and an XFX ATi Radeon HD 4850 being the real noise generators, the case was very quiet - even with the side off. Using 120mm fans will help with keeping noise generation down thanks to slightly lower RPM, but of course, you can't just fill the thing with fans and expect it to be whisper quiet.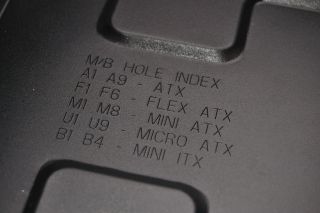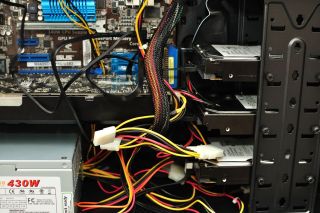 I can honestly say that I had no big issues with installing parts in the Shinobi, but unfortunately the case is a little cramped. Large high-end video cards may cause problems if you fill up the 3.5" bays, like I have. It may get a little tight, but with some right-angle SATA connectors, you can fit everything in, but there's not much spare room. Also, the PSU being mounted on the floor of the case is a bit of an issue if the cables aren't too long, but most PSU's have ample length on them now. Installing the motherboard was straightfward however - Bitfenix have kindly printed a nice key in the middle of the tray that indicates exactly which screw holes match up for what motherboard format you're installing: ATX, mATX, etc. The stand-off screws are also black like the thumbscrews.

Conclusion:
The Shinobi is a well-made case; it's not incredibly solid but it's finished nicely, and considering the price of approximately $70AUD, it's very good value. It is a bit tight between installed 3.5" drives and larger video cards, but with a bit of careful cable selection and routing, those problems can be overcome. I'm still a bit disappointed that the toolless drive fasteners weren't included, but that's only a small gripe. Would I buy this case if I saw it in a store? Sure - it has everything I want from a case: cool, yet understated looks, lots of front panel USB ports, lots of space for hard drives and most importantly... no window.

Pros:
Modern but not too flashy design.
Well made, with a quality finish. The rubberized coating is really top notch.
It's fairly roomy in some areas, but not big and bulky.
Plenty of fan positions, as well as grommeted holes for water cooling hoses.
Not going to hurt your wallet!
Cons:
Tight fit for longer video cards, possibly clashing with hard drive cables.
It's a shame they couldn't include the tool-less fasteners for 3.5" and 5.25" devices with the 'windowless' case, but the thumbscrews included aren't that terrible.
Thanks to Bitfenix for the opportunity to check out their case!
---
Advertisement:


All original content copyright James Rolfe.
All rights reserved. No reproduction allowed without written permission.
Interested in advertising on OCAU? Contact us for info.

---
Recent Content


Team Group C440 Cardea Ceramic M.2 NVMe SSD


Synology DS720+ NAS


Raspberry Pi 4 Model B 8GB


Retro Extreme!


Intel Core i9-10980XE


AMD Ryzen Threadripper 3960X


Team Group T-Force Vulcan 500GB SATA SSD