Advertisement:

Noctua NH-C14 CPU Cooler
Join the community - in the OCAU Forums!


Testing, Conclusions

Testing:
For today's tests we'll be using AMD's Phenom II X6 Black Edition which will be overclocked to 4.0GHz at 1.45v. Each cooler will be load tested with LinX for a period of 20 minutes. Idle temperatures will be taken over a period of 20 minutes as well, with the lowest and highest temperatures being recorded.

The ambient temperatures are monitored throughout the testing, and while we maintain a 25 degree temperature in the room, eagle-eyed readers may notice CPU temperatures below that being reported. This is because we are using the on-die thermal sensor in the CPU to report temperatures, which seems to be a little optimistic in its reports. However, the same motherboard and CPU are used for every test so the temperature difference between each test is accurate for the purposes of comparison.

The coolers in today's comparison will include AMD's retail quad heat-pipe cooler, Thermalright's Ultra 120 Extreme with Thermalright TR-FDB-1600 63.7 CFM fan, Corsair's H70, and Noctua's monster NH-D14 from our previous review here. Each cooler's fan(s) are connected directly to a 12V 3pin to Molex converter unless stated otherwise. The thermal compound used for each test is Noctua's NT-H1 that does not require 'burn-in' time for optimal performance.

For Noctua's NH-C14 testing, we have included two sets of results highlighted in orange. One shows both fans being utilised, while the other only utilises the bottom fan for cooling.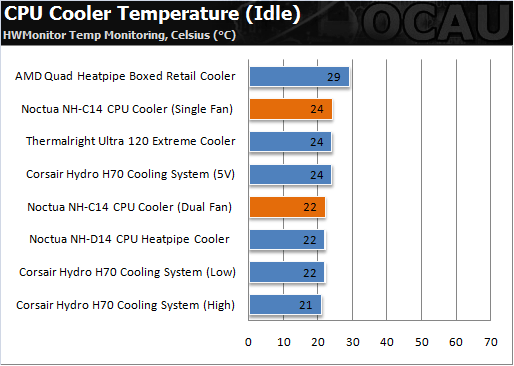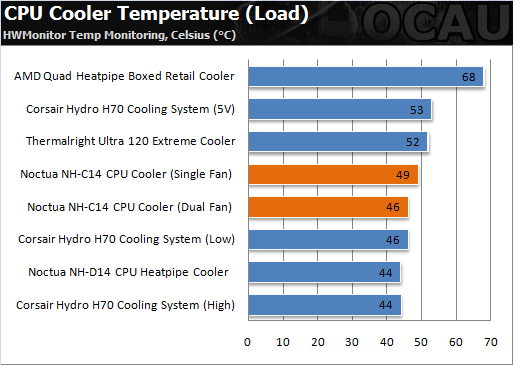 Noise measurements were taken with a digital sound meter approximately 5cm away from the heat-sink fan(s), reducing the ability of other components such as power supply fans or other environmental noises to interfere with the final results on the open test-bench.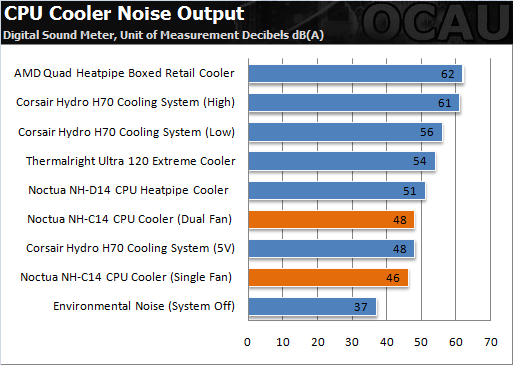 Conclusions:
This cooler's multiple fan configurations help reduce its physical footprint as well as noise production, and while it did hinder its cooling abilities when a single fan was used, the temperature increase was nothing to worry about in favour of a smaller and quieter computing environment. Nevertheless, the cooler is more than suitable for any CPU on the market whether you care for utilising one or both fans, and thanks to its top-down design, your CPU's power circuitry is constantly being cooled, compared to a cross-flowing tower design.

All in all, Noctua's NH-C14 proves to be a versatile solution for those who upgrade their case regularly and don't want to be stuck with a ginormous cooler limiting their upgrade paths, or just prefer to choose a cooling solution that is able to take a lot of CPU heat while maintaining low noise levels in a HTPC desktop or tower case configuration. While its single fin array is half of what the big brother NH-D14 sports, it was able to keep up with it during our tests surprisingly well, considering the lower surface area.

The Noctua NH-C14 is currently available to purchase in Australia, and includes a 6-year warranty.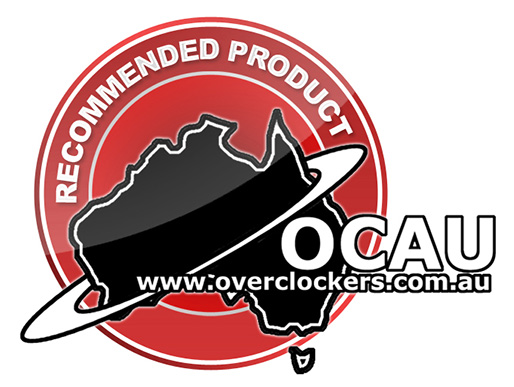 Feel free to discuss this review in this thread.
---
Advertisement:


All original content copyright James Rolfe.
All rights reserved. No reproduction allowed without written permission.
Interested in advertising on OCAU? Contact us for info.

---
Recent Content


Team Group C440 Cardea Ceramic M.2 NVMe SSD


Synology DS720+ NAS


Raspberry Pi 4 Model B 8GB


Retro Extreme!


Intel Core i9-10980XE


AMD Ryzen Threadripper 3960X


Team Group T-Force Vulcan 500GB SATA SSD