Advertisement:

ASUS P8Z77-V Deluxe
Join the community - in the OCAU Forums!


With the launch of Intel's new Ivy Bridge range of processors comes a new wave of motherboards featuring the Z77 chipset. As one of the largest motherboard manufacturers, Asus is ready with a full line-up. The feature packed Asus P8Z77-V Deluxe sits at the high end of their mainstream range.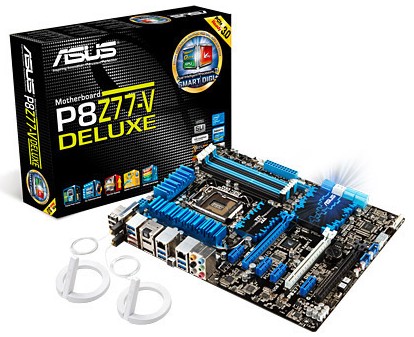 Let's put it through its paces with a i7-3770K processor and see if it can meet the high standards we've come to expect from Asus. Before we go into the board itself, we'll begin with a general overview of the Z77 chipset. Note that some features, notably Intel's Thunderbolt interconnect are not available on the majority of motherboards at this time.



The full list of features and specifications of the P8Z77-V Deluxe can be found here.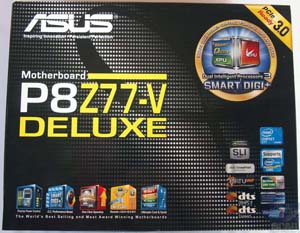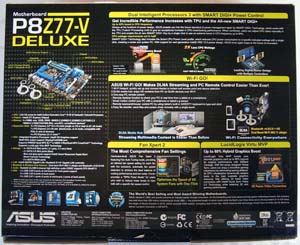 The bundled accessories consist of a driver & software CD, manual, six SATA cables, SLI bridge, rear I/O shield (which I seem to have misplaced) and case connectors. The most interesting inclusion is the small module with accompanying antennas that provides WiFi a/b/g/n, Bluetooth 4.0 and 3.0 +HS connectivity.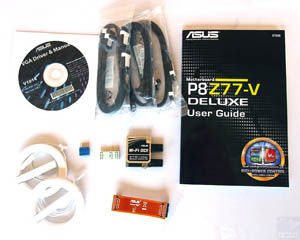 Asus calls this the WiFi Go! module which is a powerful little piece of kit. It connects to a header adjacent to the rear I/O. It has full support for DLNA (Digital Lifestyle Network Alliance) streaming, meaning content can be streamed to a growing variety of DLNA supporting devices such as smart phones, tablets, game consoles and TV's. It has a remote desktop feature that can control the PC wirelessly, it can act as a router and share internet between devices as well as capture and send/receive files from WiFi devices. Bluetooth 4.0 as seen on the iPhone 4S is also supported. These networking features add value to the motherboard and go a long way to justifying the high asking price.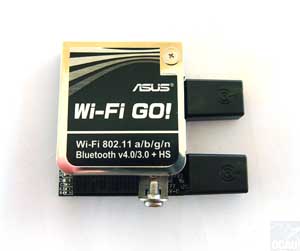 The layout of the board itself looks good. Running a pair of dual cards leaves several slots free. Even a pair of triple slot cards still leaves a PCIe 1x slot free. There are a total of six fan headers, headers for four USB 2.0 and two USB 3.0 ports. One little nugget not mentioned in the official literature is a header for a future Thunderbolt accessory to be released later. We're also pleased to see onboard power, reset and CMOS clear buttons and a debug LED readout.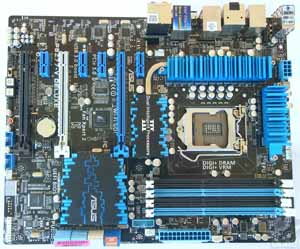 To the right of the 24pin power connector is button for a memory troubleshooting feature they call MemOK! which can adjust the memory settings of troublesome sticks. Also located here is a switch labelled TPU for auto overclocking which we won't dwell on. To the left of the power button is a small switch labelled EPU which enables or disables the various power saving features.

The rear I/O panel is packed with four USB 2.0 ports, six USB 3.0 ports (blue), dual gigabit LAN ports, dual eSATA 6GB/s ports, analogue and S/PDIF audio ports and a button to flash the BIOS when the system is powered off. Video outputs consist of HDMI and Display Ports. The gap towards the left side is for the WiFi Go! module.



The P8Z77-V Deluxe comes with eight SATA ports, four of which are 3GB/s and two at 6GB/s coming from the Z77 PCH. The blue ports on the right are 6GB/s ports connected to a Marvell 9128 controller.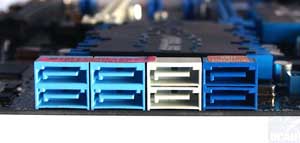 ?
The VRM of the P8Z77-V Deluxe is very strong. Asus has implemented a 16+4+2 phase PWM which is sufficient to power even fully loaded ln2 cooled CPU's. This implementation offers full control over parameters such as PWM switching frequency, phase controls, various loadline calibrations and offers voltage controls with fine granularity and accuracy.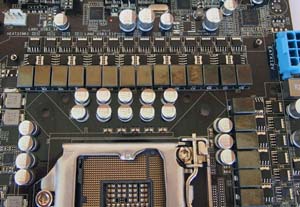 Below is the PCIe slot arrangement for the P8Z77-V Deluxe. The blue and white 16x slots share sixteen PCIe 3.0 lanes between them. The blue is 16x electrical while the white is 8x electrical. All the other slots are PCIe 2.0 based. Because of chipset limitations, the black PCIe slot runs at a maximum of 4x and can only do this thanks to the interesting PLX chip we'll talk about next.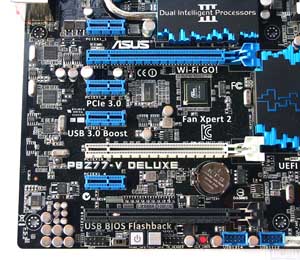 One of the interesting chips on the board is a PLX PEX8608 chip. It is an eight lane PCIe 2.0 switch giving enough lanes to run the black slot 16x slot at 4x whilst leaving enough lanes for all of the auxiliary controller chips and peripherals. Chips like these don't come cheap but are necessary on the highest end boards to enable uncompromised operation of all slots and peripherals at the same time.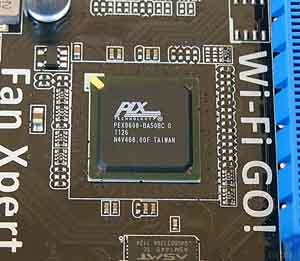 A pair of Asmedia ASM1042 chips provide four of the six USB 3.0 ports on the rear panel. The other two come from the Z77 PCH.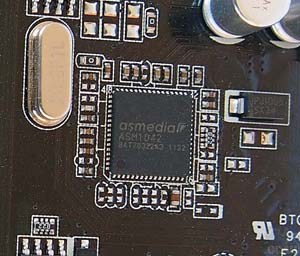 The two LAN ports on the P8Z77-V Deluxe are provided by Intel WG82579V and Realtek RTL8111F controllers.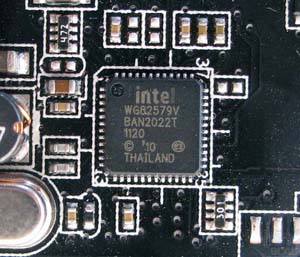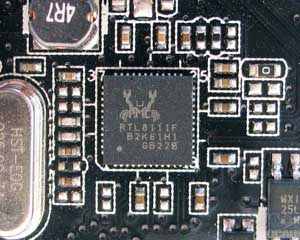 Audio duties are handled by a Realtek ALC898. It supports features such as Blu-ray 24bit lossless audio and DTS Ultra II. We'd like to see something like X-fi added to a premium board such as this, but those features are usually reserved for the ROG gaming boards.



The two eSATA 6GB/s ports on the rear I/O panel are controlled by a ASM 1061 controller.


---
Advertisement:


All original content copyright James Rolfe.
All rights reserved. No reproduction allowed without written permission.
Interested in advertising on OCAU? Contact us for info.

---
Recent Content


Team Group C440 Cardea Ceramic M.2 NVMe SSD


Synology DS720+ NAS


Raspberry Pi 4 Model B 8GB


Retro Extreme!


Intel Core i9-10980XE


AMD Ryzen Threadripper 3960X


Team Group T-Force Vulcan 500GB SATA SSD