Advertisement:

Bauhn AMID-972XS Android Tablet
Join the community - in the OCAU Forums!


Introduction, Features, In The Box

One of the strengths of the Android operating system is that pretty much anyone can make hardware for it. By comparison, if you want to use Apple's operating system, you're forced to buy an Apple-branded product made by Apple - or more likely one of their contracted OEMs. You've also got to buy it either directly from Apple or through one of their authorised resellers. This distinction is perhaps most clearly demonstrated by the fact that ALDI, a German supermarket with stores in Australia, occasionally have Android-powered tablets for sale next to the bananas and amusingly-named biscuits.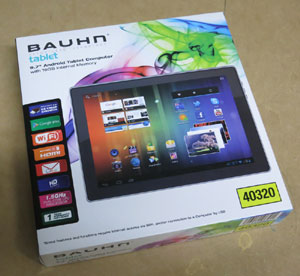 This review will be a little annoying for some, because the chances of you being able to buy this exact tablet again are slim. It was offered as one of ALDI's regular weekly specials, last weekend, and will probably have sold out almost instantly as the urban stores are picked over by a plague of geek locusts. My local-ish ALDI is in a rural area so the geek population is lower - although their allocation of tablets is probably lower also. Anyway, I bought the last one there, and I was there only a couple of hours after they had opened on the first day of this special being available. $249 and the box was mine.

Having said all that, this will hopefully give some insight into whether these cheapy tablets are worth looking at in general. ALDI previously had a single-core version of this tablet, and now this dual-core one. So maybe there'll be a similar offering in the future, and although Bauhn's website makes it clear they are only available through ALDI, it seems likely to be made by someone else so possibly available under a different name elsewhere.

Anyway, I'm not a huge Android expert, with my experience so far limited to my Samsung Galaxy S II phone and a very cheapy 7" tablet made by Ainol, the "Novo 7 Advanced", which was about $120 delivered direct from China about a year ago. Sadly I never got around to reviewing the Ainol tablet properly, which means I never got to explore the full range of jokes available. I certainly do enjoy using my 7" Ainol device from time to time, though - especially when away from home. Seriously, I can't tell if the marketing arm of Ainol are deranged or genius. Their logo looks like a cat's bum and their slogan is "Enjoy Life - Enjoy Ainol". You couldn't make it up.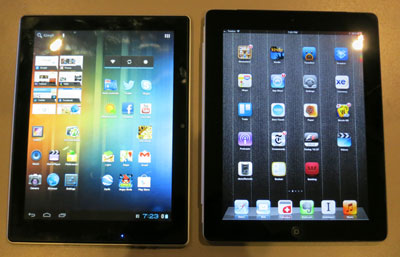 Left: Bauhn - Right: iPad 3


But on to this Bauhn unit. It's 9.7", which is more or less iPad sized, as you can see above. However the screen resolution is only 1024x720, which on paper is well out of the league of the frankly stunning Retina screen on the iPad 3. But for gaming, web browsing and watching media it really is fine - provided you're not trying for 1080 HD obviously. Even 720p will be slightly crunched horizontally but looks nice and sharp to me - see the later "usage" video. It has 16GB of storage and 1GB of RAM, a dual-core 1.5GHz processor, WiFi, Bluetooth, front and rear cameras of varying usefulness and the usual other buzzwords - the full specs have vanished from Bauhn's website, but ALDI still have the original ad at the time of writing.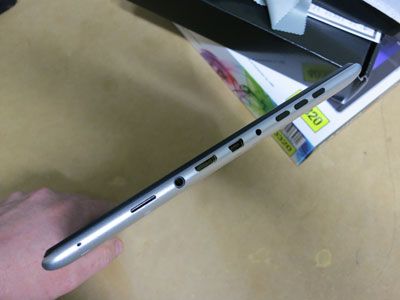 Note that all the connectors and buttons are along one edge - there's literally nothing on the other three sides. Where it scores over some other tablets is with the inclusion of a MicroSD slot so you can expand the storage and easily get files onto it, a USB connector (which supports USB Host) and HDMI out. Also the price - $249. There are lots of tablet models and brands available nowadays and even restricting yourself to just buying Samsung gives you a near-baffling number of options - but I'm not aware of one in this form factor, for this price, with these features. But there's a zillion oddly-named direct-from-china models out there now so who knows. Local convenience and ease of return if there's an issue are more points in ALDI's favour over an overseas seller.

Here's a quick look at what's in the box: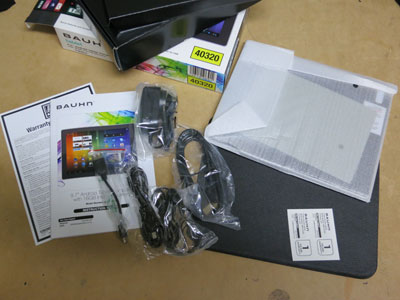 From left to right we have the warranty statement (60 days money back, 1 year warranty), the manual, USB connection/charging cable, USB host cable, HDMI cable, power pack, padded sleeve, warranty stickers and the unit itself packaged with cleaning cloth. The manual is excellent, in clear English with lots of screenshots - the Ainol manual by comparison was entirely in Chinese.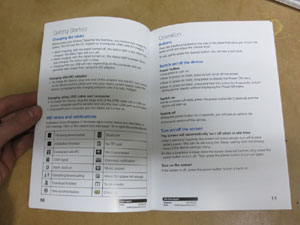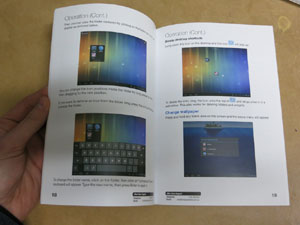 On the next page we'll look at performance and real-world usage, with a few videos:


---
Advertisement:


All original content copyright James Rolfe.
All rights reserved. No reproduction allowed without written permission.
Interested in advertising on OCAU? Contact us for info.

---
Recent Content


Team Group C440 Cardea Ceramic M.2 NVMe SSD


Synology DS720+ NAS


Raspberry Pi 4 Model B 8GB


Retro Extreme!


Intel Core i9-10980XE


AMD Ryzen Threadripper 3960X


Team Group T-Force Vulcan 500GB SATA SSD