Advertisement:

Interview with ABIT's Scott Thirwell
Join the community - in the OCAU Forums!
Introduction, About Abit and Production
Interviewee: Scott Thirwell, Head of Marketing, ABIT
Interviewer: Martin Esser, aka Chainbolt, OCAU
Place: Tokyo, WPC Expo 2002
Date: October 17, 2002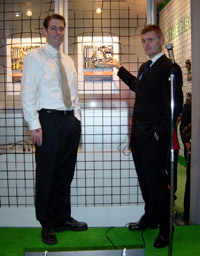 ABITís Scott Thirwell (left) and OCAUís Martin Esser (right) with the object of desire: the upcoming DDR dual channel GB7.


OCAU: Hello Scott! What brings you to beautiful Tokyo?
ST: Business! Iím supervising the ABIT booth at the WPC EXPO 2002 and giving interviews to very important people. (big grin)

OCAU: Like me?
ST: Yes! (bigger grin)

OCAU: Good! Now that's settled, could you please tell us a little about the current ABIT business? What and where is ABIT producing?
ST: We are producing up to 160,000 main boards and 50,000 video cards per month. A new business field are server boards.

OCAU: That sounds like a lot, but in reality you are one of the smaller players in the motherboard market.
ST: True! We have some much bigger competitors..by quantityÖ (another grin)

OCAU: Where do you produce?
ST: Our factory is in China, close to Shanghai. Itís a huge facility, the size of 15 football fields, with 600 workers. Additionally we have around 400 staff in our Taiwanese head-office.

OCAU: And this huge facility is now idle?
ST: What is this question supposed to be?

OCAU: Well, you recently outsourced your production to ECS! So, what for do you need a factory?
ST: Wait! The ABIT motherboard production is 85% branded and 15% SI, we outsourced ONLY the SI part!

OCAU: What is ďSIĒ?
ST: SI stands for ďSystem IntegratorsĒ. This is the way we call non-branded boards sold to system integrators, who sell complete system under their own brand name.

OCAU: Does this mean that all motherboards that come in an ďABITĒ labeled box are produced by ABIT in the ABIT factory in Shanghai?
ST: Absolutely yes! Every ABIT board is produced by ABIT! (looks very serious)

OCAU: I guess you are aware about the rumors that certain newer ABIT boards are performing not as good anymore because they are apparently manufactured by ECS. And some people even speculate that your mobos coming in blue boxes are from ECS and the red-boxed boards are from ABIT or the other way around.
ST: ahh..these rumors! ABITís Intel chipset based mainboards come in blue boxes and boards with Athlon chipsets get a red box.

OCAU: Wait a moment! I had in total 4 BD7-II mobos, 3 of them came in a blue box and 1 in a read box.
ST: Oh yes! During the soccer World Cup we shipped worldwide all ABIT boards in a red World-Cup box. But now we are back to the usual Intel = blue box and AMD = red box policy.

OCAU: Good to know that all branded ABIT boards are manufactured by ABIT! Itís important for the faithful to know that they get the real thing. Could you tell us about the capacitor problem on your mainboards?
ST: A couple of years ago we used capacitors that might leak after an extended period of use. Affected were mainly boards with the Intel BX chipset. Since around 2 years we are not using this type of capacitor anymore.

OCAU: So you acknowledge the problem?
ST: Yes, unfortunately! However, these capacitors were not produced by ABIT. Itís a commonly used part, procured from a supplier, and used by many other board manufacturers as well. They were all affected in the same way as we were.

OCAU: Another annoying question! Why is ABIT always behind the competition with new boards? Your AMD 760, VIA KT 266A and VIA KT333 as well as your 845E/G boards came all out later than competing products.
ST: Not always, sometimes! There are 2 reasons: First of all we take a little more time and care than some of our competitors to ensure that the product is ready for the market and has the right balance between performance and stability. The boards you mentioned are good examples: the KG7 and the KT7 came both later than competing products. But I think you agree that they are regarded as ďbest-in-class.Ē The same goes for our 845 E boards, the BD7-II and the IT7. Read your own tests!

OCAU: Oh! I think I have to agree with this line of argument. And what is the second reason?
ST: Sometimes chipset manufacturers deliver their new chipsets first to their biggest customers. Itís no secret that some of our competitors are producing 10 times more main boards than we. Naturally in case of chipset shortages they have higher priority than we. We donít like it, but thatís how business works. (clenching his fists)


---
Advertisement:


All original content copyright James Rolfe.
All rights reserved. No reproduction allowed without written permission.
Interested in advertising on OCAU? Contact us for info.

---
Recent Content


Team Group C440 Cardea Ceramic M.2 NVMe SSD


Synology DS720+ NAS


Raspberry Pi 4 Model B 8GB


Retro Extreme!


Intel Core i9-10980XE


AMD Ryzen Threadripper 3960X


Team Group T-Force Vulcan 500GB SATA SSD