Abit BD7-II RAID (i845E P4) Motherboard
Join the community - in the OCAU Forums!


Introduction, Features

Intel has recently launched their first 533 MHz system bus CPU, the Pentium 4 Northwood "B" line with currently 2.26, 2.4, and 2.53 GHz processors. At the same time they upgraded their 845 and 850 chipsets to accommodate the new 533 MHz system bus processors. The Intel 845 chipset comes in 2 new flavors: the 845E and the 845G, the later one featuring an integrated graphic core. Both chipsets share the same Southbridge. The new Pentium 4 Northwood 533 MHz "B" line has become immediately an attractive choice and is obviously causing many AMD fans to reconsider their options. Naturally mainboard manufacturers rushed out their boards for this new promising CPU line. ABIT for example, the Taiwanese manufacturer is offering several platforms for the 533 MHz Pentium 4: an 845G based board, the BG7, and several 845E based boards, the IT7, the IT7-Max, and the BD7-II. The IT7 is a non-legacy board packed with features like 4-channel RAID, whereas the BD7-II is plain vanilla legacy. Today we have closer look at the BD7-II. We will in particular examine how far the BD7-II can be overclocked and how it is performing under such conditions.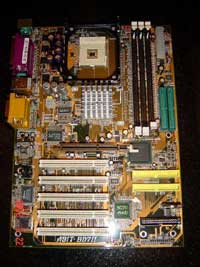 BD7-II Features:
CPU
Pentium 4 Socket Processor for 400/533 MHz System Data Bus

Board Layout
- ATX form factor (305 mm x 215 mm)
- 1 AGP4X slot, 5 PCI slots
- ATX 2.03 PSU necessary (additional 4 pin connector required)

Chipset
- Intel 845E (ICH4) chipset
- AGP 4X
- High-Universal Serial Bus (USB v2.0)
- Ultra ATA 100/66/33 channels supporting 4 devices

Ultra DMA 133/RAID
- High Point HPT372 IDE Controller
- Ultra DMA 133MB/sec data transfer rate
- RAID 0 (Stripping mode for boosting performance)
- RAID 1 (Mirroring mode for data security)
- RAID 0+1 (Striping and Mirroring)

Memory
- Three 184-pin DDR DIMM module (up to 2GB MAX)
- PC1600 and PC2100
- ECC RAM

Audio
- ALC650 single chip 6-channel CODEC on-board

BIOS
- SoftMenu III with overclocking options
- Award Plug and Play BIOS supporting APM and ACPI
- Write-Protect Anti-Virus function by AWARD BIOS

Multi I/O Functions
- 2 Channels Bus Master IDE Ports support Ultra DMA 33/66/100
- 2 Channels Bus Master IDE Ports support Ultra DMA 33/66/100/133 for RAID 0/1/0+1
- PS/2 Keyboard and PS/2 Mouse Connectors
- 1 Floppy Port (up to 2.88MB)
- 1 Parallel Port (EPP/ECP)
- 2 Serials Ports
- 2 USB 2.0 Connectors
- Audio connector (Line-in, Line-out, MIC-in, and Game Port )

LAN
- On board RTL8100B Ethernet controller
- 10/100Mb Operation
- ACPI & Wake on LAN

For more info, see Abit's product page for this motherboard.

The feature list shows that the BD7-II RAID has nothing much to offer above standard. USB 2.0 is already a standard feature and the same goes for the LAN controller. The 6-channel AC97 audio works sufficiently. It is naturally not providing concert hall atmosphere, but who is listening to Beethoven or Rimski-Korsakoff with his PC speakers? We want to hear the bad guys approaching from behind when playing "Soldier of Fortune", and that is what we hear indeed. In case the BD7-II user wants to utilize the chip's 6-channel function, the line-in and MIC-in ports have to be reverted to line-out channels to get a signal for the rear and center speakers. This is done via Realtech's propriety software provided by the BD7-II installation CD.

The BD7-II RAID comes with the Highpoint 372 on-board 2-channel RAID controller. We have tested this controller on other boards with various HDD and found it to be a fast and reliable solution. We clearly prefer the HPT372 to the Promise onboard controller used by Asus and Gigabyte. The HPT 372 offers RAID 0, RAID 1 and RAID 0+1 (requiring 4 disks). The on-board Promise controller is intentionally crippled and does not offer RAID 0+1.

The BD7-II is based on Intel's updated 845E chipset, which comprises the 845 "Memory Controller Hub" (MCH) commonly called "Northbridge" and the "I/O Controller Hub 4" (ICH4) commonly called "Southbridge". More details are available here.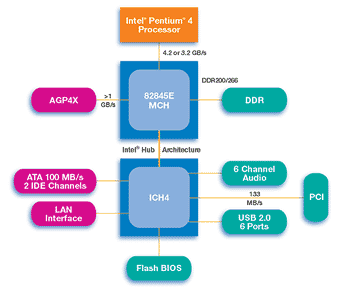 ---
Advertisement:


All original content copyright James Rolfe.
All rights reserved. No reproduction allowed without written permission.
Interested in advertising on OCAU? Contact us for info.

---
Recent Content


Team Group C440 Cardea Ceramic M.2 NVMe SSD


Synology DS720+ NAS


Raspberry Pi 4 Model B 8GB


Retro Extreme!


Intel Core i9-10980XE


AMD Ryzen Threadripper 3960X


Team Group T-Force Vulcan 500GB SATA SSD