Winbond DDR400 Mega Test
Join the community - in the OCAU Forums!


Introduction

The system memory is, after the CPU, the most vital part of current PC systems and in the same way the biggest headache for overclocking. In most cases, for Pentium 4 owners anyway, the only way to overclock the CPU is to increase the front-side-bus frequency and by that forcing the memory frequency in the same way up. If the memory gives up too early there is consequently no way to unlock the CPU's overclocking potential. A precondition for extreme overclocking is therefore quality memory.

For a couple of months Winbond has been producing DDR 400 chips with a speed grade of 5 nanoseconds and a CAS latency rating of 2.5. The product description and the technical specifications can be found here and here. DDR 400 is controversial because JEDEC, a standardisation body for PC memory has not yet endorsed "DDR 400", obviously due to stability concerns. There are also user reports about incompatibility of DDR 400 products with some of the currently sold mainboards, which originally supported DDR 400. We say "originally" because board manufactures who initially announced official support for DDR 400 (VIA KT 400 and SiS 648) have recently removed this - we assume because of problems.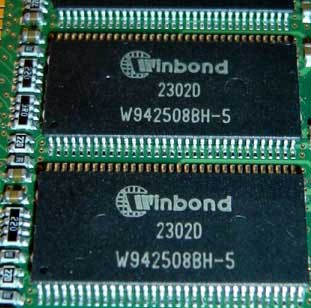 Winbond DDR 400 5 ns RAM chips


Twinmos, the Taiwanese electronics manufacturer, is using these DDR 400 BH-5 Winbond chips for their 6-layer PC 3200 184 Pin unbuffered non-ECC DIMM (info here.) Normally manufacturers rate their RAM chips conservatively to avoid claims from their OEM customers. For DDR 333 (PC 2700) is supposed to run at least at 166 MHz, but in many cases it runs at much higher frequency. Samsung PC 333 for example could easily run at 200 MHz and even higher frequencies in CL 2.0. The first question to be answered by our tests is therefore: What is the maximum frequency to run Winbond 400 5 ns based Twinmos PC 3200 in CL 2.0/CL 2.5?

We have maintained for a long time that when it comes to memory testing the conclusions to be drawn about the overclocking capability are very limited when just 1 sample is tested. Why is this? At the specified stock speed of a memory module we can expect that samples of one product line perform similar or even identical, otherwise they are faulty right away. However when increasing the specified frequency small differences between the modules, more precisely between their RAM chips, can make a big difference. The unavoidable small impurities in the used material are becoming a much bigger obstacle when the chips are running beyond their stock frequency. The more we approach the frequency limit, the more the differences between the modules become visible. At the end the maximum achievable frequency can be quite different. Memory testing should therefore be always based on more than one module. Particular caution is necessary when the manufacturer itself provides a "review-sample". Most certainly such a sample is hand-picked and performs better than what the consumer can actually buy. Our second question to be answered by our tests would be therefore: what is the frequency headroom range between different samples of 256 MB and 512 MB Twinmos PC 3200?

We purchased in total 8 modules of Winbond DDR 400 5 ns based Twinmos PC 3200: 4 with 256 MB and 4 with 512 MB RAM. We found that the Winbond DDR 400 chips on the PCB were even from different production lots as we could see by the chip markings. Although even such an 8-sample test is not representative for the complete production, it's much better than testing only 1 hand selected module provided by the manufacturer for review purposes. Below left shows the tested 256 MB modules. The 256 modules carry 8 RAM chips with 32 MB each, which leaves one side of the module empty. Below right shows the tested 512 MB modules. They come with 16 x 32 MB RAM chips and consequently both sides are occupied with chips.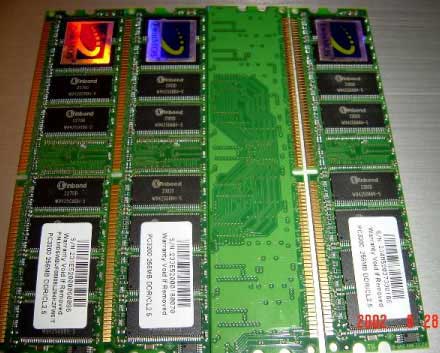 Twinmos 256 MB modules, front and back side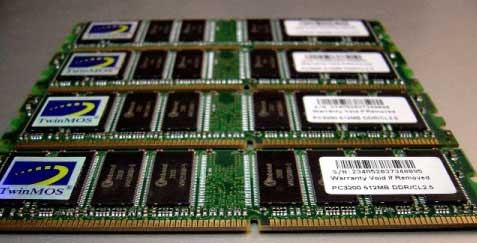 Twinmos PC 3200 512 MB modules, front side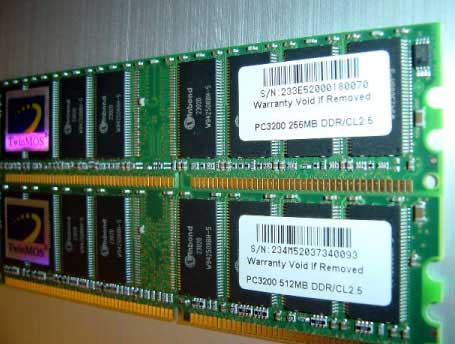 Layout differences between Twinmos PC 3200 256 and 512 MB modules (front side)



Here is the SPD reading for both chips: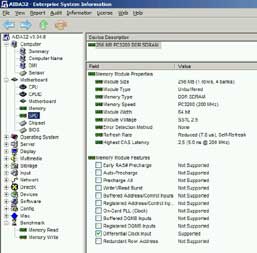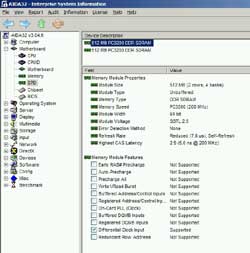 256MB on left, 512MB on right


Another issue we would like to examine here is the system stability when more than one DIMM socket is populated. There have been numerous reports for all kind of chipsets and motherboards that when more than 1 socket is populated system stability and frequency headroom are reduced. This issue is not irrelevant or far-fetched because motherboards based on the upcoming Intel "Granite Bay" chipset for dual channel DDR are supposed to operate with pairs of identical memory modules. The same goes for the older type of 16-bit (182 pin) RDRAM.


---
Advertisement:


All original content copyright James Rolfe.
All rights reserved. No reproduction allowed without written permission.
Interested in advertising on OCAU? Contact us for info.

---
Recent Content


Team Group C440 Cardea Ceramic M.2 NVMe SSD


Synology DS720+ NAS


Raspberry Pi 4 Model B 8GB


Retro Extreme!


Intel Core i9-10980XE


AMD Ryzen Threadripper 3960X


Team Group T-Force Vulcan 500GB SATA SSD