Advertisement:

MobileAction MA-620 IR USB Adapter
Join the community - in the OCAU Forums!


Intro, Package, Installation

I recently purchased a Nokia 8310 mobile phone and had noticed a few features lacking compared to my previous phones, the Nokia 3310 and 3210. Lack of a ringtone composer and the bottom falling out of the dotcom business (and no bugz remaining on BlueSkyFrog) meant that I had little leeway in what I could do.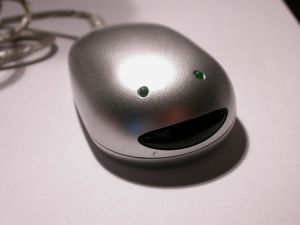 After a post on the forums looking for suggestions on what IR adapter to get, Chuna from PC Range came up with the goods and sent up a MobileAction MA-620 USB Infra-Red adapter. This small device plugs into a USB port and provides an IrDA transceiver capable of talking to other IR-capable devices such as mobile phones, PDAs, other PCs, laptops, etc.

For your money, you get:



The kit is quite simple, consisting of just the adapter and a CD-ROM with the appropriate drivers, manual and handset utilities. If you don't look hard enough on the CD (like me) you'll miss the thousand or so free ringtones and logos included. While hundreds of ringtones and graphics are a nice thing to have, none of these are named or indexed in any way that I could find. While with the logos this isn't so bad (ACDSee/Paint Shop Pro's thumbnailing helps here) - with the ringtones it's a different story. If you want to know what each ringtone is, then you're going to have to listen to each one and index them yourself.

The other inclusion is the small silver rodent with green eyes and a large black mouth. Okay, it's actually the IR adapter... :)

Software is available for a wide variety of phones - including (but probably not restricted to: Nokia 5210, 6210, 6250, 6310, 6310i, 6500, 6510, 7110, 7190, 7210, 8210, 8250, 8310, 8390, 8850, 8855, 8890, 8910. Ericsson: R320sc, R520, T68-T68i, T39, T300 - and more - check out their web site for a more complete list.)

Installation
As with all things I install, I didn't make much use of the included CD's drivers - instead going to Mobile Action's website - downloading both the latest handset utility specific to my phone, and the latest drivers. Being USB, installation of the MA-620 is a simple task. Plug it in, do lots of clicking of Next and OK and pointing at drivers. Then just reboot as suggested (although I was able to avoid that) and all should be up and running. Device Manager then noticed the IR module:



After a conversation with my 8310 (consisting of the voice command "IR") I sat the phone so that its IR transceiver faced the transceiver of the MA-620. Windows went through a few detection routines. I pointed it at the location to where I had extracted the drivers. A bit of clicking and popping-up of speech bubbles from the taskbar and Windows XP was done.




"Fashion Phone". Riiight.




Windows then politely offered to transfer files to the phone - which I thought was a little odd. Being the daredevil I am, I risked my phone exploding into a shower of ASCII characters and attempted an upload. I selected a small text file to send over to the phone. After hitting send I was politely greeted with an Access Denied error. Oh well. No loss there.



---
Advertisement:


All original content copyright James Rolfe.
All rights reserved. No reproduction allowed without written permission.
Interested in advertising on OCAU? Contact us for info.

---
Recent Content


Team Group C440 Cardea Ceramic M.2 NVMe SSD


Synology DS720+ NAS


Raspberry Pi 4 Model B 8GB


Retro Extreme!


Intel Core i9-10980XE


AMD Ryzen Threadripper 3960X


Team Group T-Force Vulcan 500GB SATA SSD