Lexar Jumpdrive M20i Flash Drive
Join the community - in the OCAU Forums!


Today we're looking at the Lexar Jumpdrive M20i USB3.0 Flash Drive. This is the Apple-focussed version of the M20c that Agg reviewed recently. The premise of this drive is to have one place to store data for both your computer, using the USB Type A interface, and your iOS device, using a Lightning connector. It does achieve this, but with some significant caveats.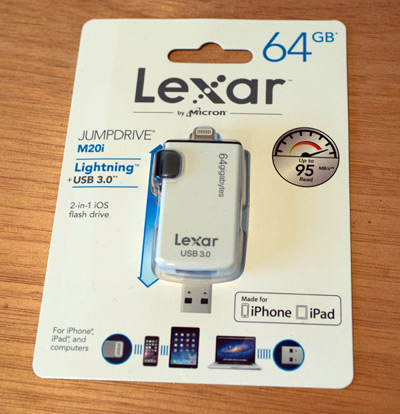 Starting with the physical hardware, a slightly wobbly plastic slider button controls whether you extend the USB or Lightning connector from either end of the case. The latch to lock the connector in place is not intuitive or confidence inspiring. On a few occasions the connector disappeared back into its case rather than going into the USB port. For a premium priced product (US$80 for the 64GB) this gives it quite a cheap feeling. The dual purpose connectors also means it is fairly bulky, so if you have a motherboard or USB hub with tightly spaced ports, this device will likely block access to adjacent ports.

I'm not going to focus on performance - in general use it certainly seems fast enough using the USB3 connector. Note that the spec for Lightning is only USB2. In that mode you will see significantly slower transfer times. The recently released iPad Pro has a revised spec Lightning connector that supports USB3 speeds. I expect this functionality will be incorporated into future iOS devices as they are released, but any peripherals will need to be updated or replaced to take advantage of this.

My regular go-to USB drive is made by a competitor, from aluminium, which feels much stronger and has around 1/3 the volume. But that one doesn't have a Lightning port. My response? Good. I am struggling to see the benefit. Here's the Lexar drive plugged into an iPhone 6 via the Lightning connector: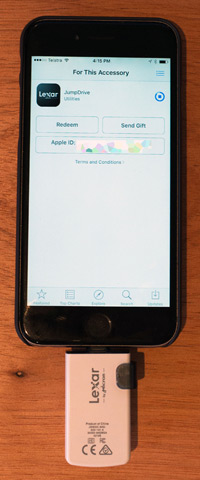 Next to the aluminium design and construction of the iPhone, the Lexar drive is comparatively cheap and flimsy. I can imagine Johnny Ive's skin crawling at the very sight of it. Any attempt to use this drive on the go is inviting a snapped off Lightning plug inside your damaged iPhone. I would only use it in a static environment such as a desk.

So what about usability with iOS? Well, Apple does not directly support third party storage so you must download the Lexar app from the Apple App Store to access the drive.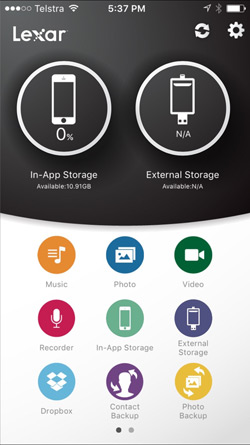 iOS applications are sandboxed, which is a good thing from a security perspective, so the Lexar app has to ask for permission to access the data and services on your phone. This is quite confronting on first launch of the app. Even if you allow the Lexar app access to your email, calendar, contacts, music and pictures, there is still no support at the operating system level. Other individual apps cannot access the drive directly in the same way they can access iCloud, Dropbox or Google Drive. Everything must be done through the Lexar app. Therefore, the most likely functions are playing media files or backup.

When considering media playback, there are a few problems. The drive is formatted as FAT32 and therefore no files larger than 4GB can be copied to the drive. So forget those 1080p movies. I tested reformatting as exFAT which supports larger file sizes plus read/write on Mac and Windows and that left the drive unusable on iOS within the Lexar app. Because the Lightning port is in use, you cannot play media on an external screen via an HDMI adaptor and you cannot charge the battery. This is unfortunate because media playback is one of the most power hungry activities. You could connect via AirPlay, but you will still be limited by battery life.

Now for backup. When you consider they are likely to be in the same pocket, bag or house as your iPhone, I don't see a USB stick as a valid backup strategy. When cloud service like DropBox or iCloud are so prevalent and simple, the fuss of connecting this device and navigating the app seems a significant deterrent.

For the price of the 64GB version you can get 200GB from iCloud for over two years, or nine months of Dropbox Pro offering 1TB of capacity. Both of these service are offsite and have system wide app level support and do their thing automagically in the background without user intervention. Admittedly in Australia we are often limited by upload bandwidth, but given most people will be backing up relatively small files such as documents and photos, cloud solutions can be very useful.

Sometimes these third party apps can be released and then abandoned, but to Lexar's credit they have been fixing and updating the app.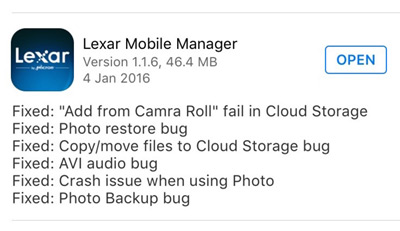 They also offer additional functionality via in-app purchases. Some of these like Calendar backup are free, but others like Instagram backup will set you back $2.99. Why you need to physically backup up an inherently cloud based service is not made clear. If you want to back up your YouTube files, it costs an extra $1.99. For zip functionality, an extra 99c. I'm genuinely not sure if Lexar are kidding now. At the time of writing, the app does not support file renaming, or landscape mode, which is annoying on a tablet.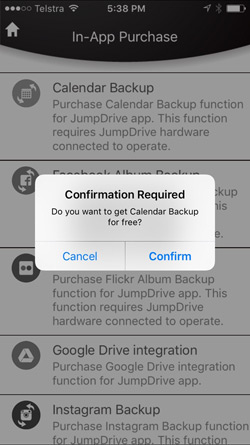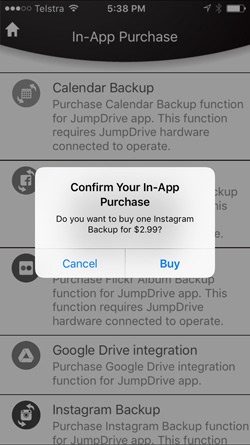 Conclusions:
I'm not being deliberately negative, but this drive just doesn't fit into the way I use my devices and I'm really not a fan of the software implementation. So who is it for? If you just need a USB3 drive for your Mac or PC, this is fine, but there are many other options available. This leaves the Lightning iOS functionality. The only use case I can see for this is someone with an existing 16GB iPhone that is always on the edge of full and wants to play extra media files. On the phone only, with a full battery, while sitting at a desk. Other than that scenario, if it was my money, I'd feel better off putting it toward a new phone with more built-in capacity or a cloud service.

Thanks to Micron for the opportunity to test this drive. Feel free to discuss this review in this thread.
---
Advertisement:


All original content copyright James Rolfe.
All rights reserved. No reproduction allowed without written permission.
Interested in advertising on OCAU? Contact us for info.

---
Recent Content


Team Group C440 Cardea Ceramic M.2 NVMe SSD


Synology DS720+ NAS


Raspberry Pi 4 Model B 8GB


Retro Extreme!


Intel Core i9-10980XE


AMD Ryzen Threadripper 3960X


Team Group T-Force Vulcan 500GB SATA SSD