Advertisement:

USB Desktop Safety Fan
Join the community - in the OCAU Forums!


Introduction and Measurements

Introduction
USB has etched itself into the PC world with a near endless list of uses - removeable drives, camera connections, mobile phone chargers, infra-red adapters - the list goes on and on.

And now I present you with this: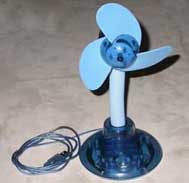 Find an empty USB port, plug it in, turn it on and it pushes air. Easy! While it's difficult to write a lot of words about a fan, I'll do my best...

Size and Weight
The fan is relatively compact, measuring only 25cm to the edge of the topmost blade. The head of the fan sits atop a firm stand which can be bent into all sorts of directions. The stand requires more force to bend than expected, but when bent into shape, the stand didn't twist or fall out of shape. A negative regarding the stand though, is that it cannot twist - you have to point the fan by turning the base.

The round base measures approximately 12cm in diameter. Weights on each side help keep the fan from blowing itself over and from falling over from having the shaft bent to near-horizontal.

The unit as a whole weighs around the 450g mark - it's rather light. While not immediately obvious, the fan's blades are not plastic - they're made out of a type of foam. As well as reducing weight, this also removes the necessity for a cage to go around the blades. So unless you're Tissue Paper Man, these blades aren't going to have the effects of a home amputation kit.

The fan's cord is approximately 1.5m, so it should have sufficient reach around your desk. Placing it on an angled surface won't work too well, as the fan vibrates a bit.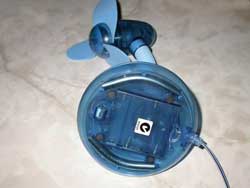 The four small rubber feet beneath the base aren't large or soft enough to absorb the vibrations - after perching it on the top of my monitor, the fan exhibited a lemming-like tendency and quickly walked itself off the top of my monitor. Thicker, larger feet would solve this problem.

The Blades
The blades are probably one of more unique parts of the fan. Their foam composition means that they weigh very little, so spin up to speed quickly.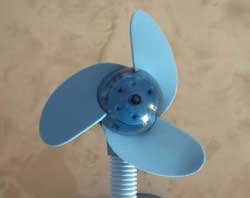 The blades were relatively tear-resistant (although wasn't interested in giving the fan an extra blade - so I didn't try terribly hard) and folding didn't seem to worry the blades - turning the fan on would straighten them out reasonably quickly.


---
Advertisement:


All original content copyright James Rolfe.
All rights reserved. No reproduction allowed without written permission.
Interested in advertising on OCAU? Contact us for info.

---
Recent Content


Team Group C440 Cardea Ceramic M.2 NVMe SSD


Synology DS720+ NAS


Raspberry Pi 4 Model B 8GB


Retro Extreme!


Intel Core i9-10980XE


AMD Ryzen Threadripper 3960X


Team Group T-Force Vulcan 500GB SATA SSD