Advertisement:

Synology Routers, RT1900ac & RT2600ac
Join the community - in the OCAU Forums!


VPN Plus, Extended modes, Conclusions

VPN PLUS
The main feature that Synology are touting for the RT2600ac is their "VPN Plus" suite of VPN tools. Pretty much all modems and routers feature VPN functionality, but the RT2600ac extends that as you'd expect thanks to app-centric flexible framework.

It features support for a number of VPN implementations to provide the best compatibility, such as OpenVPN, SSTP, L2PT and PPTP, as well as their own "Synology VPN" which uses SSL to provide additional security. I couldn't see how this Synology VPN differentiates itself as other solutions also use SSL, but it works.

There are a number of management tools, including user- and object-based permissions, with extensive logging and usage monitoring tools for near-real-time feedback on connections.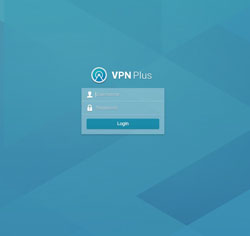 Since I'm a relatively lazy person, the most appealing VPN Plus tool is WebVPN. It is exactly what it says on the tin: a web-based VPN interface, which allows you to connect to all web portals you nominate inside your network. For me, this would include my NAS interface, and whatever services I felt like running such as Transmission or Plex. However, I'm a pretty light user, so if you're a person who runs a lot of services at home that feature web portals (and let's face it, most services now do) then this a much more straight-forward option than your standard VPN connection.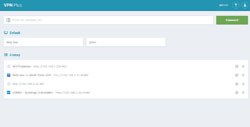 As you can see in the image above, when logging into the VPN Plus web portal, it seems somewhat spartan, but it works perfectly, giving you the ability to add default connections, connect to internal web portals that you've visited before, or connect to a new site.

NETWORKING MODES
Both routers feature the standard modes that you'd expect such as "router" and "wireless AP", but I was quite disappointed to discover that there's no "wireless bridge" mode. With the two models, it would make a lot of sense to be able to create a bridge via wifi, considering the speed capability of the two units.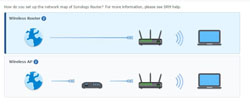 Considering the power and flexibility of their OS platform, I was certain a bridge mode was possible, but alas, no such functionality is available yet. Synology have told me (after they patiently explained that no, there was no hidden switch for me to find to turn on bridging) that it is an option that will be coming soon, but since SRM is still relatively new, there are more pressing issues for their development teams to address.

PROS/CONS
Pros:
Router OS SRM is based on DSM, giving it strong GUI-based functionality and extensibility.
Feature set is solid, hopefully expanded with future apps.
Fast wifi speeds.
Competitive pricing - about $185 AUD for the RT1900ac or $370 for the RT2600ac

Cons:
SRM is flexible and expandable… but right now, it still feels a little hamstrung compared to it's mature DSM sibling.
No modem functionality, so ADSL users will need a separate box.
Networking management set feels a little limited. Some extra monitoring or logging would be beneficial.

CONCLUSION
I wanted to like Synology's pair of routers, and to an extent I do, but the problem I have is that I'm an ADSL user and these units lack the ADSL modem side of things. I already have an ADSL 2+ modem from another manufacturer which has strong router features - albeit with a pretty dated, non-expandable interface and some obscure terminology - and wifi access point. There are currently no tiny ADSL modems I could find on the market that I could run with one of the Synology routers. Having two big black networking devices sitting on my desk feels frustrating and inelegant, particularly when the TP-Link modem has 80% of the functionality of the Synology routers. Add a NAS box and that covers pretty much the rest of the functionality.

THAT SAID… if your internet service is akin to cable or fibre and the provided modem is pretty barebones, then a Synology router is up there with the best of them. The strength of the units is their software: the SRM OS is very familiar if you've used one of their NAS units, both models have a strong feature set, and the VPN Plus functionality of the RT2600ac - particularly WebVPN - is very compelling. If you add an USB drive, you can add a certain level of NAS functionality, and it is extensible with the apps available, albeit via manual addition of third party apps.

I do think more could be done to extend network management within the base SRM build, but what is there is solid. Additionally, I've been told by Synology that they're committed to the router market and are putting a lot of effort into expanding functionality and app portfolio.

So overall I'm happy to welcome Synology to the router market. If you're looking for a non-modem wifi router, put one of the Synology units on your short list, they are worth your consideration.


---
Advertisement:


All original content copyright James Rolfe.
All rights reserved. No reproduction allowed without written permission.
Interested in advertising on OCAU? Contact us for info.

---
Recent Content


Team Group C440 Cardea Ceramic M.2 NVMe SSD


Synology DS720+ NAS


Raspberry Pi 4 Model B 8GB


Retro Extreme!


Intel Core i9-10980XE


AMD Ryzen Threadripper 3960X


Team Group T-Force Vulcan 500GB SATA SSD