ThermalTake Aquarius 2 Review
Join the community - in the OCAU Forums!


I've always been fascinated by water cooling but wanted a way for a noob like myself to get started; the Aquarius II seemed like a pretty easy and gentle way into it. Previous reviews said this kit ran about the same as good air cooling without the blaring noise that you usually get from top end air cooling. I am a proud folder like many OCAU'ers and have my system running on full load 24hrs, 7 days a week. The noise generated by my case fans was a little more than I was happy with, so I was also hoping to reduce noise but maintain the same amount of cooling.

What you will find in the kit:
Copper Waterblock
Copper 80mm Radiator
Plastic External Reservoir
3 metres of Tubing
5 Springs
30ml Coolant
P4/AMD Socket Mounting Kit
Waterblock Clip
Universal "H" Clamp and miscellaneous other screws and nuts



Installation:
There is a 29 page installation manual provided with the kit. However, the "H" clamp that's provided with the kit only ever mentions the two holes used for a P4 installation or K8 installation. There is a series of holes in the H clamp that will allow you to install the water block using the H clamp on a K7 Socket A board. Having seen some of the bolt and nut setups used by other water blocks, the AII's setup is very simple, but is fairly awkward to tighten the nuts onto the H clamp as they are only 5mm wide and when you have to screw them in as tight as you can just using your fingers it is difficult to make the clamp secure and tight.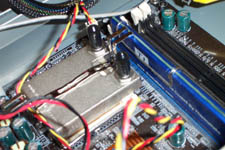 For Socket 370 and Socket A motherboard owners there is a clip mechanism provided to use instead of the H Clamp. The clip is assembled of three parts. The manual recommends using "5 teeth" from the top on the long side and "3 teeth" from the bottom on the short side, however this will not sit the waterblock correctly on your CPU; you need to use "4 teeth" from the bottom of the clip on the short side. Another issue with the clip is on certain motherboards, such as the ECS K75SA, the standard way to use the clip will hang over the first ram slot. The way around this is to reverse the direction of the clip handles, so that instead of facing out, as per the manual, they face inwards, you have the same amount of pressure and I didn't find installation any harder using the clips reversed.

There is a series of magnets that hold the radiator and the pump to your system. The magnets are quite strong despite there size and without a sharp jolt, the radiator and pump aren't going to go wandering anywhere.

Aquarius II vs Zalman CPNS6000-Cu
Review Testbed: AMD XP2000 @ 2100 on a ECS K75SA Socket A Motherboard
Comparison HSF: Zalman CPNS6000-Cu with a 120mm PAPST 55.3cfm Fan

Case fans were left at the same speeds for both reviews, the systems were left folding for an hour each time.

6000cu (Idle) - 52c (Cpu) 30c (Case)
6000cu (Folding) - 58c (Cpu) 30c (Case)
Aquarius II (Idle) - 52c (Cpu) 34c (Case)
Aquarius II (Folding) - 60c (Cpu) 34c (Case)

Pound for pound there is not too much difference between the two coolers. The higher case temperature reported when using the Aquarius II is because the radiator is located right next to the Case Temperature sensor of the K7S5A. However, what happens if we use the FB123 Fan Bracket and 120mm PAPST Fan to blow air onto the water block?

Aquarius II (Idle) - 48c (Cpu) 34c (Case)
Aquarius II (Folding) - 54c (Cpu) 34c (Case)

The previous tests were performed for an hour each, however, I'm a folder! Let's leave the Aquarius II running for 24 hours and see how it performs.

Aquarius II (Folding) - 60c (Cpu) 40c (Case)

Unfortunately, my system wasn't very reliable at that point because the case temperature was too high for my system to fold properly. Replacing the fan provided on the radiator may help, but would defeat the purpose of silent cooling.

Conclusion
From a gamer's perspective, or anyone that doesn't run their system 24/7 on full load, this kit is great - it cools quite well and is really quiet. From a folder's perspective this kit was nice, but isn't up to the job that I require of it. I believe to improve its performance, a bigger and better radiator with a 92 or 120mm low noise fan would be all this kit needs to beat my requirements as a folder.

This kit was designed to be quiet rather than a performance demon, but as the results show above, the combination of the Aquarius II and 120mm Fan make for some tidy silent cooling. At approximately $200 it represents a very affordable, gentle and fairly safe introduction into water cooling.

Thanks to David from David and Karma's PC Cooling Gear for all the great support.
---
Advertisement:


All original content copyright James Rolfe.
All rights reserved. No reproduction allowed without written permission.
Interested in advertising on OCAU? Contact us for info.

---
Recent Content


Team Group C440 Cardea Ceramic M.2 NVMe SSD


Synology DS720+ NAS


Raspberry Pi 4 Model B 8GB


Retro Extreme!


Intel Core i9-10980XE


AMD Ryzen Threadripper 3960X


Team Group T-Force Vulcan 500GB SATA SSD