Sunbeam Tech 80mm Quad-LED Fan
Join the community - in the OCAU Forums!
Introduction
Introduction:
Expanding their burgeoning range of PC case modifications, Taiwanese case mod company Sunbeam Tech have added another to their range of PC mods with their quad-LED 80mm fan. Going up a notch from their tri-LED fan, an extra LED has been added to this one.

The specifications are listed as follows:
80mm x 80mm x 25mm size

3000RPM rotational speed

0.12inch H2O pressure

Noise Level: 30dB(A)

Air Flow: 34CFM
Features:
One of the first things I noticed about the fan was the spaghetti tubing shrinkwrapped on at the edges. This helps an enormous amount with the appearance and to a small extent tidying up the wiring. If you want a messy or crowded case, then mine serves as an excellent example - see my CCFL fan review for the carnage.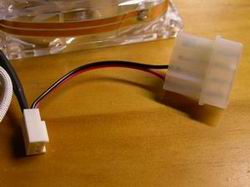 The second nice feature is the inclusion of both 3 pin (for motherboards) and 4 pin (for molex-style power) connectors. Instead of the typical HSF inclusion of a pass-through molex connector which has the 3 pin motherboard connector attached, both plugs are on the one cable. As well as preventing a wiring catastrophe, the Sunbeam quad-LED has both connectors on the one cord, while still including RPM sensing for the 3-pin connector. This leaves an unfortunate possibility of someone might plugging both in at the same time. Please... don't do it. But if for some reason you are possessed to try it and something pretty happens - please send in pictures. :)

A closer look


The unit reviewed here is the blue/LED one. The corners of the fan shroud were the colour of their respective LED. Two LEDs of each red and blue are in each corner, arranged so that the matching LED is diagonally opposite. This ends up helping mix the colours a bit more. The camera had a bit of trouble picking this up - significant parts of the lighting were showing up as purple. A bit of tweaking of the exposure time allowed the individual LED colours to be picked up, but the picture turned out a touch dark, as seen below:



---
Advertisement:


All original content copyright James Rolfe.
All rights reserved. No reproduction allowed without written permission.
Interested in advertising on OCAU? Contact us for info.

---
Recent Content


Team Group C440 Cardea Ceramic M.2 NVMe SSD


Synology DS720+ NAS


Raspberry Pi 4 Model B 8GB


Retro Extreme!


Intel Core i9-10980XE


AMD Ryzen Threadripper 3960X


Team Group T-Force Vulcan 500GB SATA SSD