Advertisement:

PCRange 3.5" USB 2.0 External Case
Join the community - in the OCAU Forums!


Usage Continued, Benchmarks and Conclusions

Power and Portability
One thing to note is that there's no on/off switch on the enclosure. If it's plugged in, the drive is powered up and spinning. Presumably some drives will spin down by themselves after a while, but the DeskStar I used for most of the testing and benchmarking didn't ever seem to. This includes when the unit's USB port is unplugged - it's a shame the unit couldn't gracefully shut down when it's disconnected and wake up when the USB cable is plugged in again.

I should note again that the power pack and cable is required for the drive to work. This is a limitation of USB, which provides a maximum of 500mA and 5V to each port, giving us a whopping 2.5W of power. Of course, a 3.5" hard drive needs 12V to power the spindle motor. Even with an internal transformer we're not going to get near the power requirements of a 3.5" drive - this 2.5MB PDF from Hitachi/IBM quotes as much as 11.5W for certain DeskStar 75GXP models. This is why every 3.5" hard drive enclosure requires an external power pack, so we can't call it a fault of this particular unit. However, this was my first disappointment, as I had hoped to use the drive on my laptop on the run. Ahh well.

Noise and Heat
The unit does a good job of insulating the sound of the hard drive; probably similar to it being inside a case with the sides on. Unfortunately, it also does a good job of insulating the drive's heat and keeping it trapped inside. It's not as bad as it could be - the metal outer casing radiates some heat away so it's not as stifling as an entirely plastic enclosure would be. However, there is no active cooling or even ventilation holes in the unit. The DeskStar is a 7200rpm drive and runs fairly warm, but wasn't worryingly hot even after benchmarking when I pulled the enclosure apart to check.

However, the Western Digital WD1200JB obviously runs a fair bit warmer - after an hour or so of just idling it was so hot I feared for the life of the drive. Even the sides of the drive were almost painful to touch! I think this enclosure is more suited to 5400rpm drives rather than high-speed 7200rpm units. Given that the USB interface is probably going to be the bottleneck regardless, this isn't as much of an issue as it could be - unless you had your heart set on running a 7200rpm drive in it, as I did! The 120GB WD1200JB would have been nice to access from my USB2 laptop but it seems I'll have to get by with a 30GB DeskStar, or do some modding to the enclosure to cool it better.

Benchmarking
There's no point having lots of data if you can't access it in a useful timeframe. I set out to compare the speed of our DeskStar hard drive on a normal ATA-100 IDE connector in a desktop PC, a USB1.1 connector and a more modern USB2 connector. The testbed for the first two is my old desktop machine, an AthlonXP 2200+ running at 1950MHz (~2400+) on Soltek's KT333-based SL-75DRV5 (reviewed here). This of course has both ATA-100 IDE and USB1.1 onboard, as do virtually all modern motherboards. USB2 is still slightly more exotic, so to test this interface we have to move to my new laptop, Sony's VAIO PCG-FR700. This sports a Mobile AthlonXP 1800+ on a KT266A motherboard, with three USB2 ports (but no USB1.1 ports). I appreciate that this is a little unscientific - in that we are not benchmarking on a consistent platform - but in general it's the platter speed of a hard drive that limits results. It's unlikely that the CPU or the motherboard chipset will be the bottleneck in either case.

The drive in question is IBM's DeskStar 75GXP 30GB, split into 10GB and 20GB partitions. This is a 7200rpm ATA-100 drive. To avoid certain benchmarking runs from taking too long we are only running tests on the first partition on the drive, the 10GB, formatted with NTFS.

The first test we'll use is SiSoftware's Sandra 2003 SP1, downloadable from our mirror here. Sandra's disk benchmark has in the past been criticised for inconsistent results - this new version didn't exhibit that behaviour in my testing.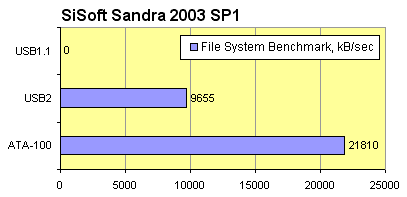 We see, perhaps as we expected, that the ATA-100 interface is fastest of all, while the USB2 is considerably lower. Still, 10MB per second isn't too bad at all - a few years ago a desktop hard drive achieving this would be impressive. Why no result for the USB1.1 connection? Let's just say I gave up after an hour of staring at the activity indicator...

Next on the list is ZDNet's WinBench 99 version 2.0 which is available on CD or can be downloaded from here. This suite contains a variety of disk benchmarks, but as the device we're reviewing is primarily a storage medium - rather than somewhere to run applications from - we'll focus on the transfer rate component of the Disk Inspection test.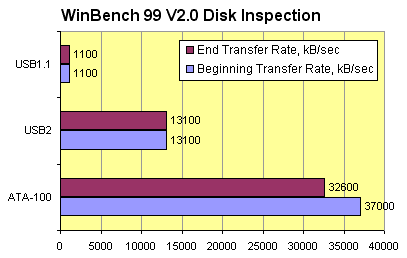 This time we did get a result for the USB1.1 interface - a whopping 1MB per second. Again, USB2 was noticeably quicker but ATA-100 sprinted ahead. Note that the ATA-100 speed slows down as we move across the disk, but the USB bottleneck eliminates that behaviour.

Finally, a "real world" test, copying a 257MB zip file onto the drive. The source drive was on the network, so we must consider that the different network adapters in the desktop PC and the laptop may affect the transfer speed. Again, this is unavoidable due to USB2 only being available on the laptop. The other option would be to use local drives on each machine, but that would be similarly unscientific. Again, this issue goes away when you factor in the speed of the USB channel which seems certain to be the bottleneck.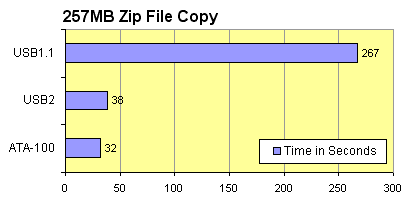 In the graph above, a lower time is better, of course. ATA-100 unsurprisingly wins again, but the real point of interest is that USB2 transferred the file in a reasonable timeframe, while USB1.1 failed to do so. In fact, in this test the speed difference between having the drive inside the case (ATA-100) and outside the case (USB2) is almost insignificant.

Remember that the purpose of the benchmarks above is not simply to compare USB2 to ATA-100 in terms of pure speed. We're trying to establish if this device provides enough throughput to be useful for data transfer. I'd say that in USB2 it definitely does, while USB1.1 would really be quite painful for any significant amount of data.

Conclusions:
USB2 certainly makes this product a lot more usable than USB1.1. It can be used on the older USB ports, but it would be a little painful to transfer large amounts of data. You could set it up and leave it, I suppose, which means it's less involved than sitting at the PC and burning a lot of CD's and then reading them all on another PC later.

Two areas dissapointed me - firstly that these types of enclosure require mains power to function, limiting their portability. As discussed above this is a limitation of USB and not a fault with this particular device. The second issue was one of heat. A cool-running 5400rpm drive should be fine and given the benchmarking results I doubt you would notice a speed penalty compared to a 7200rpm drive. I've actually been using the 7200rpm DeskStar drive in this enclosure connected to my laptop for over a week now with no ill effects. Warmer-running drives will have a problem though, unless you modify the enclosure.

One final note on pricing - PCRange have the unit listed for AUD $99. For transferring data, some will argue that this cost is too much. It's almost as easy to just take the drive by itself and install it into the PC, copying the files over the normal ATA-100 connector, rather than using this external enclosure and USB. In my case, where my main PC is now a laptop with limited onboard storage, there is no reasonable alternative. Even with a normal PC, there's many situations where the convenience of external storage and virtually instant installation will make it an ideal solution.

This product performs as advertised. If you're realistic about the drive you use in it and how portable the unit is, then it's recommended.

I can see a modding article coming up for this unit... firstly to improve the cooling, but more interestingly I wonder if the IDE controller could be pursuaded to run two drives, with the appropriate cable connected. Stay tuned!



Added your PC to the PC Database yet?




---
Advertisement:


All original content copyright James Rolfe.
All rights reserved. No reproduction allowed without written permission.
Interested in advertising on OCAU? Contact us for info.

---
Recent Content


Team Group C440 Cardea Ceramic M.2 NVMe SSD


Synology DS720+ NAS


Raspberry Pi 4 Model B 8GB


Retro Extreme!


Intel Core i9-10980XE


AMD Ryzen Threadripper 3960X


Team Group T-Force Vulcan 500GB SATA SSD