X-Micro Bluetooth Class 2 USB Dongle
Join the community - in the OCAU Forums!


Serial Port, File Xfer, Headset

Serial Port
Much like the LAN functionality, Bluetooth allows a serial port to be emulated. This means that, from the perspective of a piece of software, it is talking to another device via a serial cable. In reality it is actually running over a Bluetooth connection.

In the same way as the LAN connection provides a new network adapter, the Bluetooth connection provides additional serial ports. Connecting the serial port involves right clicking the "Bluetooth Serial Port" icon and selecting "Connect".




Once connected, application software can be configured to use the Bluetooth serial port(s) as a regular serial port. I was able to use Hyperterminal to type messages between the two machines wirelessly. Obviously, with so little software using serial ports these days, this function has limited use between two PCs, but may be more useful between devices such as PDAs and mobile phones.

File Transfer
Bluetooth, like IrDA, offers its own file-transfer system, which removes the inconvenience of setting up the LAN adapter just to copy a file or two. It also allows quick and easy file transfer to 'embedded' devices, such as PDAs & Mobile phones.

Bluetooth file-transfer is best used from the Explorer window. You can send files to Bluetooth devices directly from the right click "Send To" menu.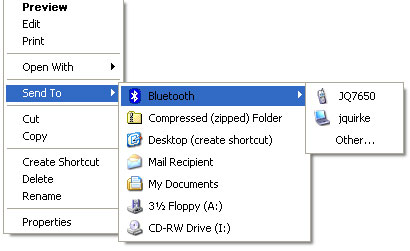 When receiving files, the files are placed into the directory chosen in the Bluetooth configuration - it defaults to "My Documents\Bluetooth Exchange Folder".

I was able to also send and receive files to and from the 7650 as if it were another PC. Files sent to the 7650 were placed in the phone's "Messaging\Inbox" folder.

When transferring files with both the phone and the other PC, maximum transfer speeds of around 400kbps were managed, although there were occasions where the transfer speed would slow right down for several seconds before speeding up again.

Headset
One of the more popular (and well known) uses for Bluetooth is wireless hands-free, for mobile phones. A hands-free kit (either one that clips to your ear or a car hands-free speakerphone) connects to a mobile phone wirelessly through Bluetooth, instead of requiring a wire from your ear to your phone in your pocket, or having to mount the phone in your car.

Bluetooth equipped PCs can take advantage of wireless audio too – in two possible ways
the PC can use a Bluetooth headset as an audio device – i.e. the Bluetooth headset becomes a microphone and a speaker for the PC
the PC offers a Headset service to other Bluetooth devices – in other words, the PC becomes a headset to devices like mobile phones – this way you can use your PC's speakers and microphone to talk through your mobile phone.
With the X-Micro USB dongle, I was able to do both.

Firstly, I tested the device with the X-Micro Bluetooth Headset, which I will be reviewing separately. To summarise, it worked quite well for applications such as MSN Messenger's voice conversation feature. It was far more comfortable to be able to have a (private) conversation whilst moving easily around the room and even into nearby rooms.



Secondly, I tested the ability to use the PC as a headset. Since my Nokia 7650's Bluetooth implementation did not support audio, I instead used the notebook to connect to the Headset service offered by the desktop, in the same way as I would have connected it as if were a 'real' Bluetooth headset. I was then, on the notebook, able to play MP3s using the "Bluetooth Audio" audio device, and hear them through the desktop's speakers (although with significantly reduced quality, due to the compression and low bitrate used for a Bluetooth voice channel).



Since another PC was able to use the Bluetooth headset profile, there is no reason why a mobile phone supporting Bluetooth audio wouldn't.


---
Advertisement:


All original content copyright James Rolfe.
All rights reserved. No reproduction allowed without written permission.
Interested in advertising on OCAU? Contact us for info.

---
Recent Content


Team Group C440 Cardea Ceramic M.2 NVMe SSD


Synology DS720+ NAS


Raspberry Pi 4 Model B 8GB


Retro Extreme!


Intel Core i9-10980XE


AMD Ryzen Threadripper 3960X


Team Group T-Force Vulcan 500GB SATA SSD