Advertisement:

X-Micro Bluetooth Class 2 USB Dongle
Join the community - in the OCAU Forums!


General, LAN Device

General
With the basics set up, my first test for the Bluetooth adapter was to see if it could find the devices in range. In the "My Bluetooth Places", this is accomplished by clicking "View devices in range" in the tasks pane. After a few seconds, the 3 devices in the room (notebook PC, headset & phone) were correctly identified, with their names and icons matching the type of device appearing:




The next basic test was to see if the computer could be seen from the other devices. A Bluetooth search on both the phone and notebook PC confirmed it was visible.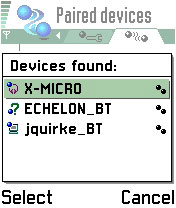 Double clicking a discovered device allows you to view the services offered by the device.




I then began to test the various Bluetooth services. When "connecting" a service, if the device has not being previously paired (or authorized to use the service), a "PIN" code dialog is prompted which must match the PIN of the other device (the user of the other device is prompted for the PIN as well). This pairs the two devices for future communications.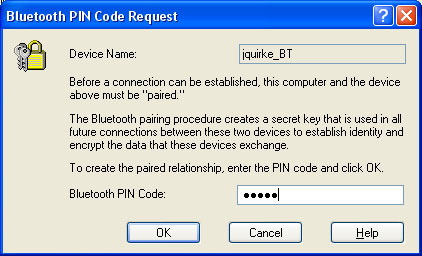 Bluetooth LAN Device
Bluetooth offers the ability to provide the functionality of a LAN adapter, so that it can act a little like a short-range low-throughput wireless network.

The Bluetooth software installed an additional network adapter called "Bluetooth Adapter" (or similar). Discovered Bluetooth devices which offer LAN functionality indicate this as "Network Access" in the services dialog in Windows Explorer.




Connecting the LAN can be done by right-clicking the "Network Access" icon, and clicking "Connect". Once this is done (and the connection is authorized if necessary by the remote machine), the "Bluetooth Adapter" changes its status to "Connected" and it can be used as if it were any other network adapter, which could be used for internet sharing, file transfer, or even gaming.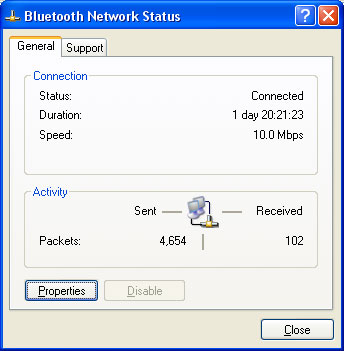 The LAN functionality worked rather well considering the bandwidth limitations of Bluetooth. Interestingly, one of the machines reported the connection speed as "10.0Mbps", the other reported it as "700.0kbps". Obviously the latter was closer to the actual speed - and this is the total bi-directional speed. I was able to achieve this speed when transferring files. Despite the relatively slow speed compared to Ethernet or 802.11 Wireless, the LAN adapter would still be reasonable for tasks like Internet connection sharing. It would not be ideal for tasks like online gaming, due to the tendency for the connection to temporarily stall at times.


---
Advertisement:


All original content copyright James Rolfe.
All rights reserved. No reproduction allowed without written permission.
Interested in advertising on OCAU? Contact us for info.

---
Recent Content


Team Group C440 Cardea Ceramic M.2 NVMe SSD


Synology DS720+ NAS


Raspberry Pi 4 Model B 8GB


Retro Extreme!


Intel Core i9-10980XE


AMD Ryzen Threadripper 3960X


Team Group T-Force Vulcan 500GB SATA SSD