Advertisement:

Antec 4U22ATX Case
Join the community - in the OCAU Forums!


I should start this review with a disclaimer: this case is not for your average joe. Or, since this is OCAU after all, itís not for your average modder or overclocker. It doesnít come with a multitude of windows, cold cathodes, pre-mounted water cooling or phase change devices. It doesnít have an inbuilt bar fridge, nor will it light your cigarettes or make you coffee.

This case is firmly aimed at the enthusiast server community. Much like myself in fact - Iím an IT professional and I have a bunch of machines at home: 4 servers, 2 workstations and a notebook. Since I donít happen to live in a palace, space utilisation is important. So, Iíve got those servers mounted in a standard 19Ē rack. Such a rack is divided into "Rack Units" or RU, each about 1.75 inches in height. You can get cases that only occupy 1RU, or as many as 9 or 10 RU for specialised server/storage products. This 4RU case from Antec allows standard PC components to be installed.

It's shipped in a thick and heavy box, 71cm x 53cm x 37cm. The listed shipping weight is over 22kg. For all that mass, however, thereís no power supply included. However, the mounting frame is compatible with most ATX PSUs, including allowing those with 2 and 3 fans to be mounted correctly.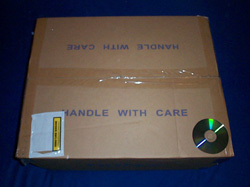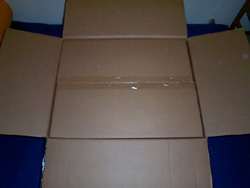 You can see the size of the box - thatís a full-size CD in the corner for scale. What I wasnít prepared for, however, can be seen in the second photo - there is another complete (sealed!) box inside the first. Itís not a once-off either - I bought two of these cases and the packaging was identical.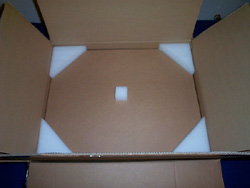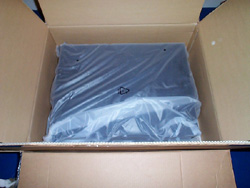 Itís all surrounded with foam corners glued to a cardboard bearer, and there is a supporting piece of foam between the server and the inside box. Same top and bottom. Inside that box is the server case itself, well protected in a plastic bag that is much thicker than used for most cases. All in all, I think this case would survive a fall from 10,000 feet with nary a scratch or dent.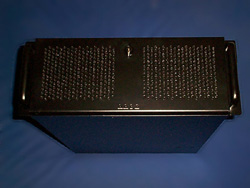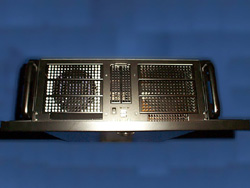 Inside the hinged front bezel you can see the 5.25Ē bays and the group of 4 LEDs near the hinge. The four LEDs are marked System (Green), Fan Fail (White), HDD (Yellow) and Power (Green). The back of the bezel has an open dust filter covering almost all of the bezel. The small rocker power switch can just be seen in the horrendously over-exposed section of the photo below the vertical 3.5Ē bays. Beside it are 2 USB ports and a deeply recessed reset switch.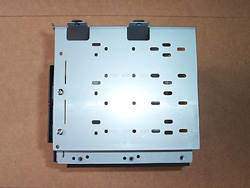 Even without the packaging, the case is still quite heavy at about 17kg. Part of this would be the thick steel used for all parts of the case, including a 2Ē wide steel cross brace screwed onto both sides of the case. Each side of the case has a removable steel drive cage with the drive bay covers securely slotted in one side and screwed in the other. The drive cage is well designed to reduce vibration - it has two thick strips of foam for ďfeetĒ between the cage and the bottom of the case; the four screw points at the top have 2 rubber washers each and the screws even have flat metal washers to ensure the rubber washers arenít destroyed while removing and installing the cages. The bottom of the right-hand drive cage lets you mount a floppy drive, while the bottom of the left cage has a long thin slot suitable for a laptop/slimline CD/DVD drive.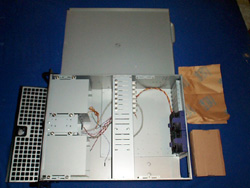 Looking closely at the case you can see the 2 x 80mm fans at the rear of the case - each is a Yeong Yang fan rated at 0.56A (about 6.5W). The 120mm fan at the front of the case is rated at 0.8A or 7.2W. Each fan is securely held in place by a plastic frame that includes lugs to fit in the fan mounting holes, and opposing clips to hold the fan in place. There are no specifications given for air movement, pressure or noise. At the side of this photo you can see a small cardboard box that contains the screws and other small components; as well as 2 paper sheets about A4 size that appear once to have been used to protect something - I cannot tell what. Again, this was common to both cases.

Note from Agg: I actually bought one of these cases for a future OCAU server. The sheets of paper that came with mine have some notes about corrosion inhibitors on them, so presumably they are to stop corrosion in storage/transit. On to page two...


---
Advertisement:


All original content copyright James Rolfe.
All rights reserved. No reproduction allowed without written permission.
Interested in advertising on OCAU? Contact us for info.

---
Recent Content


Team Group C440 Cardea Ceramic M.2 NVMe SSD


Synology DS720+ NAS


Raspberry Pi 4 Model B 8GB


Retro Extreme!


Intel Core i9-10980XE


AMD Ryzen Threadripper 3960X


Team Group T-Force Vulcan 500GB SATA SSD