Advertisement:

Logitech diNovo Media Desktop (Bluetooth)
Join the community - in the OCAU Forums!
Introduction, Keyboard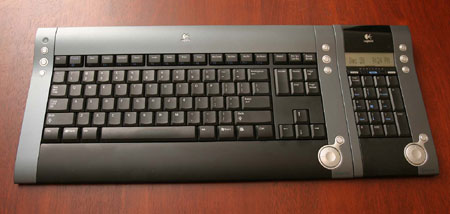 Longtime OCAU'ers might be aware how important I think good-quality input devices are for your PC. After all, what point is there in investing in a supremely fast CPU if your spacebar gets stuck, or your mouse fuzzes up with fur all the time?

My benchmark for the ultimate keyboard has previously been the IBM Model M. This old keyboard is built like a tank with superb tactile feedback. Keyboards are built for typing – I do not care about multimedia controls, quick launch buttons and the like. These are irrelevant if the keyboard does not type well. Unfortunately, I had to replace my old IBM because firstly the spacebar key died after more than 10 years of abuse, and secondly it was starting to look rather homely next to my flashy all-black PC!

I replaced it with the IBM Model 10K3849 keyboard and mouse, as I reviewed on OCAU here. After a few months of use and a LOT of pounding, there were a few things I did not like about it. The printing on some of the more used keys was starting to fade. I never got used to the position of the "Home" and "End" keys – I would always have to look for them when typing. The function keys were grouped together meaning I would have to hunt for the function key before I hit it. The cord started to irritate me. Being the PC nerd that I am, I started to hanker for a new toy to play with.

When Logitech released the diNovo, I knew that it would be my next keyboard. Unfortunately there were no reviews on the web. As I am no professional reviewer I had to go buy my own keyboard. I got a fair discount off the RRP (A$499) so I took it home and eagerly unwrapped the box. It was packed very securely. If it arrives damaged or develops a problem, you have a 5 year warranty. It is nice to see a manufacturer with some confidence in their products. When you open your package, you should get:
diNovo Bluetooth keyboard
diNovo Bluetooth media pad
MX900 Bluetooth optical mouse
Bluetooth hub/mouse recharging cradle
CD with drivers
User guide
2 AA NiMH batteries
6 AA alkaline batteries
AC adapter
You have to wait for your NiMH batteries to charge (2 hours!) before you can start using your mouse. Fortunately I already have a fully-charged pair so I slapped them in and eagerly installed my new hardware.

Installation is very easy if you have Windows XP with SP1. This is the procedure:
Turn PC off
Do some plugging in – AC adapter to cradle, cradle to USB and PS/2 port
Turn PC on. Press the "Connect" button on the keyboard, media pad, and mouse. Win XP automatically recognizes the mouse and keyboard with no software installed!
Insert Logitech CD and install the drivers. Your PC will reboot.
When Windows starts up again it will identify your new hardware and give you a key to authenticate your Bluetooth devices. Type in what you see on the screen and your hardware becomes a "Trusted Bluetooth device".
In addition to the drivers, you also get this software:
Logitech Setpoint control panel
Logitech Media Desktop
Mobile Phone Suite
WIDComm Bluetooth Software
First, the hardware:

Logitech diNovo keyboard



This is a solidly built keyboard. I picked it up and tried to twist it – there are no creaks. There is also a surprising (and confidence inspiring) weight to it. The buttons are laptop style – they are flat, with very little key travel. They also have very little "wobble". Put your finger on a button and rock it side to side and it will hardly move. Typing action is excellent once you get used to the limited key travel. Not much force is required to depress the keys and there is a very mechanical click to confirm that you have hit the key properly.

Each of us have our personal preference when it comes to key layout. The backspace key is 1.5x the size of a normal key (I personally prefer a larger double-sized backspace key). The Enter key is double sized. There are two Windows keys at the bottom of the keyboard. I do not think I am alone in hating the placement of Windows keys on all modern keyboards. It is too easy to hit the Windows key when you want Ctrl or Alt. My preference would be to delete the bottom left Windows key, make the Ctrl and Alt double sized, and only retain the Windows key on the bottom right. There is a double sized delete key (which is very nice). Placement of Ins, Home, End, PgUp and PgDn are logical and well grouped so you can hit the keys without hunting for them.

The keyboard turns itself off after a period. When you start typing again there is a slight delay as it wakes up, then suddenly all the characters you typed will appear on the screen. I do not know exactly how long the keyboard waits before turning itself off, but in use there is no problem with it.

As you can see, the keyboard is dotted with a few function buttons. On the top left, these are Sleep, Home, Email, and Search. On the top right, Volume Up, Mute, and Volume down. On the bottom right is the multimedia control center. Again, these buttons have a high quality click feel when you depress them. They click like an expensive mouse button. There is no LED for CapsLock, or ScrLock. That is probably because there is no scroll-lock button. I don't miss it, because I never used it anyway.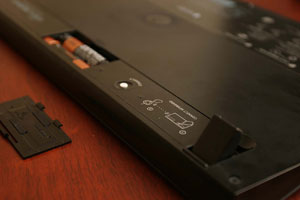 The bottom of the keyboard contains a slot for 4 AA batteries and a "connect" button to sync with the cradle. There are two adjustable feet. I have to deploy them – without them the keyboard is too flat for comfortable typing.

You can make up your own mind about the design of this keyboard. I personally love the metallic bluish gunmetal set off against the black of the keys and the matt silver function buttons. It looks quietly professional and elegant - especially when you are used to looking at Logitech's and Microsoft's other rather garish offerings.


---
Advertisement:


All original content copyright James Rolfe.
All rights reserved. No reproduction allowed without written permission.
Interested in advertising on OCAU? Contact us for info.

---
Recent Content


Team Group C440 Cardea Ceramic M.2 NVMe SSD


Synology DS720+ NAS


Raspberry Pi 4 Model B 8GB


Retro Extreme!


Intel Core i9-10980XE


AMD Ryzen Threadripper 3960X


Team Group T-Force Vulcan 500GB SATA SSD