Western Digital Raptor WD740GD
Join the community - in the OCAU Forums!


Introduction, Features and Specifications

When Western Digital launched their WD340GD "Raptor" hard disk drive with a 10,000 rpm rotational spindle speed in mid 2003, it became an instant success among enthusiasts. Unlike quite a few innovations we have recently seen with little impact on overall system performance, the "Raptor" indeed makes good on its name. When we tested the 34GB Raptor as a single disk, in Raid 0x2 and in RAID 0x4, we found a very substantial gain on application performance in comparison to 7,200 rpm disks.

In our previous articles here and here, our conclusion was this: The WD360GD Raptor is a stellar performer and a "must have" for the enthusiast desktop user. The main reason for the WD360GD Raptor's stunning performance is obviously the dramatically better disk access time in comparison to 7,200 rpm disks. But everything can be improved, and that is what western Digital had in mind when they launched in November 2003 an additional Raptor version, the WD740GD.

FEATURES and SPECIFICATIONS
The WD740 Raptor attempts to address the 3 shortcomings of the original model: Low capacity, lack of command queuing, and noise. From a practical point of view the original WD360 Raptor capacity of 36 GB is too small for today's desktop requirements when one game or movie download alone can easily exceed 1 GB. In most cases the WD360 is therefore used in combination with a larger but slower disk, with OS and applications installed on the Raptor and the second larger disk providing storage. Many enthusiasts however purchased 2 Raptors right away and coupled them for RAID 0. The WD740 comes with a capacity of 74GB based on two platters with 37 GB each. The original WD360 Raptor is a single platter design. The WD740 is still rather small in comparison to contemporary 200 and 250 GB disks, but with 74 GB is much more feasible for a single disk solution than the WD360 with only 36 GB. The areal density of the two WD740 platters remains unchanged. However, Western Digital is claiming a lower disk access time and faster transfer rates for the WD740.

In terms of performance, the most promising addition is certainly "command queuing." This has been a standard feature of SCSI disks for some time now. Western Digital is claiming up 30% performance improvement through command queuing.

Why is command queuing important? Here's an explanation we found at storagereview.com:
Traditionally a simple interface like SCSI-1 or IDE/ATA will allow only a single command to be outstanding at a time to any device. This means that once a particular command is sent to a device, any other commands must wait for the first one to be completed, which slows down performance. Command queuing allows a device to accept as many as 64 or even 256 concurrent commands.

It's good to know that this feature is now also available for IDE/ATA disks. It has to be noted though that the WD740 has this feature realized by its firmware, meaning software, whereas SCSI disks have it implemented by hardware.

Here are spec sheets for the two Raptor models (click to enlarge):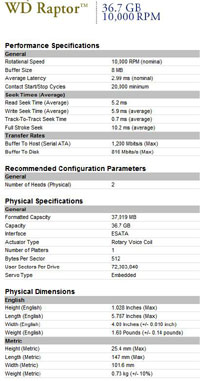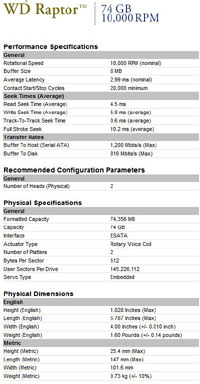 The WD360 comes with a ball bearing motor. According to Western Digital the WD740 has a fluid bearing motor. Such a motor reduces noise and vibration, because a thin fluid film separates the rotating and stationary members of the bearing. The metal-to-metal contact in a ball bearing motor produces vibration and noise, and is less forgiving of shock loads. Quite a few users were reporting a high pitched noise with their WD360 and a fluid bearing motor should therefore be an important improvement. Whether this assumption holds true we will see later in the review.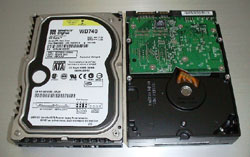 WD740GD front and back


Disk case design and the PCB remain unchanged between both Raptor versions. Both look completely identical. Both feature the same, heavier than usual (720 gram) housing with the "rugged" design on one side for improved heat dissipation.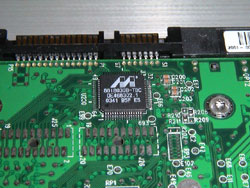 On the PCB we still find the Marvell 88i8030 SATA to PATA bridge. This chip interfaces PATA to SATA. Essentially the Raptor is therefore a PATA disk and not a native SATA disk. This should be of no concern as disk performance is limited by the disk's mechanical design, the platter speed and its firmware - not by the interface as such. In other words, the WD740 would probably perform in the same way if it were a native SATA disk, a bridged SATA disk or a PATA disk.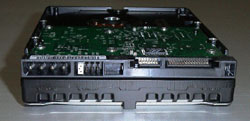 Both Raptors sport the new SATA 15-pin power connector and the traditional 4-pin Molex connector. This also shows that the Raptor is not a native SATA disk, because native SATA disks are working only with the lower power consuming 15-pin connection.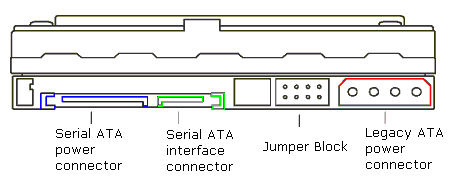 The WD740 also has the jumper block with a setting for a rather mysterious "power management" function as explained here.


---
Advertisement:


All original content copyright James Rolfe.
All rights reserved. No reproduction allowed without written permission.
Interested in advertising on OCAU? Contact us for info.

---
Recent Content


Team Group C440 Cardea Ceramic M.2 NVMe SSD


Synology DS720+ NAS


Raspberry Pi 4 Model B 8GB


Retro Extreme!


Intel Core i9-10980XE


AMD Ryzen Threadripper 3960X


Team Group T-Force Vulcan 500GB SATA SSD